Deconstructed Turkey with Sage Gravy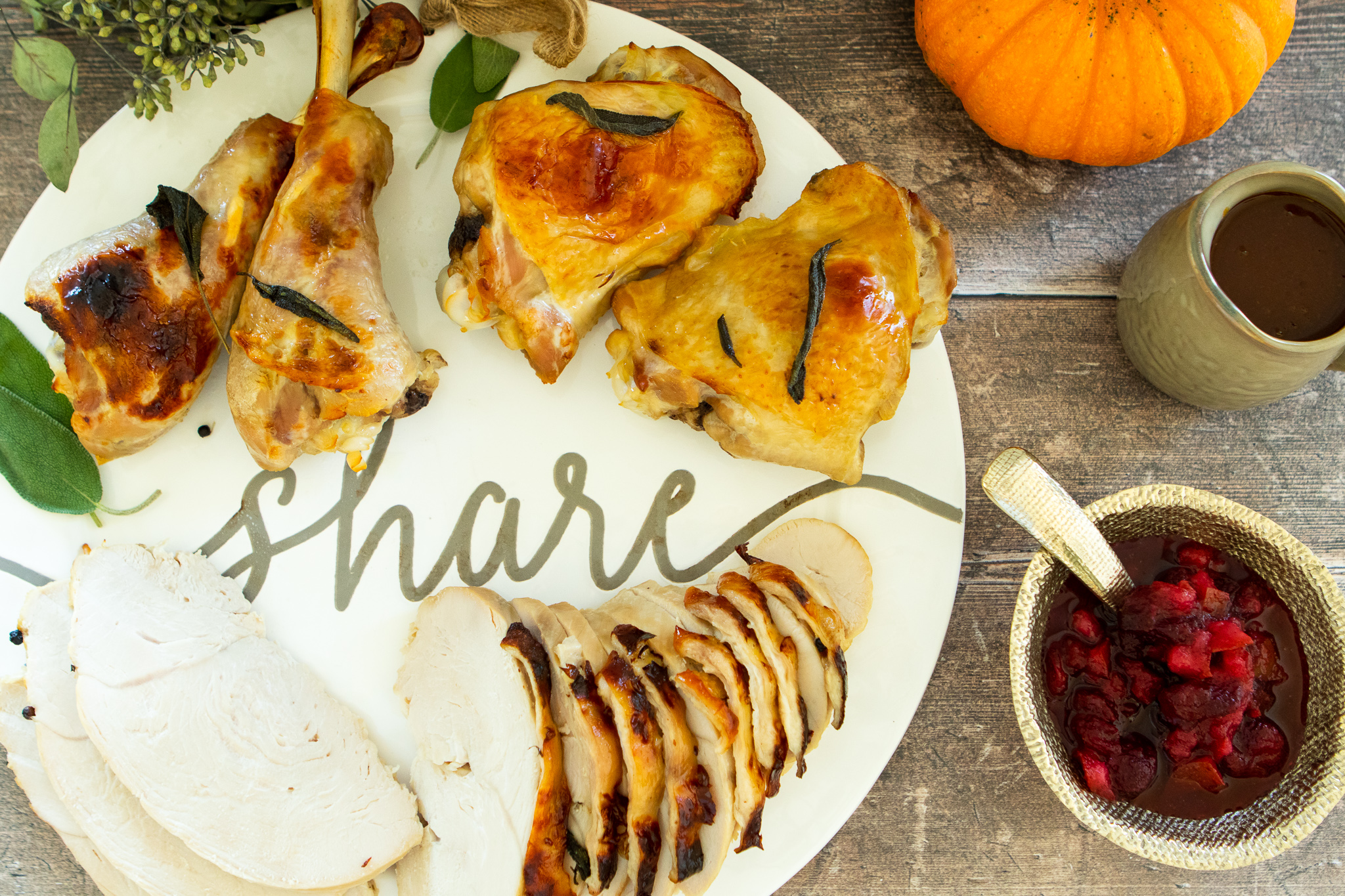 I typically host Thanksgiving and it truly is my most favorite holiday of the year. I love being with all of my family and friends, and am so grateful for all that life has to offer, even in Covid 2020. The one thing I'm never excited about, however, is being responsible for the turkey. I struggle to get it right…the timing is difficult, getting it cooked properly is even harder (breast perfect, dark meat undercooked or dark meat perfect and breast dried out). Then having to carve it and hope that it isn't stone cold by the time it gets to the buffet.
Well, never again will I have to worry about all of that! This brilliant recipe takes turkey parts that have been brined (preferably overnight) and roasts them on a rack in a roasting pan over high heat. This accomplishes a number of things: you can remove pieces as they are cooked and just set them aside while you're waiting for the rest, the roasting time is much shorter, so easy to carve, and absolutely moist and delicious!
You might think that it's traditional to have this stunning bird to display, but do you really do that? I take the stunning bird and cut it up prior to serving it, so no one really notices how pretty it was (but then I freak out because the drumsticks are undercooked and I have to throw them back in the oven, delaying the entire meal…yikes!).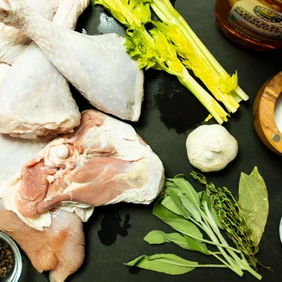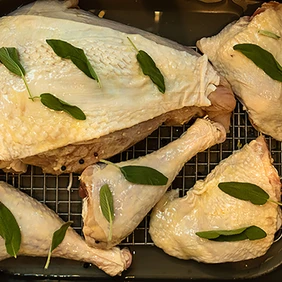 Let's talk about the brine: because the turkey is deconstructed, you can brine it and it will fit in your refrigerator. I have tried in the past to brine a whole turkey, and I've had to clear out the entire fridge to fit it. Who can do that when you've got so many other dishes that need fridge space??? But, in this case, I bag it up, set it in a bowl, and have plenty of space left over.
Now, you could forego the brining if you didn't have time, but you would be doing yourself a huge injustice. The brine incorporates honey, garlic, thyme and sage, along with black peppercorns and allspice. The honey and allspice berries make all the difference. Be sure to include them. It takes 5 minutes to put it all together, and then a minimum of 6 hours to brine it (I prefer overnight). The result is spectacular! The most delicious flavor, along with the moistest texture! You can eat it without gravy and still be a happy camper!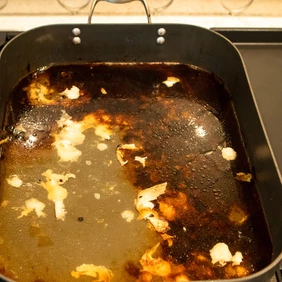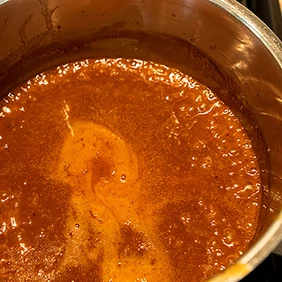 Speaking of gravy, I have never found one that has this much flavor. It's all about the pan drippings and scraping the brown bits from the bottom of the roasting pans. Don't skip this step! The brown bits may look burnt, but once you add chicken broth and scrape them up, they make the most incredible base for this simple gravy.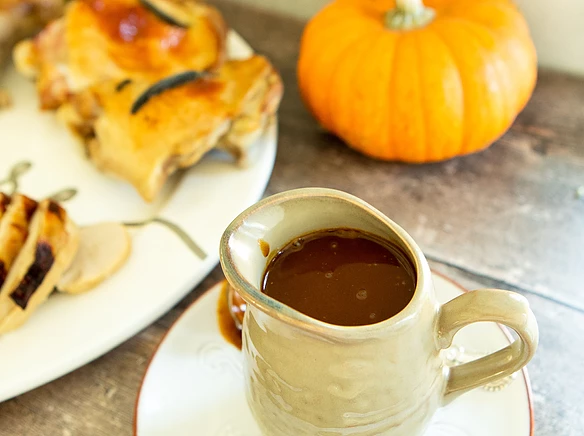 Once the turkey is ready to be carved, it's so easy to remove the breast meat from the bone (sharp knife, please). It plates beautifully. You can easily add more pieces as well, if you prefer more dark meat or have a larger crowd.
This is the only way that I will cook a turkey going forward. Let me know what you think!
Happy Thanksgiving, friends!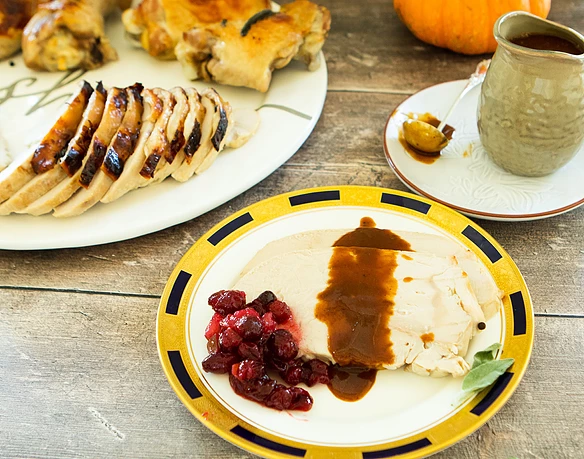 Lastly, if you make Deconstructed Turkey with Sage Gravy, be sure to leave a review down below at the bottom of this page (stars are also appreciated)! Above all, I love to hear from you and always do my best to respond to each and every review. And of course, if you do make this recipe, don't forget to tag me on 
Instagram
! Looking through the photos of recipes you all have made is one of my favorite things to do!
Deconstructed Turkey with Sage Gravy
Makes: 8 servings
Prep Time: 10 minutes
Cook Time: 1 hour & 45 minutes
Total Time: 2 hours plus brine time 6 hours
Ingredients
To Brine Turkey:
1 (6 & 1/2 to 7 pound) turkey breast on the bone (See Chef's Note)

3 turkey drumsticks (about 2 & 1/4 pounds total)

2 turkey thighs (about 1 & 1/2 pounds total)

1/4 cup kosher salt

1/4 cup honey

1 head garlic, cut in half (do not peel)

2 dried bay leaves

4 sprigs fresh thyme

2 large whole sprigs fresh sage

2 tsp whole black peppercorns

2 tsp allspice berries

1/4 cup fresh celery leaves (from 1 bunch)
To Roast Turkey:
3 tbsp unsalted butter, melted

Leaves from 2 large sprigs sage, plus several whole sprigs for garnish
For Gravy:
2 to 3 cups low-sodium chicken broth

1/4 cup (1/2 stick) unsalted butter

1/3 cup all-purpose flour

Kosher salt

Freshly ground black pepper
Instructions
Brine Turkey:
Rinse turkey parts and place in doubled 2 1/2-gallon resealable plastic bags (or large stockpot). Add salt, honey, garlic, bay leaves, thyme, sage, peppercorns, allspice, and celery leaves. Add enough cold water to cover turkey — about 3 quarts. Press out air, close bags, and place in large bowl or other container to protect against leaks. Refrigerate at least 6 hours or overnight.
Roast Turkey:
Preheat oven to 425°F. Arrange racks in upper and lower thirds of oven.
Remove turkey parts from brine, pat dry with paper towels, and place, skin side up, on racks set in 2 medium roasting pans (be sure to leave space between parts for air circulation). Pour 1 cup water into each pan. Drizzle turkey parts with melted butter and scatter with sage leaves. Place 1 pan on each oven rack and roast until beginning to brown, about 30 minutes.
Lower heat to 400°F, switch positions of pans, and rotate each pan 180°. Continue roasting until instant-read thermometer inserted into thickest part of breast, avoiding bone, registers 165°, about 1 to 1 & 1/4 hours. Transfer turkey parts to platter and tent with foil.
Make Gravy:
Pour pan juices into 4-cup glass measuring cup, let stand until fat rises to top, 2 to 3 minutes, then skim off and reserve fat.
Set 1 roasting pan across 2 burners, add 2 cups chicken broth, and bring to simmer over moderately high heat, scraping up any browned bits. Add simmering broth to pan juices in measuring cup, then add additional chicken broth, if needed, to equal 4 cups liquid. If necessary, strain through a sieve to remove any white fat or other large pieces.
In medium saucepan over moderately low heat, melt butter, then whisk in flour and cook, whisking constantly, until smooth, approximately 2 minutes. Gradually whisk in broth mixture and any collected juices from platter holding turkey, then raise heat to moderately high and boil mixture, uncovered, until thickened, about 8 minutes.
Season gravy with salt and pepper to taste. Carve turkey pieces and garnish with sage; serve with gravy.
Chef's Note:
You can use a boneless chicken breast (it's easier to carve) but watch the timing. It will take less time so be sure to have a good thermometer to remove from the oven at 165°F. It's okay to remove the breast before the drumsticks and thighs, if they aren't done.
Recipe from Epicurious
Deconstructed Turkey with Sage Gravy