Homemade Limoncello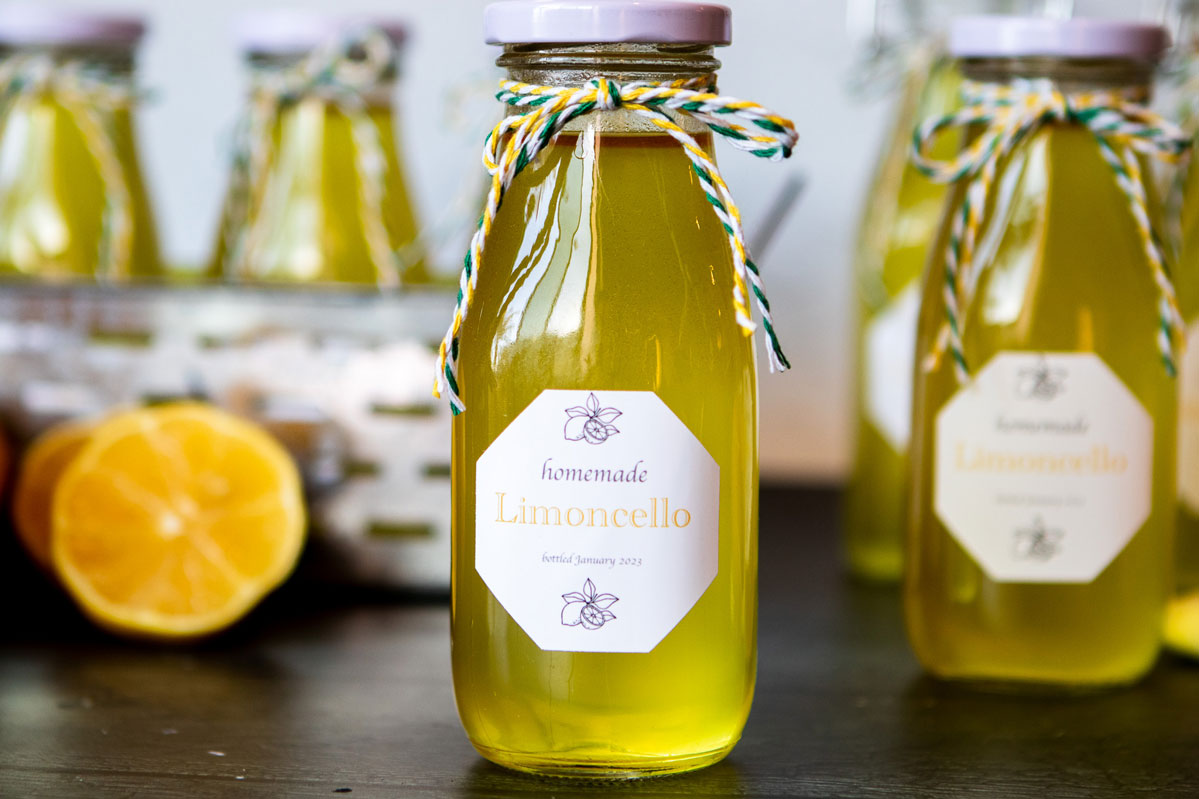 If you are wondering what to do with all those lemons that grow in your back yard, try Homemade Limoncello.  Oh, you don't have a lemon tree in your back yard?  Darn!  Well, you can still made these delicious, refreshing aprés-dinner beverage.
I first tried limoncello when I traveled through the Amalfi coast of Italy.  It is well known in the Sorrento area and is a delicious and refreshing way to end a meal.
It also happens to be very simple to make!  All you need is lemon peels, sugar and 95% food-grade alcohol like Everclear.  I often wondered what anyone does with Everclear and now I know.  I don't recommend drinking it plain but you do you.  No judgement.
It is a beautiful item to gift…package it in some pretty bottles with a nice label and ribbon.  Poof!  Watch for smiles!
With a vegetable peeler, remove the peels from lemons.  Try to scrape off any white pith that remains on the peels.  This is bitter and you don't want it to give the limoncello a bad taste.
Place the peels in a large jar and cover with the alcohol.  Fasten the lid and let the jar stand in a cool, dark location for 4-7 days, swirling every 24 hours.
Strain the lemon mixture through cheesecloth into a large pitcher.
In a large saucepan, combine the water and sugar and simmer until the sugar dissolved.  Add this to the infused lemon alcohol and stir to combine.  Pour into sealable bottles and clover tightly.  Store at room temperature.
Limoncello is best served chilled so pop a bottle into the refrigerator before serving.  Or do like I do and leave a bottle in the fridge for an evening refresher!
Lastly, if you make Homemade Limoncello, be sure to leave a review down below at the bottom of this page (stars are also appreciated)! Above all, I love to hear from you and always do my best to respond to each and every review. And of course, if you do make this recipe, don't forget to tag me on 
Instagram
! Looking through the photos of recipes you all have made is one of my favorite things to do!
Makes: 8 (8-ounce) bottles
Prep Time: 15 minutes
Cook Time: 5 minutes
Total Time: 20 minutes plus stand time 4-7 days
Ingredients
20 lemons
4 cups (32 ounces) pure 95% food-grade alcohol (such as Everclear)
5 & 1/2 cups filtered water
3 cups granulated sugar
Instructions
Using a vegetable peeler, remove peels from lemons, being sure to avoid any white pith, to yield 10 & 1/2 ounces lemon peels. Place peels in a 3-quart jar with a hinged lid. Reserve remaining lemons for another use. Pour alcohol over peels, making sure peels are submerged. Fasten lid on jar and let stand in a cool, dark place for 4-7 days, swirling every 24 hours.
Line a wire-mesh strainer with cheesecloth and pour lemon mixture through strainer into a large pitcher. Discard solids. Repeat straining one time.
Stir together water and sugar in a large saucepan over medium heat; simmer until sugar dissolves, about 5 minutes. Add to infused alcohol and stir to combine. Pour into sealable sterilized bottles and cover tightly. Store at room temperature. Chill before serving.
Make Ahead:
Limoncello can be made up to one year in advance.