Mushroom Barley Soup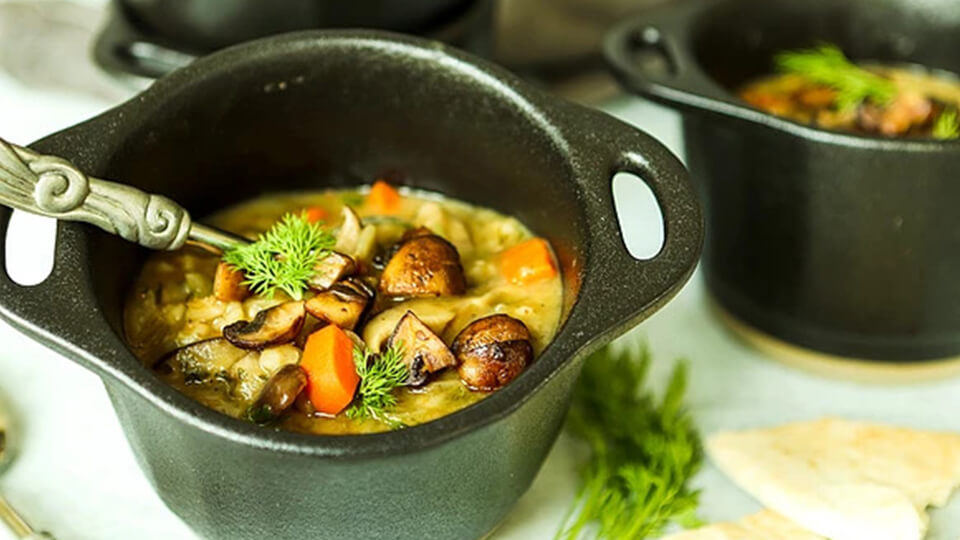 When it's soup season (which for me is always!), this is my go-to recipe for a hearty, rich soup that can warm me on the coldest of days.  This is a vegetarian recipe, but can easily be converted to vegan (use butter substitute) or non-vegetarian by substituting chicken or beef broth for the vegetable broth.  It is that versatile!  
Whichever way you prefer it, you will love the fresh earthy flavor of the mushrooms and carrots.  Combine it with barley, dill and parsley and you end up with a hearty, vibrant soup that is sure to please!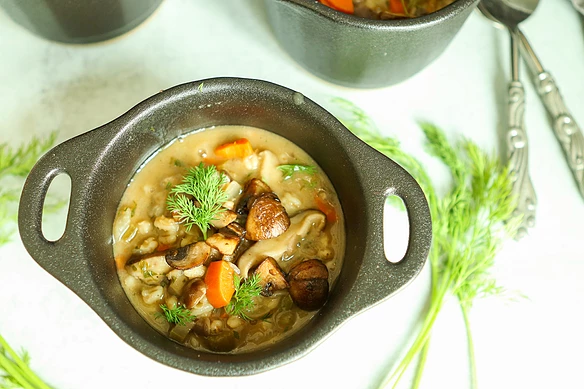 Lastly, if you make Mushroom Barley Soup, be sure to leave a comment and/or give this recipe a rating! Above all, I love to hear from you and always do my best to respond to each and every comment. And of course, if you do make this recipe, don't forget to tag me on 
Instagram
! Looking through the photos of recipes you all have made is one of my favorite things to do!
Makes: 6 servings
Prep Time: 10 minutes
Cook Time: 1 hour & 5 minutes
Total Time: 1 hour & 15 minutes
Ingredients
1/4 cup unsalted butter

1 pound mushrooms, cut into 1/2-inch pieces (see Chef's Note)

2 large carrots, peeled and chopped into 1/4" dice

2 large celery stalks, chopped into 1/4" dice

1 onion, chopped

1/2 cup pearl barley, rinsed and drained

2 tbsp all-purpose flour

8 cups vegetable broth (see Chef's Note)

2 tsp Kosher salt

1/4 cup chopped fresh parsley

1 tbsp chopped fresh dill weed Kosher salt and freshly ground pepper, to taste
Instructions
Melt butter in heavy large Dutch oven over medium heat.  Add mushrooms, carrots, celery, onion and barley.  Sauté until vegetables begin to brown, about 20 minutes, stirring occasionally.   Add flour to pot and stir continuously for 5 minutes.  Gradually mix in broth and Kosher salt.  Bring soup to a boil, stirring frequently. 
Reduce heat to medium and simmer until barley is tender and soup is beginning to thicken, about 40 minutes. Mix in parsley and dill.  Season to taste with additional Kosher salt and freshly ground pepper.
Chef's Notes:
I typically use Cremini mushrooms (baby Bellas) or white button 'shrooms but I have also used Shiitake and they were amazing! This is a lovely vegetarian soup, but I have also made it with chicken stock and it's been wonderful. Enjoy!