Quick Ramen Noodle Soup
If you love ramen soup like all of America does these days, Quick Ramen Noodle Soup is something that you'll want to make at home.  It's easy and tastes just like it does at the restaurant.  The ingredients are easy to find and many are probably in your pantry! 
Some of you may reminisce about the lean days of eating your way through college on instant ramen noodles.  You remember how easy it was to just pour hot water over the noodles in the bowl and in minutes you had ramen soup.
Well, these days, it's hard to compare that kind of ramen with what is being offered at ramen restaurants all over the country.  It's just not the same!
But, this recipe comes darn close!  We're still using those instant ramen noodles (without the spice packet) but we're making our own delicious stock, doctored up to mimic the best of the trendy ramen joints!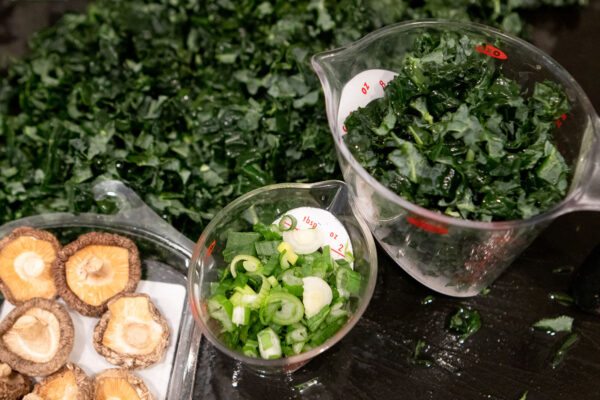 Begin by stir-frying garlic and ginger and then adding broth.  If you want to keep this vegetarian, use vegetable broth.  If not, stick with the chicken broth.  
The broth gets its richness from an infusion of dried shiitake mushrooms.  The recipe calls for sliced dried shiitakes but I find them difficult to locate.  Feel free to add in fresh sliced shiitake mushrooms along with whole dried ones.  You really can't add too many mushrooms…the more, the deeper the flavor!
The noodles get added to the broth once the mushrooms have softened up.  Throw the scallions in after a few minutes.
Finally, remove the broth from the heat and add the kale and carrots.  Let them soften up just for a minute or two, and add the jammy eggs and crispy panko topping.  At this point, go crazy…add whatever else you like:  soy sauce, hot sauce, chili oil, sesame oil.  It's your world, baby!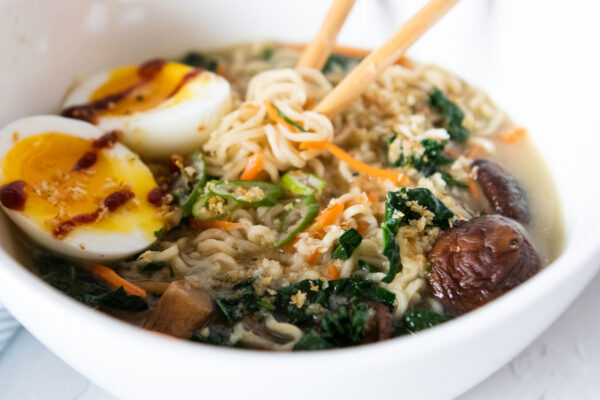 Lastly, if you make Quick Ramen Noodle Soup, be sure to leave a comment and/or give this recipe a rating! Above all, I love to hear from you and always do my best to respond to each and every comment. And of course, if you do make this recipe, don't forget to tag me on 
Instagram
! Looking through the photos of recipes you all have made is one of my favorite things to do!
Makes: 4 servings
Prep Time: 10 minutes
Bake Time: 20 minutes
Total Time: 30 minutes
Ingredients
1 tbsp sesame oil

3 tsp grated ginger

4 tsp grated garlic

4 cups chicken or vegetable broth

4 cups water

1 ounce dried, sliced shiitake mushrooms (see Chef's Notes)

2 packages instant ramen (noodles only)

1/2 cup chopped scallions or chives

2 cup chopped kale

1 cup shredded carrots

Sriracha to taste

Crunchy golden panko crumbs for topping (see Chef's Notes)

Jammy eggs, optional (see Chef's Notes)

Toppings: Chili oil, sesame oil, soy sauce to taste
Instructions
Heat the sesame oil in a large skillet over medium low heat. Add the garlic and ginger; stir fry for 2 minutes or until soft and fragrant.
Add the broth and the water. Bring to a simmer; add the mushrooms and simmer for 10 minutes or until the mushrooms have softened and the broth is flavorful.
Add the instant noodles to the hot liquid and simmer for an additional 5 minutes or until the noodles have softened. Add the scallions and stir to combine.
Remove from heat, stir in the kale and carrots, and top with crunchy panko crumbs and a soft-boiled egg (optional). Season with chili oil, hot sauce, sesame oil, and/or soy sauce and salt to taste.
Chef's Notes:
If you cannot find sliced shiitake mushrooms, still use the whole dried ones to better flavor the broth and add some fresh sliced shiitakes at the same time as the dried ones.
For crunchy panko crumbs, heat a bit of olive oil in a skillet and add panko crumbs. Cook over medium heat until crumbs are golden and crunchy, about 5 minutes.
For jammy eggs, boil water is a small saucepan. Add eggs once water is boiling and boil for 7 minutes. Remove from heat and place pan in sink. Slowly add cold water to the hot water and eggs until the water in the saucepan becomes cold. Remove egg shells, cut in half and place on top of ramen.
Recipe inspired by Pinch of Yum