Southern Peanut Butter Cake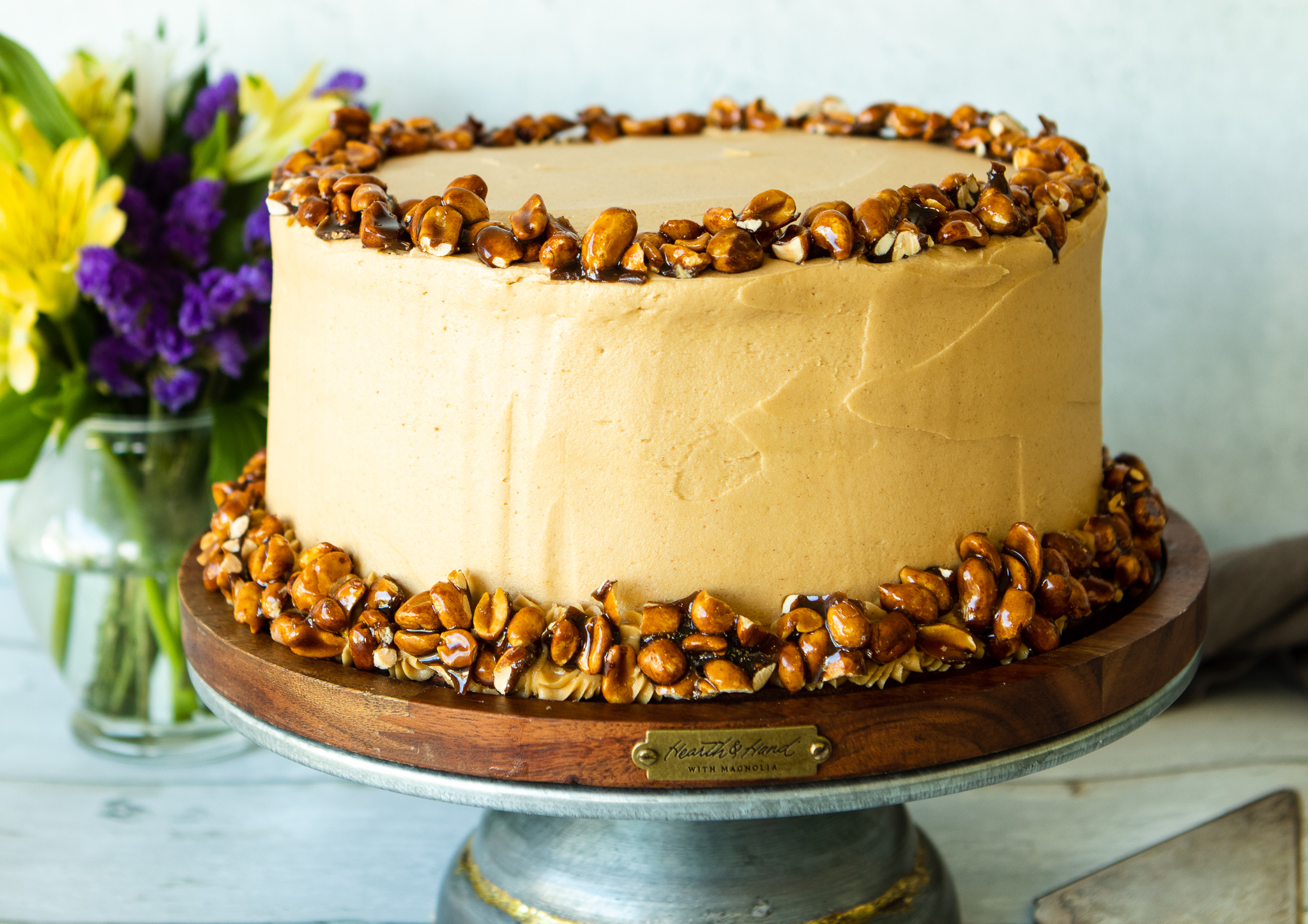 Have you ever heard of Southern Peanut Butter Cake?  I never had but I read an article written by Al Roker, the weather forecaster from NBC's Today, extolling the virtues of his wife's aunt's Peanut Butter Cake.  Reading his words made me decide that I needed to make this cake, and make it NOW!
Think about it:  a deliciously moist peanut butter-flavored layer cake, filled with a peanut praline filling and frosted with a smooth, creamy peanut butter buttercream.  Oh yeah, top it off with crunchy brown sugar candied peanuts and it's simply a slice of heaven!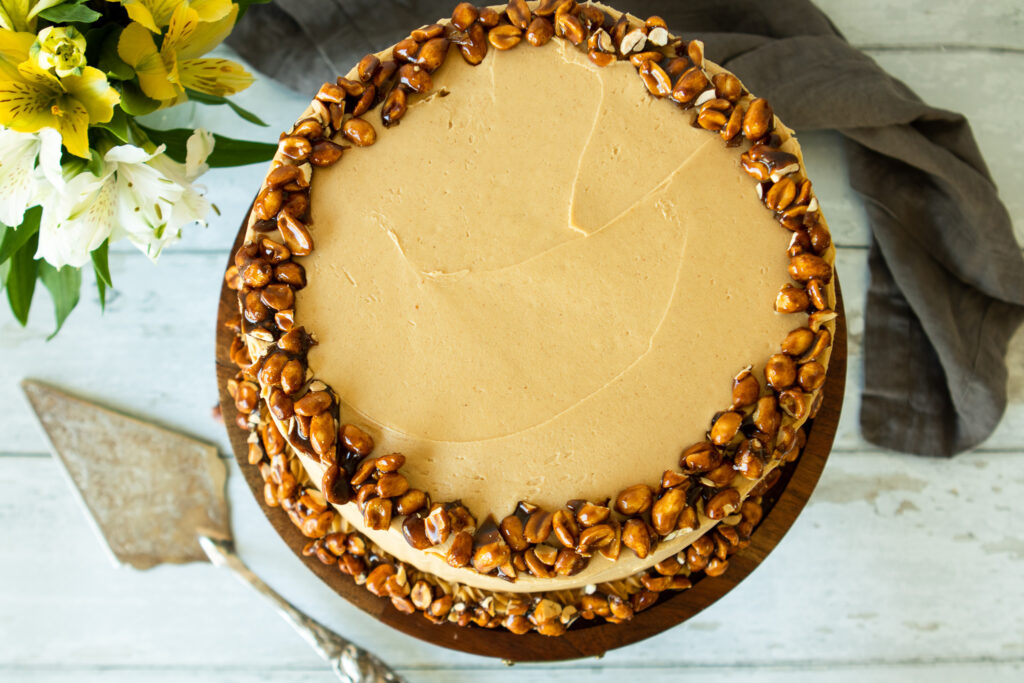 This cake involves 4 different recipes so it takes a bit of time, but some of the recipes can be made ahead of time.  And, the finished confection is absolutely worth it!
So, how do we begin:  start with making the layer cakes.  There's nothing tricky about this cake.  If you've ever made a cake before, you can make this one.  It's different in that you add creamy peanut butter to it, but that's about all that is different than making a plain vanilla cake.
And, speaking of peanut butter, be sure to use either Jif or Skippy peanut butter (or something similar).  The oily natural ones just won't work in this recipe.
While the cakes are baking you can make the Brown Sugar Candied Peanuts and the Peanut Praline Filling.  The Candied Peanuts can actually be made up to a week ahead, so if you have time, do that.  One less step the day that you're putting this all together!
Once the cakes are baked and cooling, go ahead and make the buttercream frosting.  If you've ever made a buttercream, you will see that this is not at all complicated.  You will add peanut butter to it, but besides that, it's fairly standard in technique.
The first step in the assembly is to pipe a circle of frosting around the edge of one layer.  This is done to hold the praline filling in and not have it run over the edge, creating a challenge for the final frosting of the cake.  Fill it and then add the next layer, until all three layers are positioned.
Finally, apply a thin crumb coat of frosting on the sides and top of the cake.  Refrigerate it for at least one hour.  The crumb coat will seal the crumbs into the cake so that when you spread the final coat, you won't have crumbs mess with the pretty look of it! 
Spread the remaining frosting over the top and sides, decorate with the Brown Sugar Candied Peanuts and you have a cake that Al Roker's wife's aunt would be proud of.  
Lastly, if you make Southern Peanut Butter Cake, be sure to leave a comment and/or give this recipe a rating! Above all, I love to hear from you and always do my best to respond to each and every comment. And of course, if you do make this recipe, don't forget to tag me on 
Instagram
! Looking through the photos of recipes you all have made is one of my favorite things to do!
Southern Peanut Butter Cake
Makes: 12 servings
Prep Time: 20 minutes
Bake Time: 30 minutes
Total Time: 1 hour & 20 minutes plus cooling time
Ingredients
1 cup plus 2 tbsp unsalted butter, softened

2 & 1/4 cups granulated sugar

1 cup creamy peanut butter (use Jif or Skippy)

1 tbsp vanilla extract

3 large eggs, room temperature

3 cups (375 grams) all-purpose flour

1 tbsp baking powder

3/4 tsp baking soda

3/4 tsp Kosher salt

2 & 1/4 cups whole milk, room temperature

Brown Sugar Candied Peanuts

, for garnish
Instructions
Preheat oven to 350°F. Spray 3 9-inch round cake pans with baking spray with flour. Line bottom of pans with parchment paper.
In the bowl of a stand mixer fitted with the paddle attachment, beat butter and sugar at medium speed until light and fluffy, about 4 minutes, stopping to scrape sides of bowl. With mixer on medium-low speed, add peanut butter and vanilla, beating util smooth and well combined and stopping to scrape sides of bowl. Add eggs, one at a time, beating until smooth and well combined after each addition.
In a medium bowl, whisk together flour, baking powder, baking soda, and salt. With mixer on low speed, gradually add flour mixture to butter mixture alternately with milk, beginning and ending with flour mixture, beating just until combined after each addition and stopping frequently to scrape bottom and sides of bowl. Divide batter among prepared pans (about 663 grams each) and smooth tops using a small offset spatula. Tap pans on a kitchen-towel-lined counter several times to settle batter and release any air bubbles.
Bake until cakes spring back lightly when gently pressed in center and a wooden pick inserted in center comes out clean, 25 to 30 minutes, rotating pans during last 2-4 minutes of baking. Let cool in pans for 5 minutes. Remove from pans, and let cool completely, parchment side down, on wire racks. Once cool, remove parchment paper.
Trim or level cooled cake layers, if desired. Place 1 cake layer on a serving plate. Spoon 1/2 cup (120 grams) Peanut Butter Frosting into a pastry bag; cut a 1/2-inch opening in tip. Pipe a 1/2-inch-tall border around edge of cake layer. Dollop half of Peanut Praline Filling (about 375 grams) all over top of cake layer, and spread until even and reaches piped border. Top with second cake layer. Pipe a 1/2-inch-tall border around edge of cake layer. Dollop remaining Peanut Praline Filling all over top of cake layer, and spread until even and reached piped border. Top with remaining cake layer. Spread a thin layer of frosting on top and side of cake to create a crumb boat. Refrigerate for at least 1 hour.
Spread remaining Peanut Butter Frosting on top and sides of cake. Garnish with Brown Sugar Candied Peanuts, if desired. Refrigerate for at least 30 minutes or up to overnight. Let stand at room temperature for 20 to 30 minutes before serving.
Recipe from Bake From Scratch
Southern Peanut Butter Cake