5-Minute Chocolate Sauce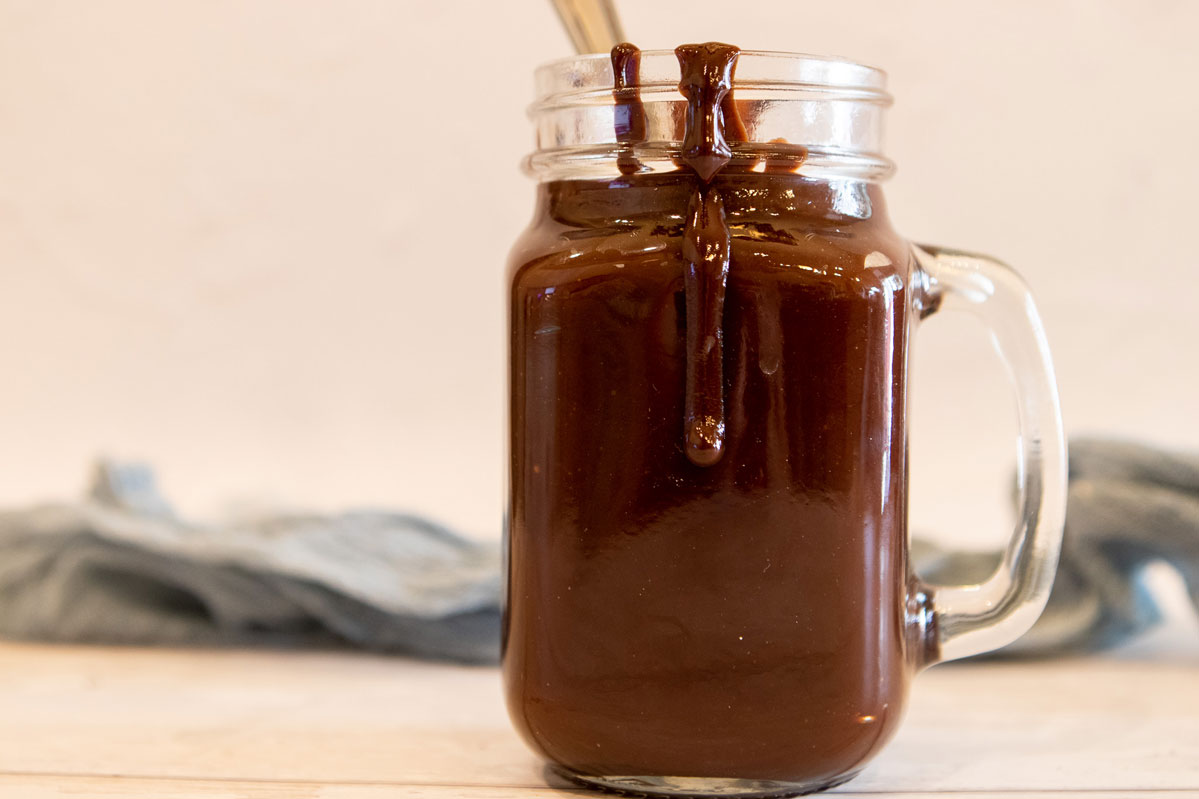 This silky smooth 5-Minute Chocolate Sauce is the perfect topping for a bowl of ice cream.  Or draped over pound cake.  Or smothering brownies. Or…you get the drift.  And taking only 5 minutes, it's worth the time to have this homemade sauce whenever you get a hankering!
I love it ribboned through my No-Churn Rocky Road Ice Cream.
Simply combine heavy cream, butter and corn syrup in a saucepan and heat until the butter is melted (you can also do this in a microwave).  Add the chocolate and give it a swirl so that the chocolate is covered.  Now let it stand for three minutes.
Whisk it well until the chocolate is melted and the sauce is completely smooth.
That's it, folks!
Lastly, if you make 5-Minute Chocolate Sauce, be sure to leave a review down below at the bottom of this page (stars are also appreciated)! Above all, I love to hear from you and always do my best to respond to each and every review. And of course, if you do make this recipe, don't forget to tag me on 
Instagram
! Looking through the photos of recipes you all have made is one of my favorite things to do!
Makes: 1 & 1/2 cups
Prep Time: 3 minutes
Cook Time: 2 minutes
Total Time: 5 minutes
Ingredients
1 cup heavy cream

1 tbsp unsalted butter

8 ounces semi-sweet chocolate, chopped

2 tablespoons corn syrup, optional (see Chef's Note)

1/2 tsp vanilla extract, optional

1/2 tsp kosher salt
Instructions
Add heavy cream, butter and corn syrup (if using) to a medium saucepan and heat until butter is melted and the mixture just begins to simmer, stirring occasionally OR add heavy cream, butter and corn syrup to a microwave safe bowl and microwave for 2 minutes or just until simmering and butter is melted.
Add chocolate and give it a swirl so the chocolate is covered. Let stand 3 minutes.
After 3 minutes, vigorously whisk in circular motions until chocolate is melted and completely smooth. Whisk in vanilla if using.
Let ganache cool for 10 minutes before using as a dip or sauce or allow to cool to room temperature for frosting, filling, etc., stirring often. Reheat at 50 % power in the microwave with 1 teaspoon vegetable oil if ganache thickens too much as you work or becomes grainy.
Chef's Notes:
It's optional to use corn syrup, but it will make the sauce extra smooth, it will keep it shiny even after being refrigerated and will keep it flexible when it sets.