Nutella Chocolate Chip Cookie Icebox Cake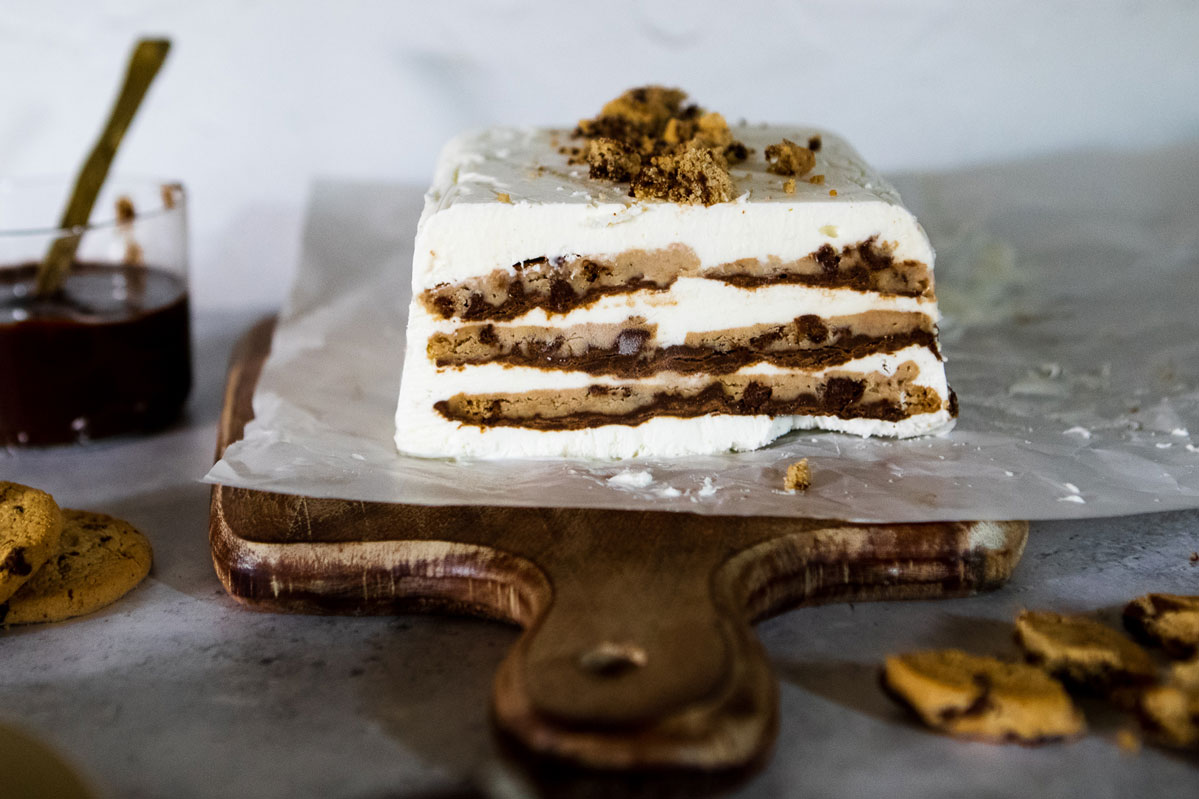 Nutella Chocolate Chip Cookie Icebox Cake is a perfect dessert!  Why? 
It's no-bake.  Yes, you heard me!  Whip it, layer it, freeze it.  Done.
Only a few ingredients, most of which you've already got in the fridge or pantry (powdered sugar, vanilla, cream, milk).  The only items you may not have are Chips Ahoy Chocolate Chip Cookies and Nutella, and we know you want to have those in your pantry!
It takes about 15 minutes to throw together.  What??!!
Delicious!
Pretty as can be!
Do you need any more convincing?  Let's get started!
This is one of the easier desserts I've ever made.  All you need to do is whip some heavy cream with powdered sugar, vanilla and salt.  
Once that's done, you're going to layer it in a loaf pan that's been lined with plastic wrap.  We line the pan so that it's easier to remove once it's frozen.
Begin by spreading the whipped cream mixture on the bottom of the pan.  Top it with Chips Ahoy cookies that have been dipped in milk (ah yes, the old milk and cookies combo!). Then drizzle and spread Nutella over the top of the cookies.  Repeat until all of the ingredients have been used up.  If you have extra, just pile it all on a spoon and eat it!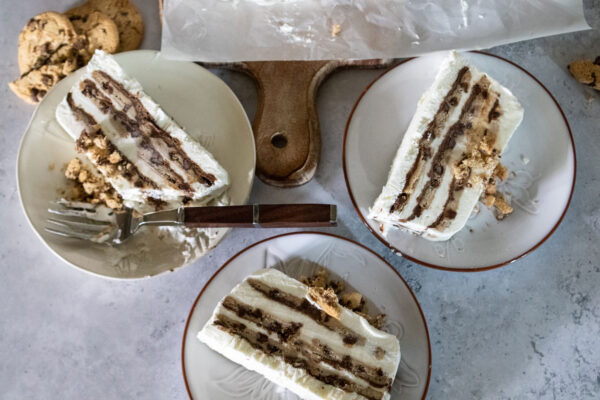 The beauty of this cake is that you cake make different layers as thick or as thin as you like.  You can have thick layers of Nutella.  You can thicken up the whipped cream layers.  It's really all up to you and your taste buds.
Once layered, freeze this icebox cake for about 3 hours.  When you are ready to serve this, invert it onto a serving platter or cutting board.  You might need to wriggle it a bit using the plastic wrap or running a hot cloth over the bottom of the pan to loosen it from the pan.  Remove the plastic wrap.
You can top it with crushed up Chips Ahoy cookies, if there are any left (hide a few away so that you can pretty up the top…eat the rest while no one is looking).
When you are ready to slice it, use a hot sharp knife and serve it.  Have fun eating this yummy treat!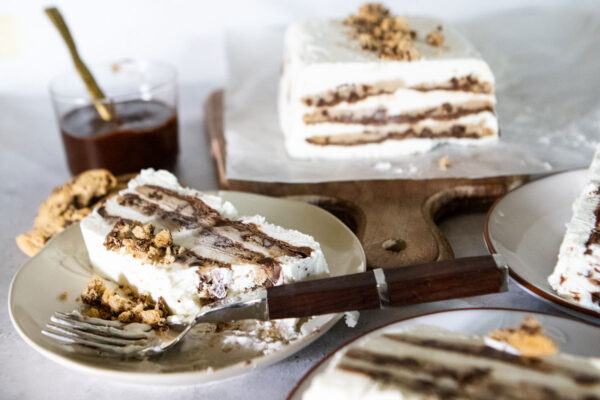 Lastly, if you make Nutella Chocolate Chip Cookie Icebox Cake, be sure to leave a comment and/or give this recipe a rating! Above all, I love to hear from you and always do my best to respond to each and every comment. And of course, if you do make this recipe, don't forget to tag me on 
Instagram
! Looking through the photos of recipes you all have made is one of my favorite things to do!
Nutella Chocolate Chip Cookie Icebox Cake
Makes: 10 servings
Prep Time: 15 minutes
Freeze Time: 3 hours
Total Time: 3 hours & 15 minutes
Ingredients
2 cups heavy cream

1 tsp vanilla extract

1/4 cup powdered sugar

1/2 cup milk

33 Chips Ahoy Cookies (13 ounce or 18 ounce package if you want extra)

1 cup Nutella spread (about 1 7.7 ounce jar)
Instructions
In a standing mixer fitted with a whisk attachment, beat the heavy cream until soft peaks form. Add the powdered sugar, vanilla extract and salt and beat well. Set aside.
Line the inside of a standard-sized loaf pan with plastic wrap on all sides. Working in layers, start with the whipped cream mixture, spoon and spread it over the bottom. Dunk the Chips Ahoy cookies in milk and lay them in an even layer, breaking the cookies up into small pieces to fill in and cover the whipped cream. Drizzle a few heaping tablespoons of Nutella over the cookies, using an offset spatula or a spoon to spread into an even layer.
Repeat layers until your loaf pan is full, finishing with a layer of whipped cream. It's completely up to you how much you spoon on each layer– if you want more whipped cream, do it! More Nutella, do it!
Cover with plastic wrap and place in the freezer to set for at least 3 hours. When ready to serve, take the icebox cake out of the freezer. and lift out of the loaf pan, inverting the cake onto a serving dish. If desired, top with crumbled cookies. Use a hot, sharp knife to slice and serve! Enjoy.
Recipe from Broma Bakery
Nutella Chocolate Chip Cookie Icebox Cake