Banana Crumb Cake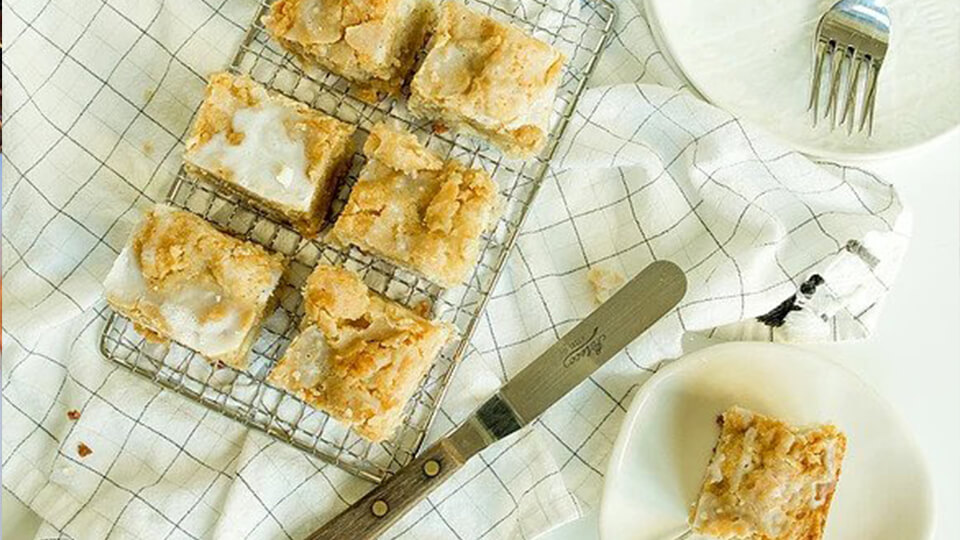 What do you get when you inject bananas into a coffee cake?  Including a ribbon of delicious crumble running through it?  And adding a sweet drizzle of frosting on the top?  You get the most delicious Banana Crumb Cake EVER! 
I had been toying around with banana breads for the longest time…I must have tried 8 different versions and while a few came close to perfection, I still wasn't totally feeling it until I found this recipe from Cookies & Cups.  Now, to be fair, this is not a banana bread.  It isn't dense;  it's deliciously moist.  You don't slice it like bread;  you square it up like coffee cake.  You don't eat it just for breakfast; you eat it anytime your little heart desires (which will be all the time!).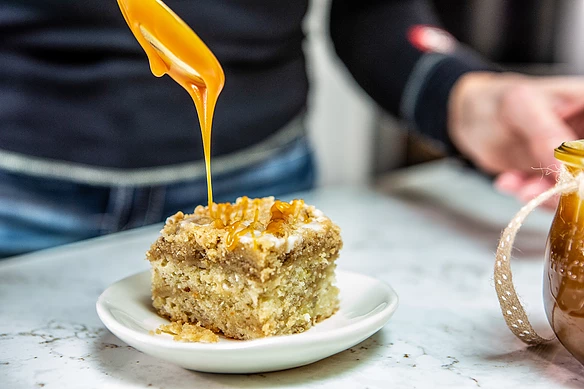 Basically, you are making a cake batter that includes mashed up bananas.  You are also making a crumb filling (and you'll also top the cake with it).  Put some of the batter in your pan, top with crumb filling, add more batter, and top that with the crumb filling.  Bake this entire concoction.  Cool it, frost it, eat it!!!
Oh, don't forget to top the frosting with a drizzle of Salted Caramel Sauce (click this link) if you really want to blow it out of the park!!!  Cheers!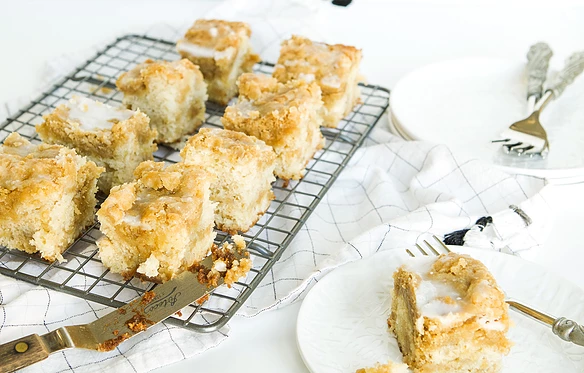 Lastly, if you make Banana Crumb Cake, be sure to leave a comment and/or give this recipe a rating! Above all, I love to hear from you and always do my best to respond to each and every comment. And of course, if you do make this recipe, don't forget to tag me on 
Instagram
! Looking through the photos of recipes you all have made is one of my favorite things to do!
Makes: 12 servings
Prep Time: 15 minutes
Bake Time: 50-55 minutes
Total Time: 1 hour & 20 minutes
Ingredients
Cake:
2 cups all-purpose flour

3 tsp baking powder

1 tsp salt

3 ripe bananas

1/2 cup unsalted butter, room temperature

2 cups granulated sugar

2 eggs

1 tsp vanilla

1 cup milk
Crumb Filling and Topping:
1 cup cold butter, cubed

2 cups light brown sugar

2 cups flour
Glaze:
1 cup powdered sugar

1–2 Tbsp milk
Optional (but you really should make this!):
Instructions
Preheat oven to 350°F. Spray a 9×13 baking dish with cooking spray, set aside.
In a medium bowl whisk together flour, baking powder and salt. Set aside.
In a large bowl mash bananas until they become liquified. Mix in butter until combined and then stir in sugar, eggs and vanilla until mixed well. Stir in milk and flour until combined.
Crumb Filling/Topping:
Prepare crumb filling/topping by combining all the ingredients together cutting them together with a fork or pastry cutter until a coarse crumb forms.
Pour 1/2 of the batter into the prepared pan. Top with 1/3 of the crumb mixture. Cover the filling with the remaining batter and top with remaining crumb mixture.
Bake for 50-55 minutes until the center is set and a toothpick comes out clean. Cool for 10 minutes.
Mix powdered sugar and milk together and drizzle on top.
Can be served warm or at room temperature with Salted Caramel Sauce, if desired.
Recipe by Cookies & Cups
Download PDF