Butternut Squash and Brussels Sprout Stuffing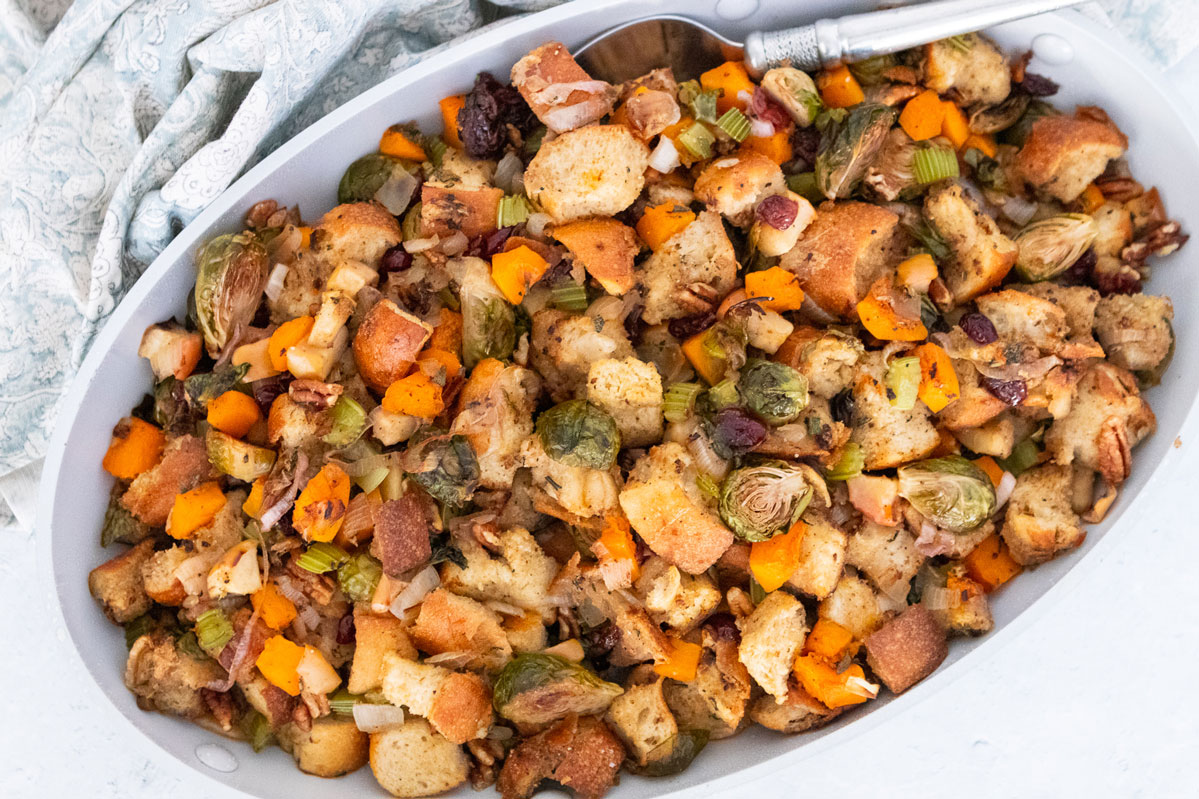 Stuffing goes with turkey like, well, pumpkin and pie.  You gotta have it!  Try this Butternut Squash and Brussels Sprout Stuffing and you will agree with how well it will pair with your turkey.  And, if you are hosting a vegan or vegetarian Thanksgiving (yes, there is such a thing!), this is a heavenly touch of the holiday!  Non-vegans won't even realize there is no chicken stock in this delightful stuffing!
The key to the rich flavor is roasting the vegetables before combining with the remaining ingredients.  They get caramelized and delicious! Meanwhile, sauté the onions and celery and then add the bread cubes.
Once the bread is browned, add in the roasted veggies, broth, cranberries, pecans and seasonings.  Transfer the entire mixture to a baking dish, bake for 20 minutes and you are ready to serve!
Lastly, if you make Butternut Squash and Brussels Sprout Stuffing, be sure to leave a comment and/or give this recipe a rating! Above all, I love to hear from you and always do my best to respond to each and every comment. And of course, if you do make this recipe, don't forget to tag me on 
Instagram
! Looking through the photos of recipes you all have made is one of my favorite things to do!
Butternut Squash and Brussels Sprout Stuffing
Makes: 6 servings
Prep Time: 10 minutes
Bake Time: 50 minutes
Total Time: 1 hour (start recipe day ahead so that bread will dry out)
Ingredients
1 pound butternut squash, cubed

1 pound brussels sprouts, halved

1 medium gala apple, cut into a 1/2 inch dice

2 shallots, thinly sliced

3 tbsp olive oil, divided into 2 tbsp and 1 tbsp

1 cup onion, diced

1 cup celery, diced

10 slices bread of choice: crusty sourdough, dry cornbread, whole grain, or, if you are gluten free, millet bread from Food For Life will work nicely. Prior to preparing the recipe, leave bread out for a day to become slightly dry, then cut into cubes.

1 & 1/2 cups vegetable broth (plus extra as needed)

2 tsp fresh rosemary, chopped

1 tsp fresh thyme

1 tsp chopped fresh sage

1/3 cup dried cranberries

1/3 cup pecans or walnuts

Sea salt and pepper to taste
Instructions
Heat oven to 400°F. Toss the squash, brussels sprouts, apples, and shallots in 2 tablespoons oil and season well with salt and pepper. Roast until vegetables are very tender (I actually like my sprouts a bit singed) and remove from oven, approximately 30 minutes. Reduce oven heat to 350°F.
Heat remaining tablespoon oil in a large pot. Sauté the onion and celery till translucent (about 5-8 min). Add the bread cubes and allow them to get golden brown with the veggies in the oil, approximately 5 minutes. Add a dash of salt and pepper.
Add the roasted vegetables, vegetable broth, cranberries, pecans, and seasonings. Stir the mix till the broth has almost entirely absorbed in the toasted bread. Transfer to a buttered or sprayed baking dish and bake for about 20 minutes. Serve hot.
Recipe from food52
Butternut Squash and Brussels Sprout Stuffing