Cherry Hibiscus Vodka Cocktail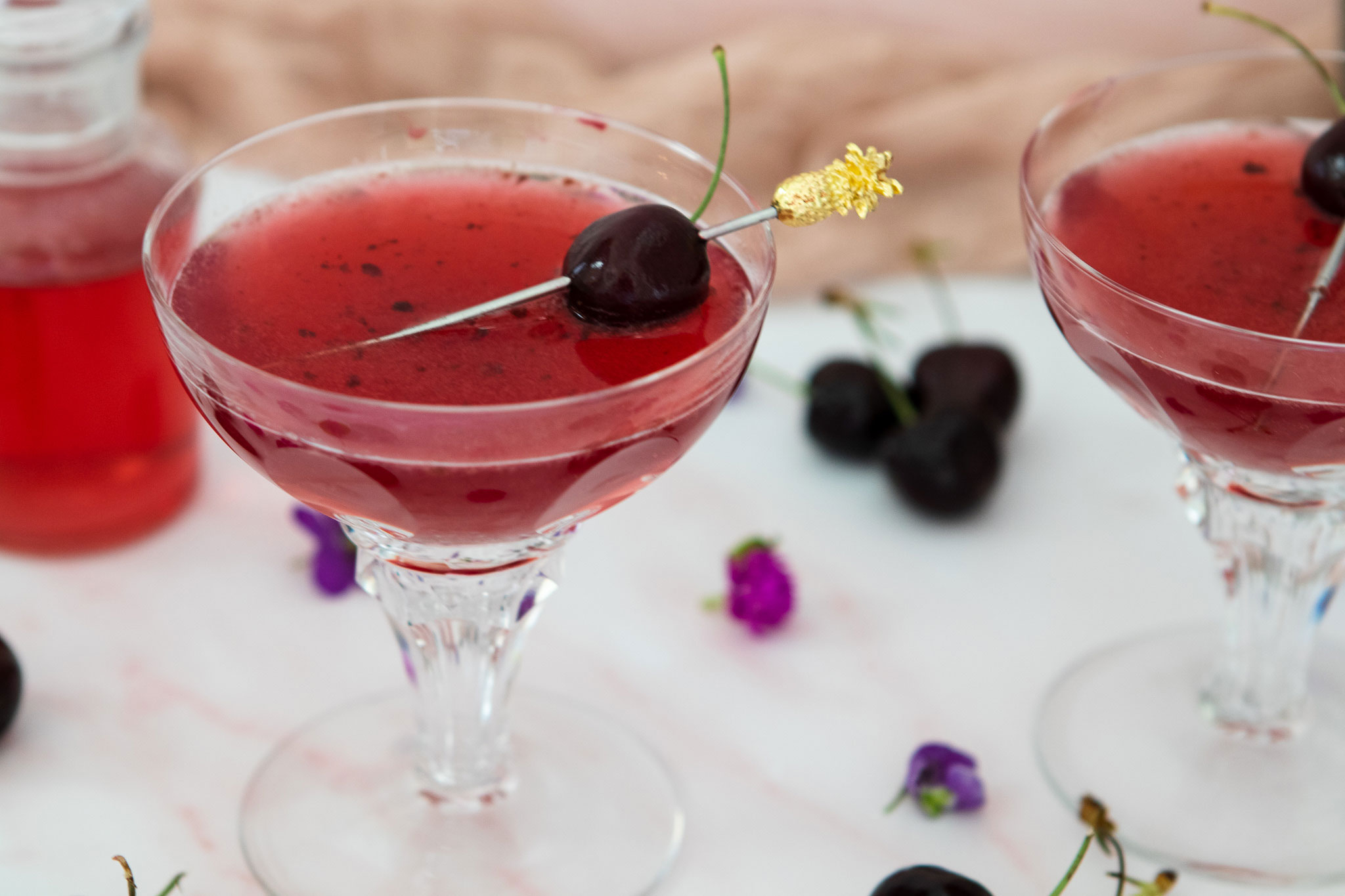 While cherries are still available, it's absolutely mandatory that you make this Cherry Hibiscus Vodka Cocktail!  Mandatory!  I am blown away by the flavor of this delicious bevvy…sweet dark cherries combined with vodka, citrusy triple sec and a floral note of hibiscus.  Come on…you know you want some!!!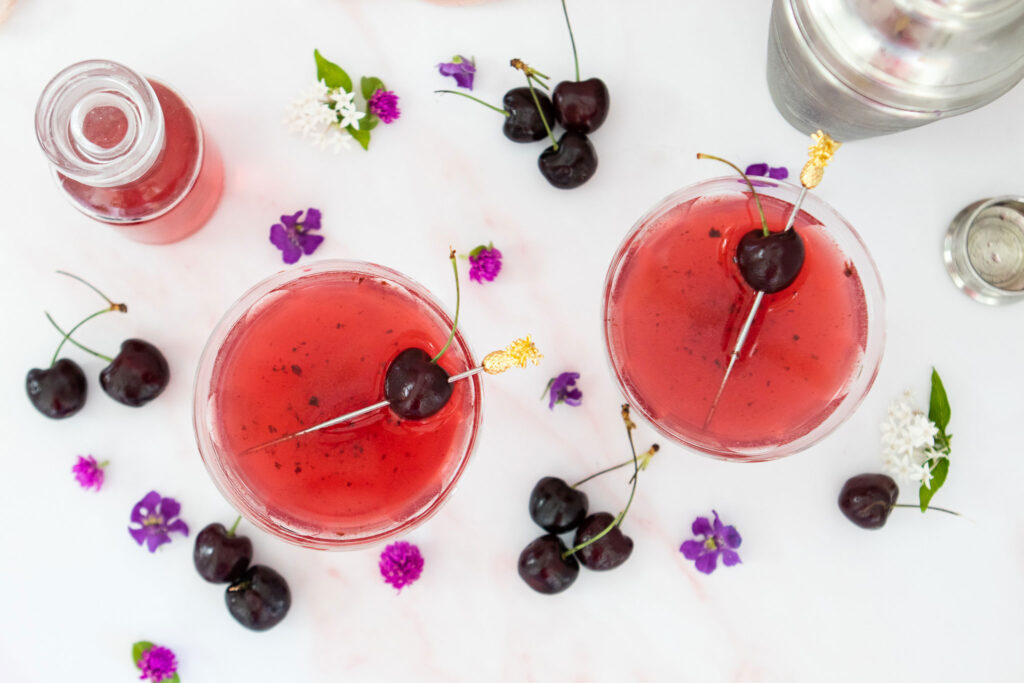 While I was working on a summer cocktail to feature, I happened to have some gorgeous dark cherries.  I also had a bag of dried hibiscus flowers. It's a very large bag of hibiscus flowers.  Why, you might ask, do I have such a large bag?  I found a fab recipe for Strawberry Hibiscus Swirl Cake and ordered a bag of hibiscus.  I had no idea that it would be so huge.  The amount of ounces was so low that it didn't occur to me that the bag would be about a foot tall!  Hibiscus flowers, just so you know, are very lightweight.  For that gorgeous cake, I only needed about 3 tablespoons of the flowers.  Consequently, I have tonnage of these left over that I really wanted to use.  They became my simple syrup! 
And, this simple syrup is gorgeous.  Between that and the crushed cherries, the cocktail is a stunner!  The simple syrup is the only thing that takes a bit of time…10 or so minutes.  The rest of the cocktail comes together in a hot minute!
So, buy the tiniest bag of hibiscus flowers that you can or if you're in the neighborhood, stop on by!  I'll share, I promise!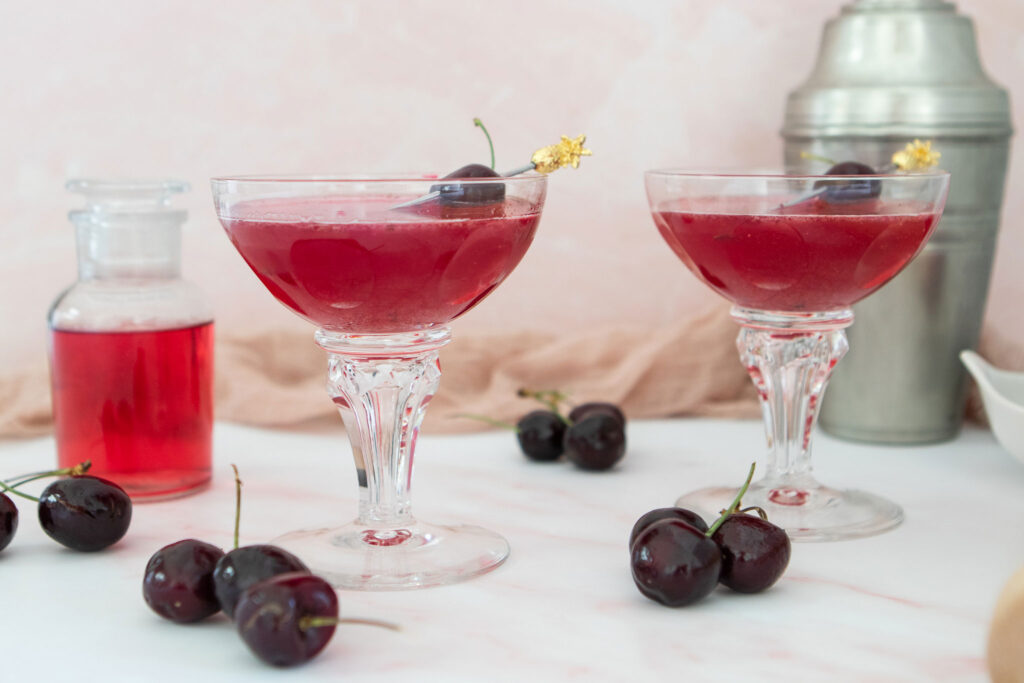 Lastly, if you make Cherry Hibiscus Vodka Cocktail, be sure to leave a comment and/or give this recipe a rating! Above all, I love to hear from you and always do my best to respond to each and every comment. And of course, if you do make this recipe, don't forget to tag me on 
Instagram
! Looking through the photos of recipes you all have made is one of my favorite things to do!
Cherry Hibiscus Vodka Cocktail
Makes: 2 cocktails
Prep Time: 5 minutes
Cook Time: 10-15 minutes
Total Time: 20 minutes
Ingredients
Hibiscus Simple Syrup:
1 & 1/2 cups water

1 cup granulated sugar

1 tbsp dried hibiscus flowers

Zest of one lemon
Cherry Vodka Cocktail:
10 fresh dark red cherries (see Chef's Note)

1/2 ounce hibiscus syrup

4 ounces vodka

1 ounce triple sec

2 ounces sparkling rosé

Ice as needed
Instructions
Hibiscus Simple Syrup:
Combine water and sugar in a medium saucepan on medium heat until sugar has dissolved.
Add lemon zest and hibiscus petals, then turn heat down to a simmer on low heat for 10-15 minutes.
Strain syrup into heat-proof container or glass mason jar with lid. Refrigerate to cool.
Cherry Vodka Cocktail:
Place cherries in the bottom of a shaker and press down with a muddler to release all the cherry juices.
Fill the shaker halfway with ice.  Add simple syrup, vodka, and triple sec. Place cap on the shaker and shake vigorously for 15 seconds. Strain into two martini glasses. Top each glass with one ounce of chilled rosé. Garnish glass with a couple cherries and enjoy!
Chef's Note:
It isn't necessary to pit the cherries as you will be straining the cocktail through the lid of the shaker.
Recipe by Two Cups Flour
Cherry Hibiscus Vodka Cocktail