Chinese Chicken Salad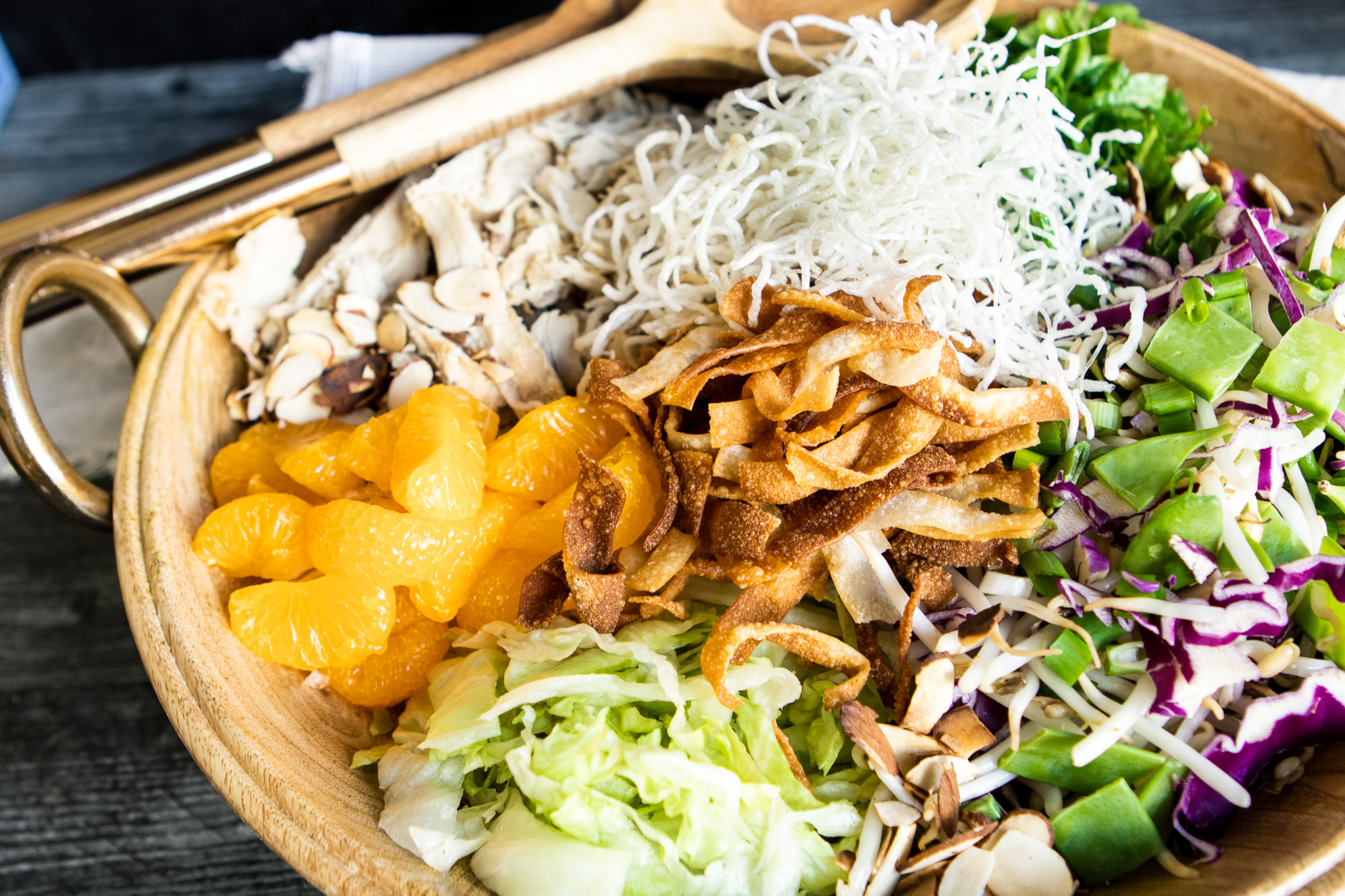 How can you not love Chinese Chicken Salad? I remember when it seemed so exotic, but now it's common-place. That doesn't mean that it has to be ordinary, though…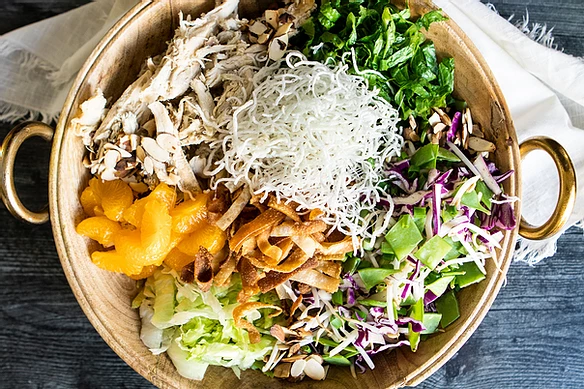 This recipe gets its pop from frying up some rice noodles and wonton strips. Now, you could always substitute tortilla strips and store-bought chow mein noodles in order to simplify this, but if you've got an extra minute, I suggest trying it this way.
Cut the wonton wrappers into strips, heat up some oil in a wok or fry pan and add the strips. They will brown up very quickly (so don't walk away). Repeat until they are used up.
Break up the rice noodles into small bundles. In the same wok that you fried the wonton strips, place a small bundle of rice noodles into the oil. They will puff up beautifully. Simply flip them over, let that side puff up, and remove them to drain on some paper towel. Again, don't walk away from the cooktop. These take only seconds to puff up.
That's all it takes to make this Chinese chicken salad extra special!
If you're trying to figure out what to do with the rest of the package of wonton wrappers, check out my Powdered Crispy Wontons recipe!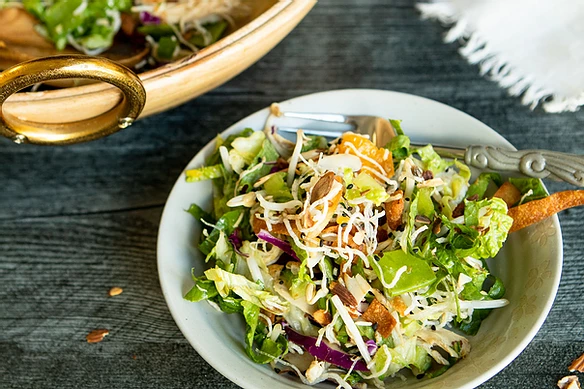 Lastly, if you make Chinese Chicken Salad, be sure to leave a review down below at the bottom of this page (stars are also appreciated)! Above all, I love to hear from you and always do my best to respond to each and every review. And of course, if you do make this recipe, don't forget to tag me on 
Instagram
! Looking through the photos of recipes you all have made is one of my favorite things to do!
Makes: 2-4 servings
Prep Time: 20 minutes
Cook Time: 10 minutes
Total Time: 45 minutes
Ingredients
Asian Dressing:
4 tbsp light soy sauce

6 tbsp rice vinegar (aka rice wine vinegar, or use cider vinegar)

2 tbsp sesame oil (toasted)

4 tbsp grapeseed oil (or canola or any other neutral flavored oil)

2 tsp sugar

3 tsp fresh ginger , grated or very finely chopped

2 garlic clove , minced

1 tsp black pepper
Won Ton Strips & Rice Noodles:
4 ounces rice noodles

4 ounces won ton wrappers

1/2 cup canola or avocado oil
Salad:
1/2 head iceberg lettuce, cored and chopped

1 small head romaine lettuce, cored and chopped

1/4

red cabbage, cored and sliced thin or 4 ounces

4 ounces bean sprouts

6 green onions, chopped

1/2 cup snow peas, sliced thin

8 ounces poached or rotisserie chicken, shredded

1 small can mandarin orange segments, drained
Garnish:
4 ounces slivered almonds, toasted

2 tsp black & white sesame seeds
Instructions
For Dressing:
Combine all of the dressing ingredients in a jar. Shake and then set aside for 10 minutes for the flavors to meld.
For Won Ton Strips:
Heat oil to medium-hot in a wok or medium heavy-bottomed sauté pan until oil starts to shimmer. Place a sheet pan with paper towel on the counter near your cooktop.
Meanwhile, stack wrappers and slice into 1/4-inch thin strips. Drop the strips into the hot oil for about 30 seconds or until starting to brown. Swirl around with tongs and then pull immediately out of the oil and place on the paper towel to drain. Continue with remaining strips.
For Rice Noodles:
Break the noodles into small bunches, about 4-inch squares. Place each bundle carefully into the hot oil. The noodles will puff up quickly. Using tongs, flip the noodles so that each strand puffs up. Immediately pull from the oil and set on the paper towel. Repeat with remaining noodles. Set aside.
For Salad:
Place all of the ingredients into a mixing bowl, except for the won ton strips and crispy rice noodles. Toss the ingredients together with half of the dressing until evenly combined. Add in half of the won ton strips and the crispy rice noodles and toss again gently.
Mound the ingredients into a large serving bowl. Drizzle more dressing over. Top the salad with more crispy rice noodles and won ton strips. Garnish with sprinkling the slivered almonds and sesame seeds over the salad.
Download PDF