Watermelon and Peach Salad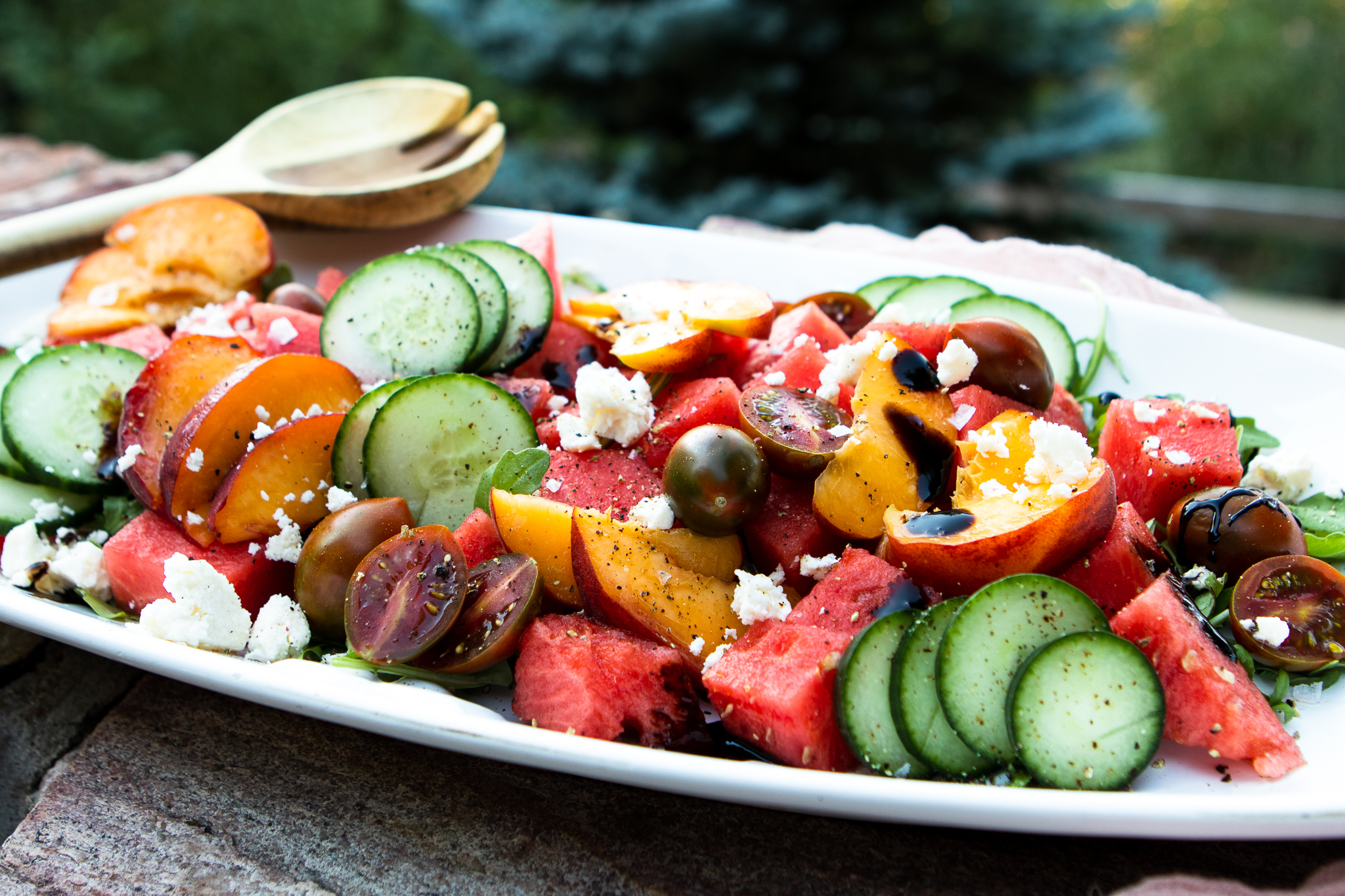 My honey says this is his favorite salad of all times! He loves the sweetness of the watermelon, the addition of salty feta and the tang of fresh peaches, tomatoes and whatever else I've got in the kitchen. Top the whole salad with a sprinkling of flaky sea salt, freshly ground pepper and a drizzle of balsamic glaze, and he's in heaven. Me too!​
This salad is so easy. It's so healthy. And, this salad is so versatile. First, it takes about 5 minutes to throw together. Second, there's no oil or dressing to make you feel guilty about. And finally, you really can use whatever you have on hand.
I always insist on a bed of arugula, watermelon chunks and feta cheese, but after that, you can use nectarines, plums, berries (strawberries are dreamy in this) to replace the peaches. You can add tomatoes and cukes, as I've done, or don't use them. You can add olives, pistachio nuts, glazed pecans. You can add sliced chicken. See what I mean? Very very versatile!!
Enjoy this delicious salad!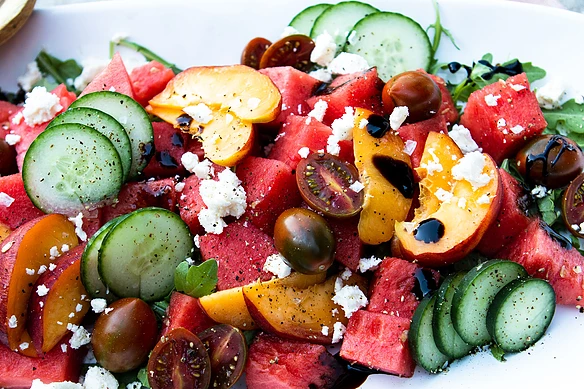 Lastly, if you make Watermelon and Peach Salad, be sure to leave a review down below at the bottom of this page (stars are also appreciated)! Above all, I love to hear from you and always do my best to respond to each and every review. And of course, if you do make this recipe, don't forget to tag me on 
Instagram
! Looking through the photos of recipes you all have made is one of my favorite things to do!
Watermelon and Peach Salad
Makes: 4-6 servings
Prep Time: 10 minutes
Total Time: 15 minutes
Ingredients
2 cups arugula

1/2 small seedless watermelon, rind removed, cut into 1 1/2″ cubes

2 (6 inch) Persian cucumbers or 1/2 English cucumber, sliced into 1/4″ rounds

1 cup assorted cherry tomatoes

2-3 firm, ripe peaches, thinly sliced

3 ounces feta cheese, crumbled

2 tbsp Balsamic glaze

Flaky sea salt, to taste

Freshly ground pepper, to taste
Instructions
Layer arugula, watermelon, cucumbers, tomatoes and peaches in a salad bowl or serving dish. Sprinkle feta cheese over top. Drizzle with balsamic glaze. Sprinkle with flaky salt and pepper and serve!
Chef's Note:
This is a wonderful salad for substitutions: use nectarines, plums, strawberries or blueberries in place of the peaches (or in addition). Use roquefort cheese in place of feta. Add herbs. If you don't have cukes, don't worry about it. Add Kalamata olives, if you like. Try grilled chicken on top. So many options!
Watermelon and Peach Salad