Citrus Poppy Seed Twists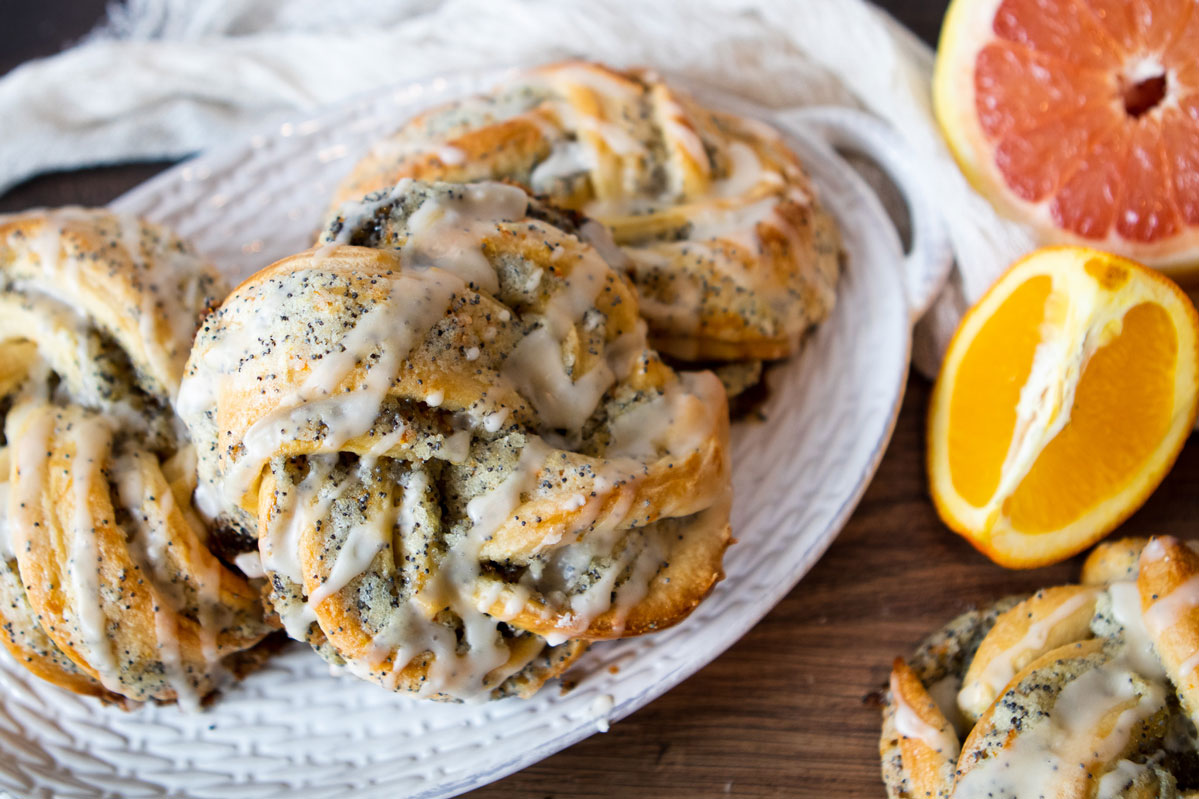 Citrus Poppy Seed Twists are a wonderful way to incorporate citrus into a sweet roll.  These light twists are delicately flavored with orange and grapefruit  zest and drizzled with an orange flavored glaze.  Yum!
The orange-flavored dough comes together easily in a stand mixer fitted with a dough hook.  The dough is rolled out into small rectangles and topped with a citrus butter-sugar mixture.  It's rolled up, split in half and twisted into knots and baked.  Once warm from the oven, drizzle the citrus glaze over and say "hello, breakfast"!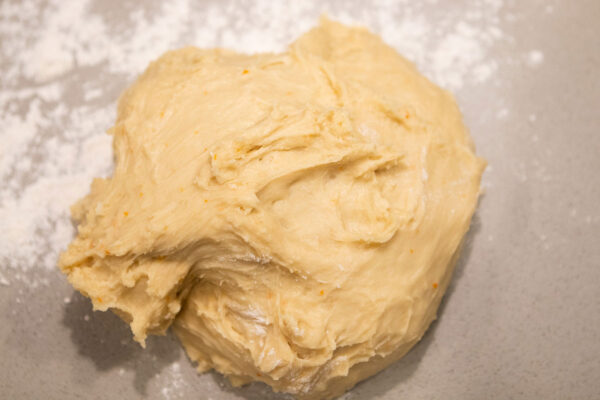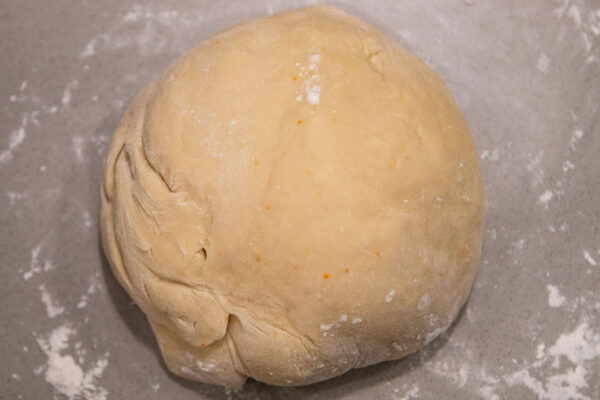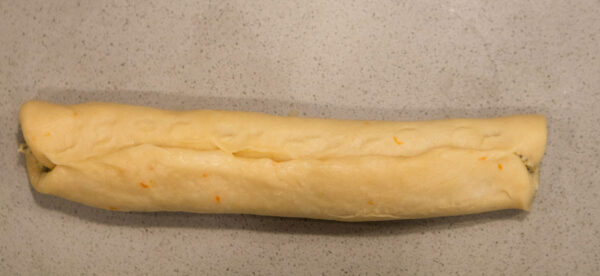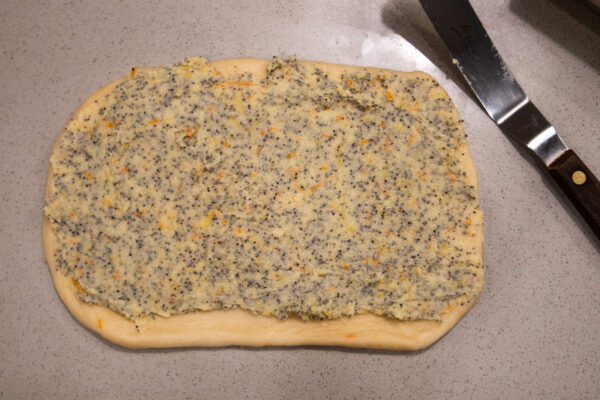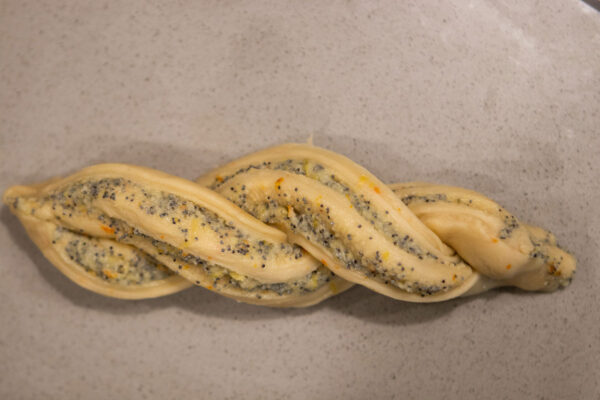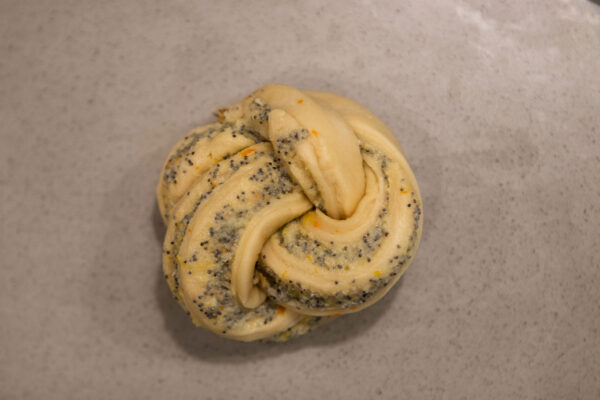 The process to make these  buns includes making a yeast dough.  Which isn't hard, even though you might be thinking "no way"!  I would never suggest that you knead dough by hand (I don't except at the very end sometimes) but if you have a stand mixer with a dough attachment, you're good to go.
It's not necessary to proof the yeast (which means combining yeast and warm liquid like water or milk and a touch of sugar and waiting for the yeast to puff up or bloom).  The yeast gets combined with the flour and dry ingredients (along with the orange zest).  Milk is warmed with butter and added to the flour mixture and combined.
Add eggs and vanilla and mix until a shaggy dough forms.  Now, switch to the dough hoo and knead for 12 to  15 minutes until it comes together nicely.  Knead by hand a few times and then shape into a ball and let it rise in an oiled, covered bowl until the dough has doubled in size.  This can take 45 minutes to one hour.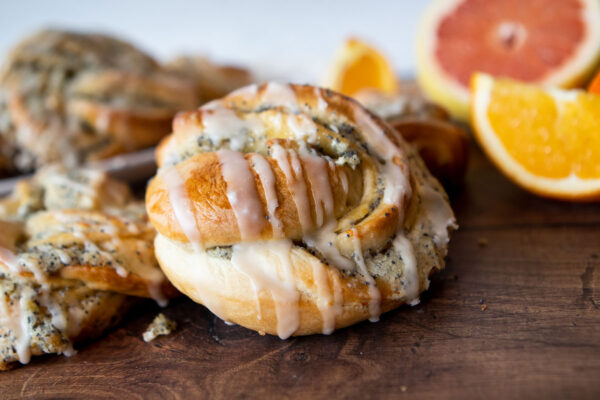 To make the poppy seed filling, combine the poppy seeds with flour and salt and set aside. 
Beat grapefruit and orange zest with sugar and butter in the bowl of a stand mixer.  Once combined, add the poppy seed mixture and blend.  Set aside the filling.
Once the dough is ready, punch it down (it will deflate) and divide it into 10 equal  portions.  I weigh the whole dough, divide by 10 and that's how much each twist should weigh.  I switch my scale to grams to get a more accurate reading and I pinch off bits if I have too much or add if too little.
Then, roll each piece into an 8- x 5- inch rectangle.  Spread about 3 tablespoons of filling on each rectangle and roll up into a log.  Slice the log into two pieces lengthwise and lay each piece with the filling up.  Pinch together the top of the pieces and then twist the pieces together, trying to keep the filling exposed on the top of the twist.
Finally, shape the twist into a knot.  Place the twists on a parchment-lined sheet pan, and let them rise for about 45 minutes.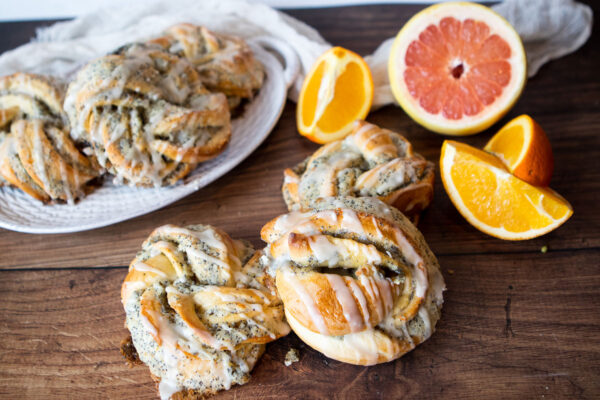 Brush an egg wash over each twist and bake for about 30 minutes or until the twists are puffed and golden.
Make a glaze from confectioners' sugar and orange juice and drizzle over cooled twists.
Enjoy these twists for breakfast, brunch or snack time!
Lastly, if you make Citrus Poppy Seed Twists, be sure to leave a review down below at the bottom of this page (stars are also appreciated)! Above all, I love to hear from you and always do my best to respond to each and every review. And of course, if you do make this recipe, don't forget to tag me on 
Instagram
! Looking through the photos of recipes you all have made is one of my favorite things to do!
Makes: 10 buns
Prep Time: 1 hour
Bake Time: 33 minutes
Total Time: 1 hour & 45 minutes plus rise time 2 hours
Ingredients
5 & 1/2 cups (688grams) all-purpose flour, divided

1 & 3/4 cups granulated sugar, divided

1 tbsp plus 1 tsp tightly packed orange zest, divided

2 & 1/4 tsp instant yeast

1 & 1/2 tsp kosher salt, divided

1 cup whole milk

1 & 1/4 cup unsalted butter, softened and divided

3 large eggs, room temperature and divided

1/2 tsp vanilla extract

1/4 cup poppy seeds

2 tbsp tightly packed grapefruit zest

1 tbsp water

1 cup confectioners' sugar

2 tbsp fresh orange juice
Instructions
In the bowl of a stand mixer, whisk together 4 & 3/4 cups (594 grams) flour, 3/4 cup sugar, 1 teaspoon orange zest, yeast, and 1 teaspoon kosher salt until combined.
In a small saucepan, heat milk and 1/2 cup butter over medium heat until butter is melted and an instant-read thermometer registers 120°F to 130°F. Add warm milk mixture to flour mixture; using the paddle attachment, beat at low speed until combined. Add 2 eggs and vanilla; beat until a wet, shaggy dough forms.
Switch to the dough hook attachment. Beat at medium speed until dough is smooth and elastic, 12 to 15 minutes; add up to 1/4 cup (31 grams) flour, 1 tablespoon at a time, if dough is too sticky. Turn out dough onto a lightly floured surface, and knead 5 to 8 times; shape into a smooth round.
Lightly oil a large bowl. Place dough in bowl, turning to grease top. Cover and let rise in a warm, draft-free place until doubled in size, 45 minutes to 1 hour.
In a small bowl, whisk together poppy seeds, remaining 1/2 cup (63 grams) flour, and remaining 1/2 teaspoon salt.
Clean bowl of stand mixer and paddle attachment. Using the paddle attachment, beat grapefruit zest, remaining 1 cup granulated sugar, remaining 3/4 cup unsalted butter, and remaining 1 tablespoon orange zest at medium speed until combined, about 2 minutes. Beat in poppy seed mixture until just combined.
Line 2 rimmed baking sheets with parchment paper. Punch down dough, and let stand for 10 minutes. Divide dough into 10 portions (about 120 grams each). On a clean surface, roll each portion into an 8×5-inch rectangle, one long side facing you. Spread about 3 tablespoons grapefruit zest mixture on each rectangle, leave a 1/4-inch border along one long side. Staring with long side opposite border, roll up each rectangle into a log, pinching seam to seal. Place 1 log seam side down, and cut in half lengthwise. Pinch one end together, and twist halves together, cut side up. Pinch remaining end, and bring into a knot, tucking ends under each other. Repeat with remaining logs. Place about 2 inches apart on prepared pans. Cover and let rise in a warm- draft-free place until puffy, about 45 minutes.
Preheat oven to 350°F. In a small bowl, whisk together 1 tablespoon water and remaining 1 egg. Lightly brush over each bun. Bake until puffed and golden and an instant-read thermometer inserted in center registers 190F, 30-33 minutes. Let cool on pans for 10 minutes. Remove from pans, and let cool completely on a wire rack.
In a small bowl, whisk together confectioners' sugar and orange juice until smooth. Drizzle over cooled buns. Best served same day.
Recipe by Bake from Scratch