Coconut Buttermilk Pound Cake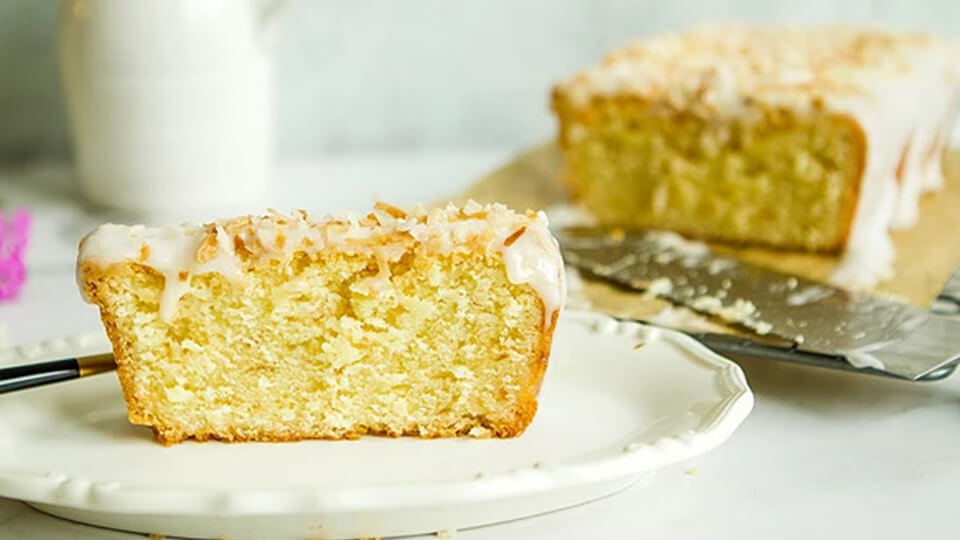 Coconut is one of my favorite flavors…I love it plain, toasted, liquid, or oil.  But, I especially love it when the weather starts to change and we're getting warmer outside (actually, Phoenix is slated for 100°F next week!  Yikes!).
The warm weather, and the fruits and vegetables it brings with it, makes me feel tropical…coconut, papayas, mangoes…all of these flavors require a cup of Kona coffee, a terrace to sit on, and a noise-machine set to "waves"!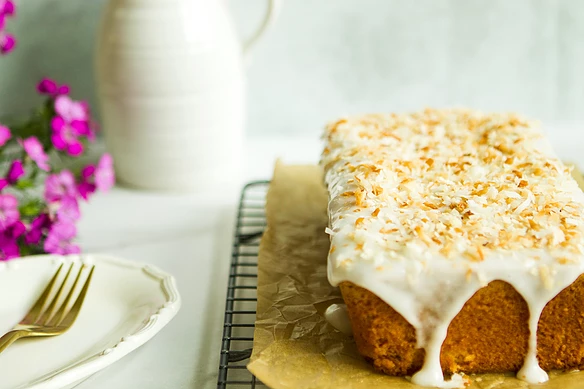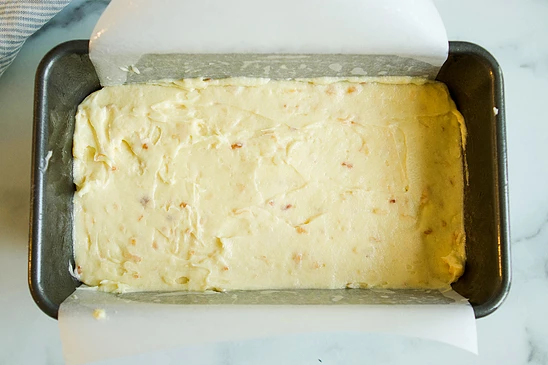 This pound cake is by far one of the best loaves I've made this season.  It took me a couple of tries because of the baking time, but it was so tasty, I had to work to get it right.​
There's a lot of coconut in this batter…the more, the better, I say. I love the crunch that you get in every bite, especially with more toasted coconut on top.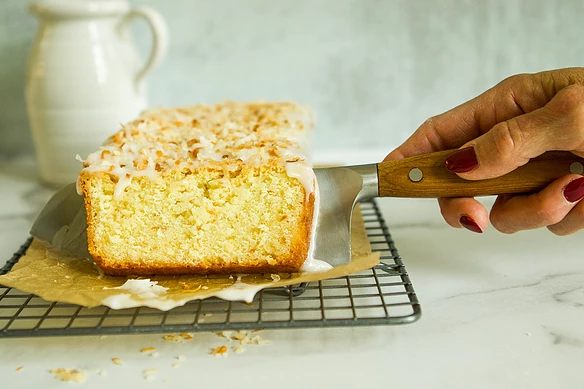 A few items worth mentioning:
You start this loaf in a cold oven.  This just helps to keep the loaf as moist as can be without the edges drying out.
When you test the loaf for doneness, make sure you don't just go all the way to the bottom, but that you test about an inch from the top.  That seems to be the part that takes the longest to bake.  If you've under-baked it, it will still be delicious, but the top will sink.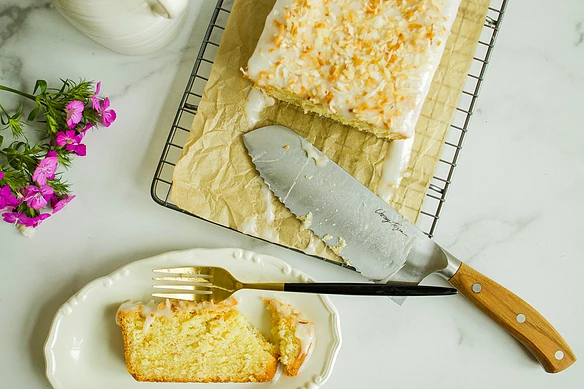 Lastly, if you make Coconut Buttermilk Pound Cake, be sure to leave a comment and/or give this recipe a rating! Above all, I love to hear from you and always do my best to respond to each and every comment. And of course, if you do make this recipe, don't forget to tag me on 
Instagram
! Looking through the photos of recipes you all have made is one of my favorite things to do!
Coconut Buttermilk Pound Cake
Makes: 2 (9×5-inch) loaves
Prep Time: 10 minutes
Bake Time: 1 hour & 25 minutes
Total Time: 1 hour & 35 minutes
Ingredients
1 & 1/2 cups unsalted butter, softened

3 cups granulated sugar

5 large eggs 

3 cups all-purpose flour

2 tsp Kosher salt

1 tsp baking powder

1 cup whole buttermilk

2 cups sweetened flaked coconut, toasted and divided

2 tsp vanilla extract

3 cups confectioners' sugar

1/4 cup unsweetened coconut milk
Instructions
Spray 2 (9×5-inch) loaf pans with baking spray with flour. Line pans with parchment paper, letting excess extend over sides of pan. Spray pans again.
In the bowl of a stand mixer fitted with the paddle attachment, beat butter and granulated sugar at medium speed until fluffy, 3 to 4 minutes, stopping to scrape sides of bowl. Add eggs, one at a time, beating well after each addition.
In a medium bowl, whisk together flour, salt, and baking powder. Reduce mixer speed to low. Gradually add flour mixture to butter mixture alternately with buttermilk, beginning and ending with flour mixture, beating just until combined after each addition. Beat in 1 & 1/4 cups coconut and vanilla. Divide batter between prepared pans.
Place in a cold oven. Bake at 300°F until a wooden pick inserted in center comes out clean, about 1 hour and 25 minutes.  Make sure the top feel firm.  Let cool in pans for 10 minutes. Remove from pans, and let cool completely on wire racks.
In a medium bowl, whisk together confectioners' sugar and coconut milk. Drizzle glaze over loaves; sprinkle with remaining 3/4 cup coconut.
Recipe from Bake from Scratch
Coconut Buttermilk Pound Cake