Maple-Oat Sticky Cake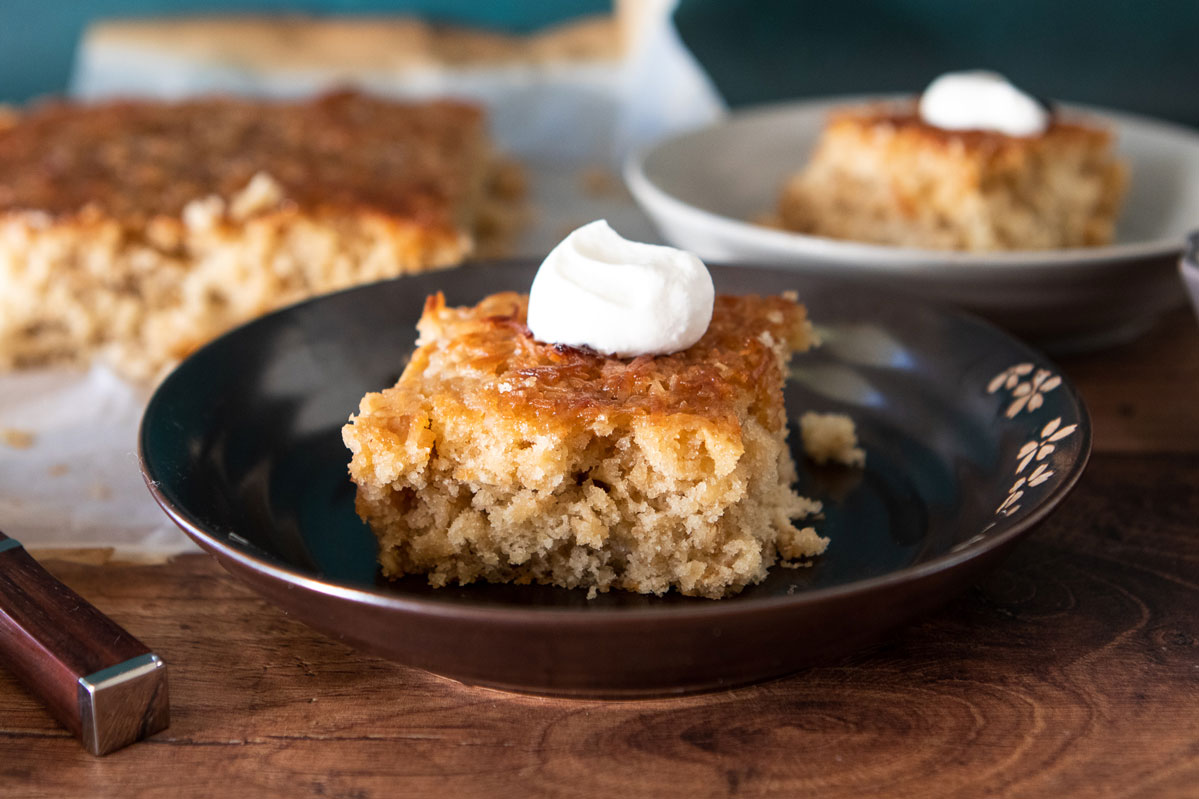 Fancy layer cakes have nothing on this Maple-Oat Sticky Cake!  This cake is beyond delicious…by using oats in the batter, it provides a lovely chew to each bite.  There's maple syrup in the batter that elevates the taste. There is also a decadent crunchy broiled icing that includes coconut and, you guessed it, maple syrup!  So happy for snack time.  Or breakfast.  Or late night.  Forget dinner and just dig in.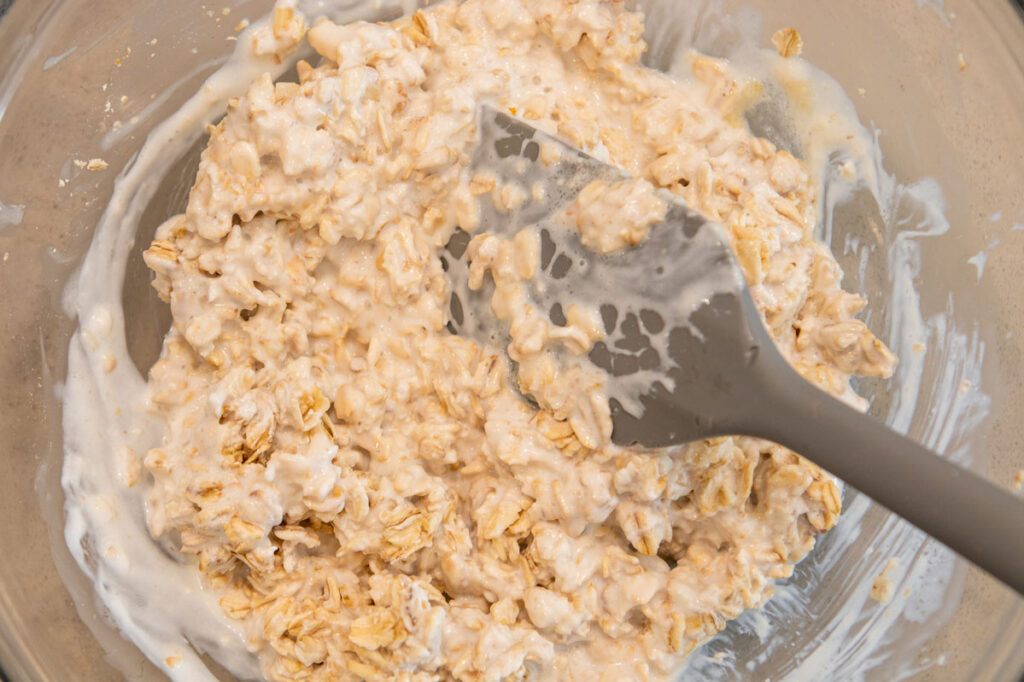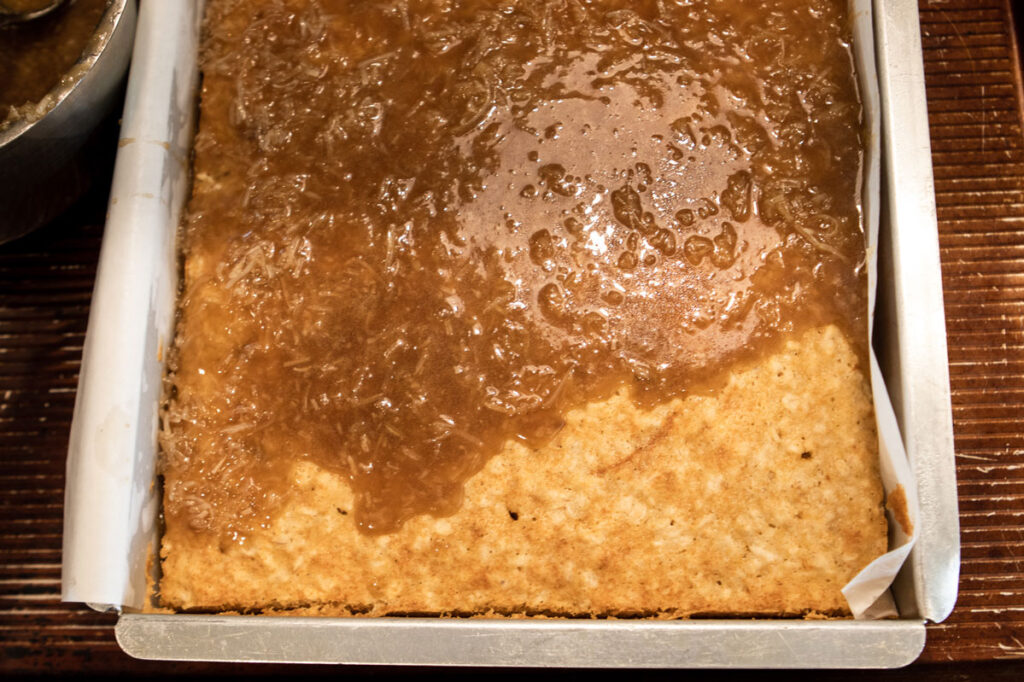 To begin this scrumptious sticky cake, soak the old-fashioned rolled oats in milk and buttermilk for about 20 to 30 minutes.  While that's soaking, combine all the dry ingredients together.
In the stand mixer, beat the butter and then add the sugar.  Beat in the eggs, one at a time, until the mixture is cohesive.  Then add maple syrup and vanilla extract.  Finally, fold in the dry ingredients.
Pour the batter into a prepared pan and pop it into a preheated oven.  Bake it for about 40 minutes.
After it's cooled for a while, poke about 30 holes in the cake.  This will allow for the icing to soak into the cake to give it that sticky gooey texture.
To make the icing, combine brown sugar, maple syrup, cream and butter in a saucepan and bring to a boil while stirring.  Stir the coconut into the mixture and pour evenly over the cake.
Here comes the fun part:  pop it all into the oven that has now been turned to Broil and broil it until the topping is golden brown.  That will only take a couple of minutes.
Let the cake cool for approximately 20 minutes.  This will allow the topping to firm up and make it irresistible when you bite into it.  I promise you can't eat just one piece!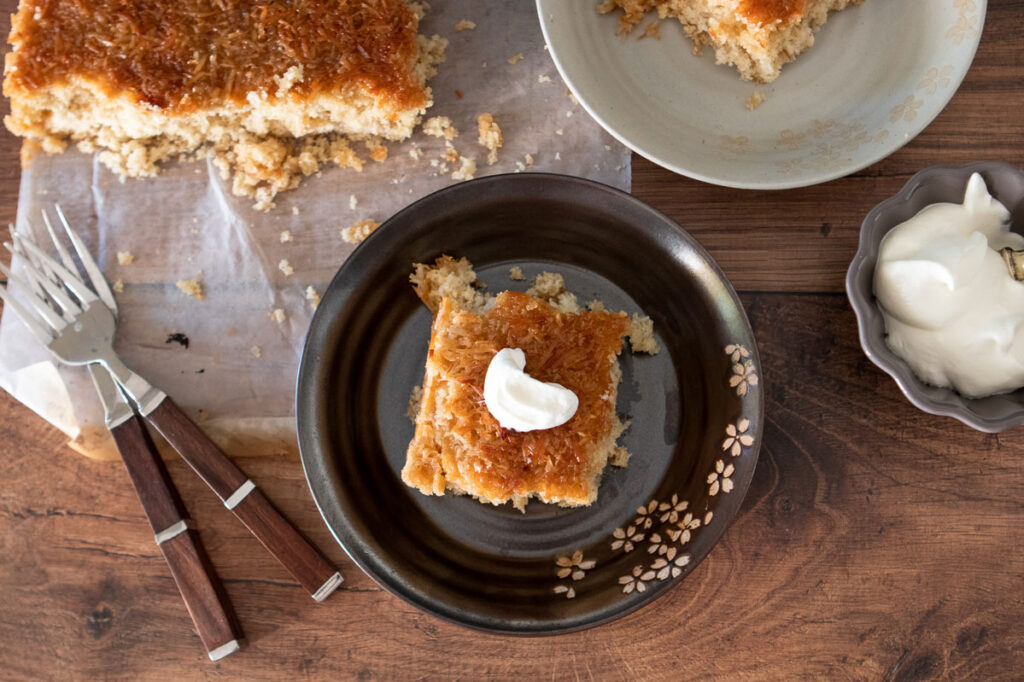 Lastly, if you make Maple-Oat Sticky Cake, be sure to leave a comment and/or give this recipe a rating! Above all, I love to hear from you and always do my best to respond to each and every comment. And of course, if you do make this recipe, don't forget to tag me on 
Instagram
! Looking through the photos of recipes you all have made is one of my favorite things to do!
Makes: 9-12 servings
Prep Time: 30 minutes
Bake Time: 45 minutes
Total Time: 1 hour & 45 minutes
Ingredients
For the Cake:
1/2 cup (4 oz.) unsalted butter, softened, plus more for the pan

1 cup old-fashioned rolled oats

1 cup buttermilk

1/4 cup milk

1 & 1/2 cups all-purpose flour

1 tsp baking powder

1/2 tsp baking soda

1/2 tsp salt

1/4 tsp ground nutmeg

1 cup sugar

2 large eggs, at room temperature

1/4 cup pure maple syrup

1 & 1/2 tsp pure vanilla extract
For the Broiled Icing:
1/2 cup packed light brown sugar

1/3 cup pure maple syrup

1/4 cup heavy cream

4 tbsp (2 oz.) unsalted butter

2/3 cup sweetened or unsweetened flaked coconut
Instructions
Make the Cake:
Butter and lightly flour a 10-inch round or square cake pan and line with parchment with overhangs to help remove from pan. Set aside.
In a medium bowl, stir together the oats, buttermilk, and milk. Let stand for 20 to 30 minutes. In another bowl, combine the flour, baking powder, baking soda, salt, and nutmeg, and whisk to combine. Set aside.
Position a rack in the center of the oven, and preheat the oven to 350°F. In a large bowl, beat the remaining butter with an electric mixer on medium speed; gradually add the sugar. Beat in the eggs, one at a time. Beat in the maple syrup and vanilla.
Add half of the dry ingredients to the butter mixture, and stir just until combined. Stir in the soaked oat mixture until well combined. Fold in the remaining dry ingredients until well combined.
Pour the batter into the pan, and spread evenly. Bake on the middle oven rack until the cake is golden brown and a toothpick inserted in the center comes out clean, about 40 minutes. Transfer to a wire rack and let cool for 30 minutes. Use a toothpick to poke 20 to 30 holes in the cake.
Position a rack 6 inches from the broiling element, and preheat the broiler.
Make the Broiled Icing:
In a small saucepan, combine the brown sugar, maple syrup, cream, and butter. Bring to a boil, stirring occasionally. Boil for 15 seconds, then remove from the heat and stir in the coconut.
Place the cake on a baking sheet, and evenly spoon the icing over the cake. Broil the cake, until the top is golden brown, 2 to 3 minutes. (Watch carefully and, if necessary, use the baking sheet to adjust the pan to broil evenly.) Transfer the cake to a wire rack, and let cool 10 minutes before serving.
Cover and refrigerate leftovers; serve at room temperature, or briefly warm in a low oven.
Recipe from Fine Cooking