Dipped Toffee Shortbread Cookies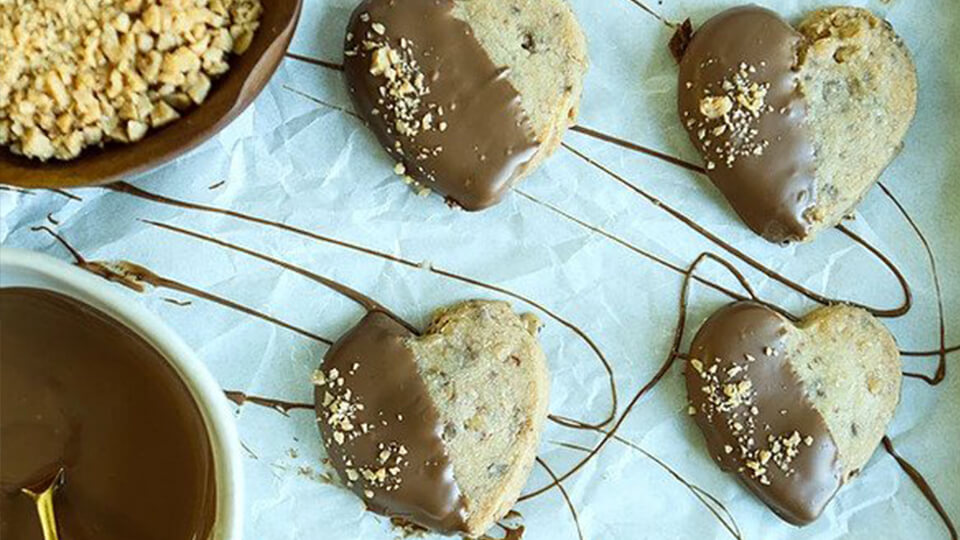 Valentine's Day is all about hearts and Dipped 
Toffee
Shortbread Cookies. There you have it…don't bring me roses, don't bring me chocolates. Bring me cookies! Delicious, pretty little things that I can nibble while sipping my bubbly!
That's all I need , besides some glittery jewelry.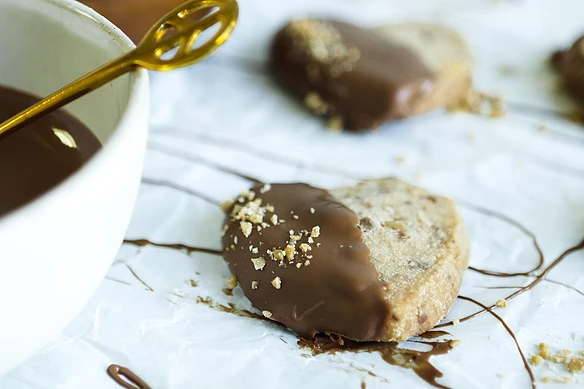 And, while I love iced sugar cookies (you know I do!), I adore these buttery gems. Toffee shortbread cookies that are shaped as hearts and then dipped in chocolate and sprinkled with nuts, or chopped Skor bars or sprinkles…whatever your 💖desires!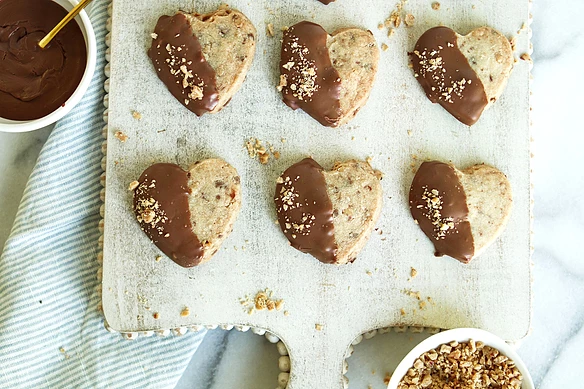 These cookies are buttery, as shortbread should be, but also salty (thank you, fleur de sel) with little bits of crunch. They are sweet and perfect for that special Valentine's Day treat. Or for that matter, any time!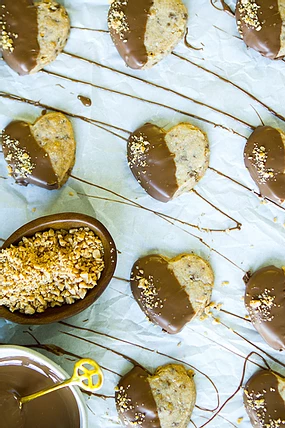 Lastly, if you make Dipped Toffee Shortbread Cookies, be sure to leave a comment and/or give this recipe a rating! Above all, I love to hear from you and always do my best to respond to each and every comment. And of course, if you do make this recipe, don't forget to tag me on 
Instagram
! Looking through the photos of recipes you all have made is one of my favorite things to do!
Dipped Toffee Shortbread Cookies
Makes: 36 cookies
Prep Time: 10 minutes
Bake Time: 18 minutes
Total Time: 1 hour
Ingredients
1 cup unsalted butter, softened

3/4 cup powdered sugar

2 & 1/3 cups all-purpose flour

2 tsp coarse sea salt (I like Fleur de Sel)

4 Skor or Heath Bars, chopped into ¼ inch pieces

6 ounces milk or semisweet chocolate chips

1/4 cup chopped pecans or Skor/Heath Bars
Instructions
In the bowl of an electric mixer fitted with a paddle attachment, mix together butter and sugar until smooth. Add the flour and salt and mix on low speed until the dough comes together. Mix in chopped Skor bars.
Form dough into 2 discs. Wrap tightly in waxed paper and refrigerate for several hours until firm. If you are in a hurry, you can also freeze them for about 30 minutes. They can be wrapped in plastic wrap and frozen for up to a month.
Preheat oven to 350°F. Line two baking sheets with parchment paper. On a lightly floured surface, roll dough to 1/4-inch thickness. Using heart cookie cutters (or any shape) cut dough and place on prepared sheet pans. Bake until cookies are light golden brown on the bottoms, 15 to 18 minutes. Let cookies cool 5 minutes on sheets. Transfer to wire racks to cool completely.
Once completely cool, melt chocolate in microwave in 20 second bursts, stirring after each burst until chocolate is completely melted. Dip one half of cookie into melted chocolate. Set on rack in baking sheet and sprinkle with chopped nuts or Skor/Heath bars. Let sit until chocolate sets up.
Dipped Toffee Shortbread Cookies