Strawberry Shortcake Cookies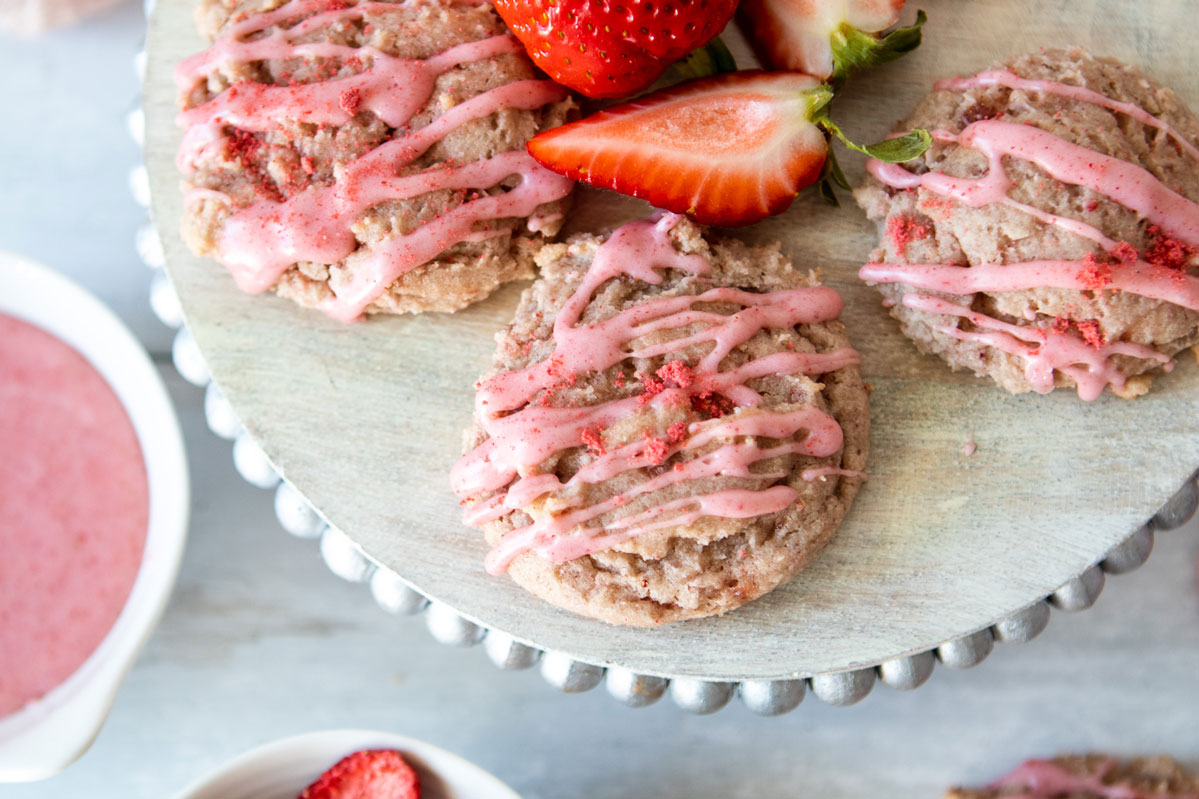 If you only make one cookie this Spring (but who really does that?), you must make these Strawberry Shortcake Cookies!  Filled with both freeze-dried strawberries and strawberry jam, drizzled with strawberry icing and sprinkled with crushed strawberries, the delicious flavor of fresh strawberries is loud and proud!  They also look so pretty, don't you think?
While I'm not a jam-loving kind of girl, in this recipe, it makes all the difference.  You could certainly play around with other freeze-dried berries and jams…same quantities, just different finished look to them.
These cookies are a bit crispy on the exterior and soft and chewy on the interior.  Everything a cookie should be!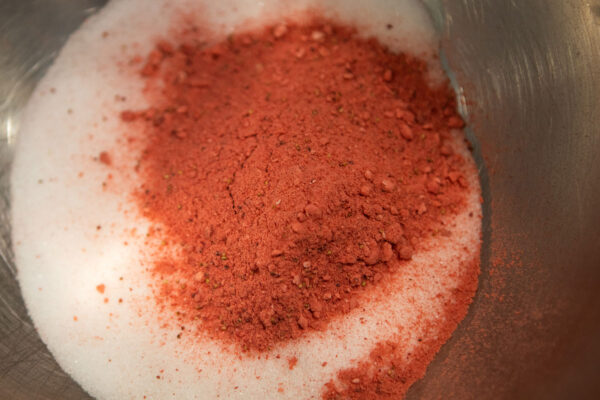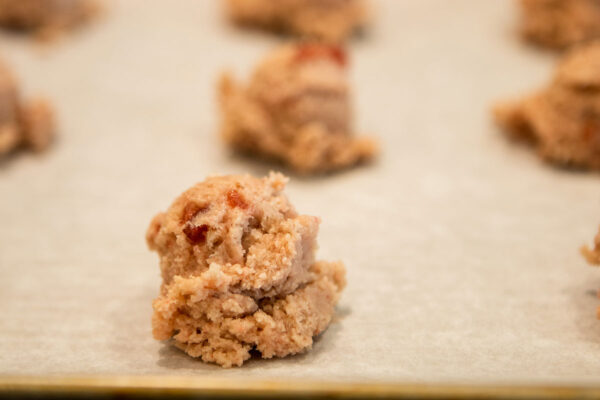 The bright flavor of strawberries is derived from using freeze-dried strawberries and a scoop of good-quality strawberry jam.  If you've never purchased freeze-dried berries, I found them at Trader Joe's.  If you don't have a TJ's near you, here's a link to purchasing them online.  You will only need one 1/2-ounce bag for this recipe.
Crushing them is accomplished with a food processor.  Pulse them until you have a fine powder.  It is difficult to get them completely crushed…I always have some larger bits left.  It's okay to use those larger bits in the batter, but I would sift them out for the frosting and topping.  Otherwise the frosting will be chunky instead of smooth.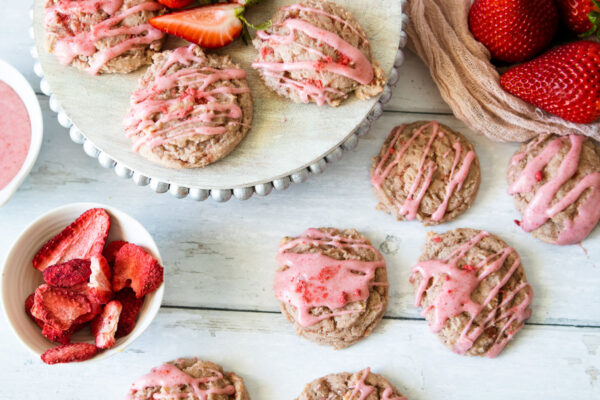 With your fingers, massage the crushed strawberries into the granulated sugar in the bowl of a stand mixer.  Then add the brown sugar and butter and mix for a couple of minutes.  Add the egg and vanilla and continue to mix until combined.
Add all of the dry ingredients until just combined.  Finally, add the strawberry jam and mix again until just combined.  It's okay to have some chunks of jam running through the batter.  What you don't want to do is over-mix the batter.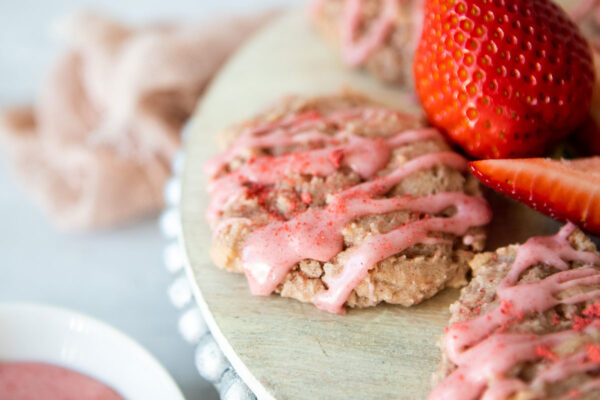 Scoop the dough onto cookie sheets and bake until the edges are set and the bottoms are golden brown.  Let the cookies cool before glazing them.
To make the glaze, whisk together all of the ingredients until smooth.  You can adjust the consistency easily…if the glaze is too thick to drizzle nicely, add a touch more milk (1/2 tablespoon at a time).  If the glaze is too thin, add more powdered sugar (2 tablespoons at a time).
Finally, sprinkle some sifted freeze-dried strawberries over the top to just add a pretty touch.  Enjoy!
Lastly, if you make Strawberry Shortcake Cookies, be sure to leave a review down below at the bottom of this page (stars are also appreciated)! Above all, I love to hear from you and always do my best to respond to each and every review. And of course, if you do make this recipe, don't forget to tag me on 
Instagram
! Looking through the photos of recipes you all have made is one of my favorite things to do!
Strawberry Shortcake Cookies
Makes: 30 cookies
Prep Time: 10 minutes
Bake Time: 10 minutes/sheet
Total Time: 40 minutes
Ingredients
3/4 cup granulated sugar

2 tbsp crushed freeze-dried strawberries (1.2 ounces), see Chef's Note

1/4 cup light brown sugar, packed

1/2 cup unsalted butter, room temperature

1 large egg, room temperature

1 tsp vanilla

2 cups all-purpose flour, spooned and leveled

1/2 tsp baking soda

1/2 tsp baking powder

1/2 tsp salt

1/4

cup high-quality strawberry jam
Glaze:
Topping:
Instructions
Preheat the oven to 350°F. Line two baking sheets with parchment paper and set aside.
In a large bowl, add the granulated sugar and crushed freeze-dried strawberries. Use your hands to massage the strawberries into the sugar for about 20 seconds. Add the brown sugar and butter to the same bowl and use a hand mixer (or stand mixer fitted with the paddle attachment) to mix on medium high speed for 2 to 3 minutes. Scrape down the sides of the bowl.
Add the egg and vanilla. Mix again for 20 seconds to combine.
In a separate bowl, whisk together the flour, baking soda, baking powder and salt.
Add the dry ingredients to the butter and egg mixture. Mix on low speed until just combined. Do not over-mix. Add the strawberry jam and mix to combine, again being careful not to over-mix.
Use a medium size cookie scoop and place prepared cookie sheet, leaving 2-3 inches between each ball.
Bake the cookies one sheet at at time in the center rack of the oven for 9 to 10 minutes. The edges should be set and the bottoms just beginning to turn a golden brown. The tops will be pale and slightly puffy. As the cookies cool, the tops will deflate slightly.
Remove the cookies from the oven and cool on the cookie sheet for 15 minutes before carefully transferring them to a wire rack to cool completely.
To make the glaze, whisk together the sifted powdered sugar, milk and sifted freeze-dried strawberries until smooth. If too thin, add more powdered sugar. If too thick, add more milk. Once the desired consistency is reached, drizzle the glaze over the top of the cooled cookies. Sprinkle with more crushed freeze-dried strawberries.
Chef's Notes:
Freeze-dried strawberries are available at Trader Joe's and online. A 1/2-ounce bag will yield the right amount of crushed strawberries for this recipe. To crush them, place them in a food processor and pulse until you have as fine a powder as you can possibly get. There might still be some chunks. Those are fine to mix into the batter but you'll want to sit it for the frosting and topping.
Store cookies tightly covered at room temperature for up to 4 days.
To freeze the dough, place the cookie dough balls on a cookie sheet. Place the cookie sheet in the freezer for one hour until the dough is firm. Transfer the dough balls to a large freezer bag and freeze for up to 2 months. Bake directly from the freezer, adding a minute or two to the baking time.
Strawberry Shortcake Cookies