Farmhouse Cheddar Frittata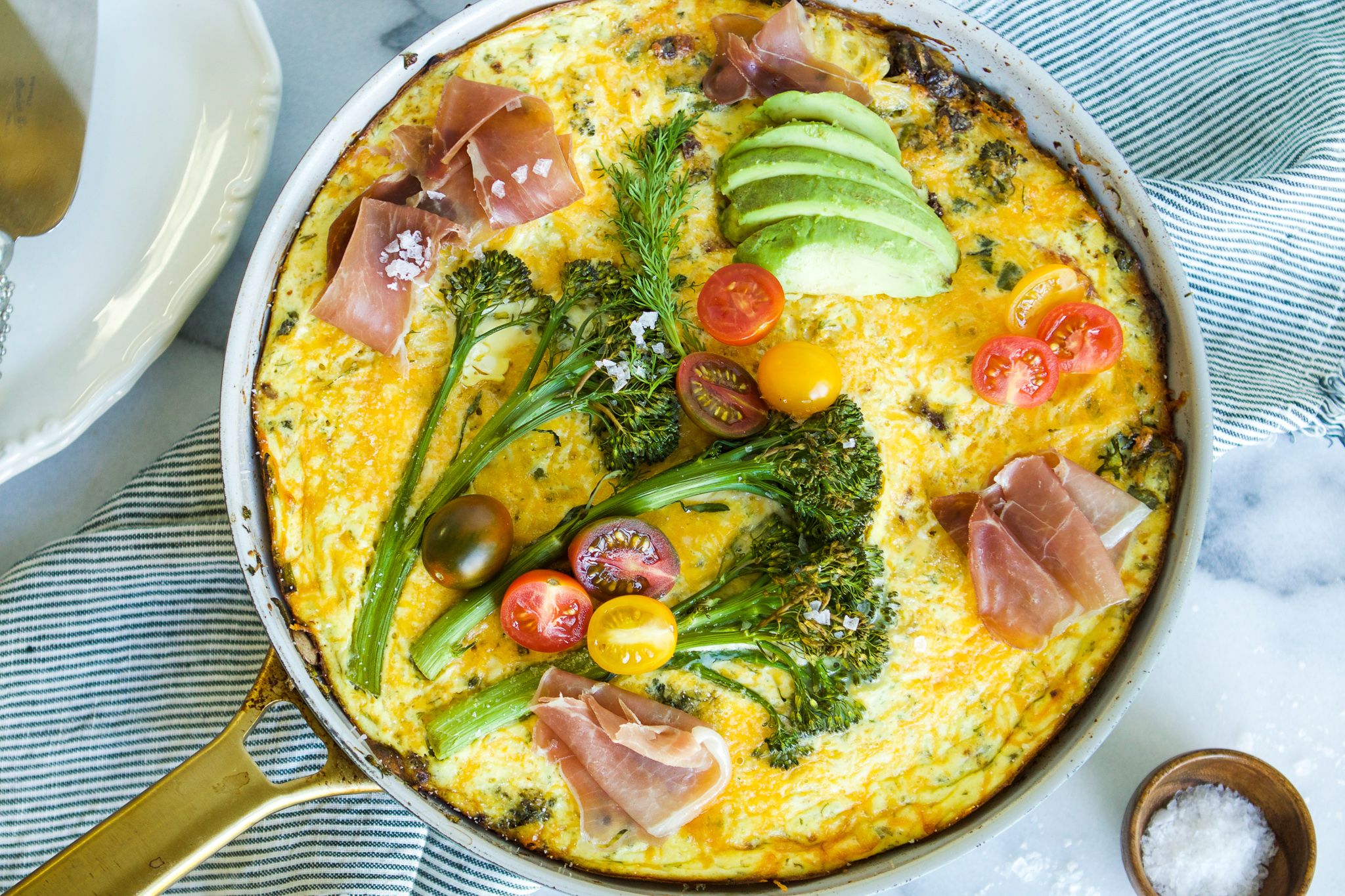 Sometimes dinner is for breakfast (my brother would often have pizza for breakfast…seriously, Ron????) or breakfast is for dinner, as in this wonderful frittata!  Actually any time works.  This Farmhouse Cheddar Frittata is especially delicious for breakfast, brunch, lunch or dinner, so feel free to whip this one up any ol' time!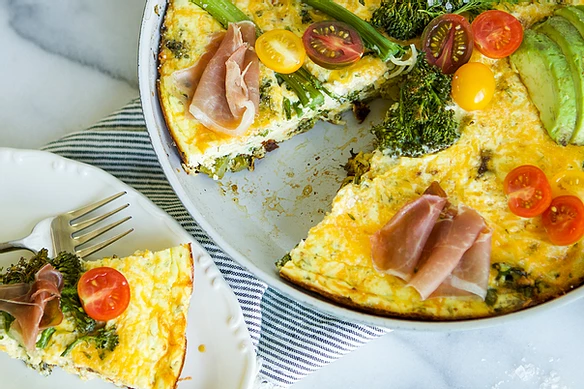 I have chosen to use certain veggies, but you can use up anything that's in your fridge that needs to be cooked.  Feel free to experiment with any different vegetables, cheeses and toppings.
​I also love the extra texture that you get from adding al dente angel hair pasta.  It's unexpected and lovely!
​This can easily transform into a vegetarian dish by eliminating the prosciutto from the top of the frittata…poof, gone!
​For a light, delicious one pan meal, this is the recipe!
Enjoy!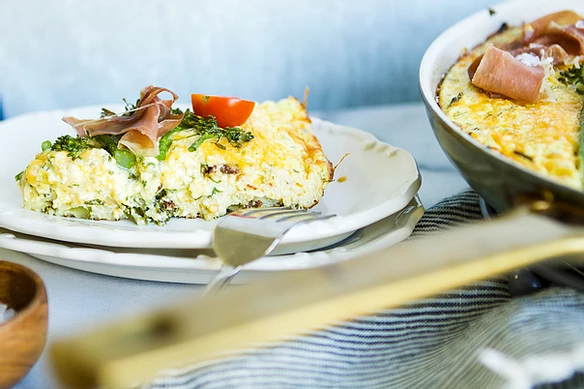 Lastly, if you make Farmhouse Cheddar Frittata, be sure to leave a comment and/or give this recipe a rating! Above all, I love to hear from you and always do my best to respond to each and every comment. And of course, if you do make this recipe, don't forget to tag me on 
Instagram
! Looking through the photos of recipes you all have made is one of my favorite things to do!
Farmhouse Cheddar Frittata
Makes: 4 servings
Prep Time: 5 minutes
Cook Time: 30 minutes
Total Time: 35 minutes
Ingredients
Kosher salt

1/3 pound angel hair pasta

8 large eggs

1 & 1/2 cups plain Greek yogurt

2 tbsp chopped fresh dill

1 tsp crushed red pepper flakes

1 cup shredded sharp cheddar cheese

1/4 cup extra-virgin olive oil

1 bunch broccolini, chopped (leave 1 or 2 stalks unchopped to garnish the top, if desired)

Freshly ground pepper

1 roasted red bell peppers, sliced (use jarred peppers for an easier prep)

1/2 cup oil-packed sun-dried tomatoes, drained and chopped

1/4 cup basil pesto, store-bought or homemade (click link for recipe)

1 cup cherry tomatoes, halved

3 ounces prosciutto , torn into pieces

1 avocado, pitted, peeled and sliced
Instructions
Preheat the oven to 450°F. Bring a large pot of salted water to a boil over high heat. Add the pasta and cook until al dente according to the package directions (I cooked mine for 4 minutes). Drain and set aside.
Meanwhile, in a medium bowl, whisk together the eggs, yogurt, dill and red pepper flakes. Stir in half of the cheese.
In a large oven-proof skillet, heat the olive oil over medium heat. When it shimmers, add the broccolini and cook for about 5 minutes, until tender. season with salt and black pepper. Add the pasta, roasted red pepper, sun-dried tomatoes, and pesto and toss to combine.
Slowly pour the egg mixture into the skillet, using a spatula to evenly coat the veggies and pasta.
Cook for 1 to 2 minutes, until the eggs begin to set around the edges, then remove the skillet from the heat.
Sprinkle the remaining cheese over the top and transfer the skillet to the oven. Bake for 15 to 20 minutes, or until the eggs are just set.
Top the frittata with the cherry tomatoes, prosciutto and avocado. Serve immediately.
Recipe from Half Baked Harvest
Download PDF
Farmhouse Cheddar Frittata