Fresh Cherry Pie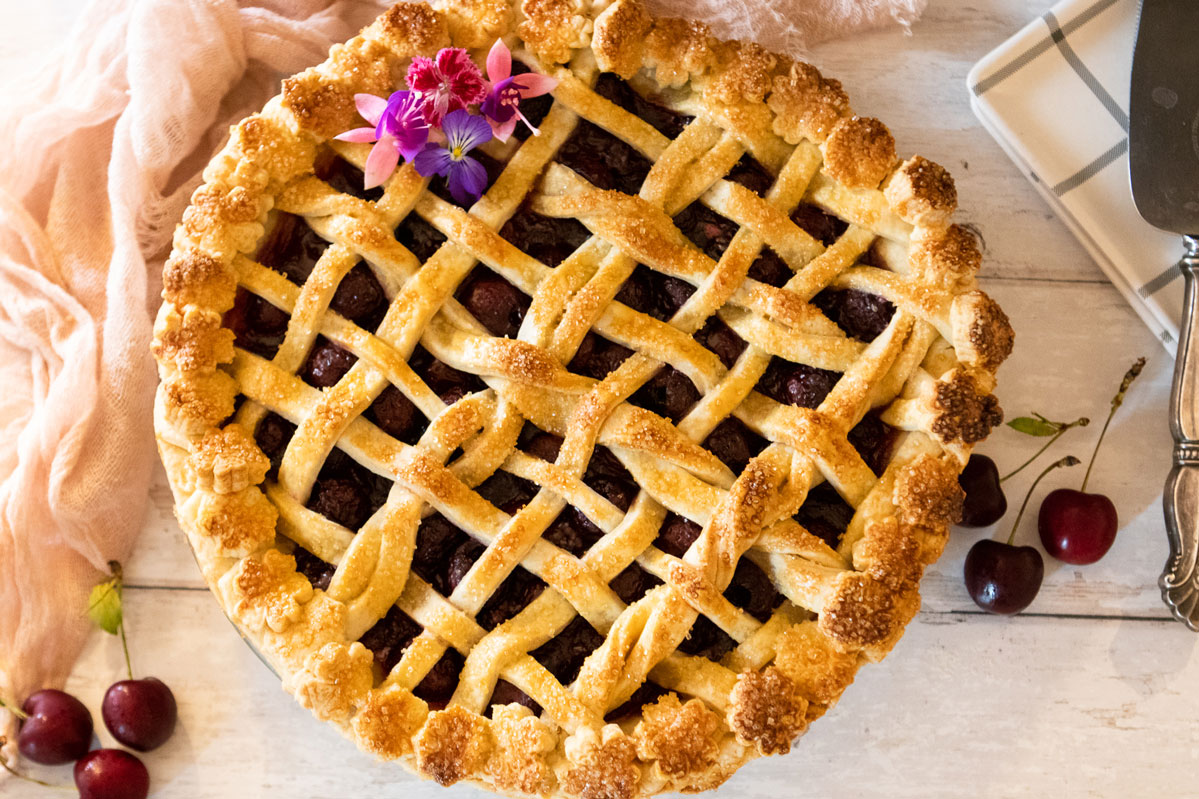 One of my favorite baked desserts to make with fresh cherries is Fresh Cherry Pie.  I know that you can easily make a cherry pie with canned cherry pie filling but nothing compares to using fresh.  While we are still in cherry season, I say bake a pie!
It's very simple to make this pie…using my favorite pie crust, it comes together in no time.  The crust takes 5 minutes (plus chill time of 2 hours), the filling takes 10 minutes max to thicken, and baking takes about an hour.
No excuses, now…your family will thank you for this wonderful bakery-level pie!
Start making the pie crust in advance.  You'll need a few hours of chill time, so plan accordingly.  I love My Favorite Pie Crust recipe as it's all made in a food processor and takes only 5 minutes!
The only time-consuming part of this recipe is pitting the cherries.  I really like this cherry pitter…it pits 6 cherries at a time!
Place the pitted cherries in a saucepan with sugar, water, corn starch, lemon juice and vanilla bean seeds and cook until thickened, about 5 minutes.  Let them cool completely.
Roll out one disc of dough and fit it into the pie dish.  Fill it with the cooled, cooked cherries.
To make the top crust, you can either make a solid crust or a lattice.  For a solid crust, roll out the 2nd disc to a 10-inch diameter.  place it over the cherries, crimp the edges and cut 4 slits in the top to allow steam to escape.
If you want to lattice the top, roll the dough into a rectangle and cut 1/4- to 1/2-inch wide strips (I use a pizza cutter).  If you want to get fancy, you can twist two strips together or braid them.  Lay the strips in one direction interspersing the braids/twists.  When you are ready to start laying down the lattice strips, turn the pie 1/4 turn and go over and under the strips that are already there, but lifting up the strip you are going under.  Repeat with all of the remaining strips/braids/twists but alternate whether you go over or under based on the opposite of what was done with the strip above it.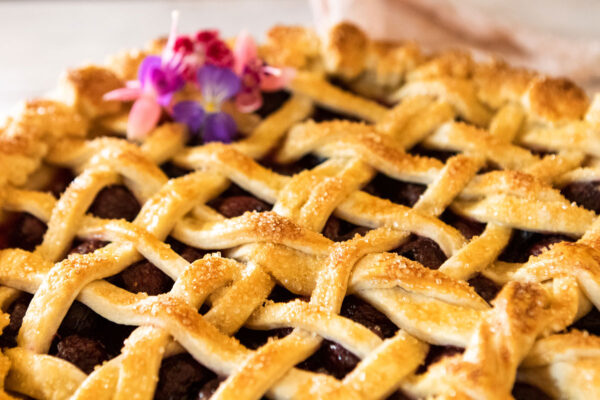 You can also make flowers using a cookie cutter and attach them onto the pie crust with a bit of beaten egg.
Brush the beaten egg over all of the top crust and sprinkle with Turbinado sugar.
Bake until it's golden brown and bubbly, approximately 40-50 minutes.  Check to be sure the pie crust looks cooked through.  I like to let the pie cool at least two hours so that it will slice easier.
Lastly, if you make Fresh Cherry Pie, be sure to leave a comment and/or give this recipe a rating! Above all, I love to hear from you and always do my best to respond to each and every comment. And of course, if you do make this recipe, don't forget to tag me on 
Instagram
! Looking through the photos of recipes you all have made is one of my favorite things to do!
Makes: one 9-inch pie
Prep Time: 15 minutes
Bake Time: 1 hour & 15 minutes
Total Time: 1 hour & 30 minutes
Ingredients
5 to 6 cups fresh sweet cherries, pitted

2/3 cup granulated sugar (or more to taste if cherries are sour)

1/2 cup water

3 tbsp cornstarch

2 tbsp fresh lemon juice

1 vanilla bean, split lengthwise, seeds scraped and reserved

1 large egg, lightly beaten

2 tbsp turbinado or coarse sugar
Instructions
In a medium saucepan, combine cherries, granulated sugar, 1/2 cup water, cornstarch, lemon juice, and vanilla bean seeds over medium-high heat. Stir gently to combine. Bring to a boil, and reduce heat to low. Cook until thickened, stirring frequently, being careful not to crush cherries, about 5 minutes. Remove from heat, and let cool.
Preheat oven to 375°F. On a lightly floured surface, roll half of dough into a 12-inch circle. Transfer to a 9-inch pie plate, pressing into bottom and up sides. Trim dough to 1/2 -inch beyond edge of plate. Spoon cherry filling into dough.
On a lightly floured surface, roll remaining dough into a 12-inch circle. Cut dough into strips of varying widths. Place dough strips on pie in a lattice design. Trim dough strips, fold edges under, and crimp as desired. Brush dough with beaten egg, and sprinkle with turbinado sugar. Place pie on a baking sheet.
Bake until golden brown and bubbly, 40 to 50 minutes. Let cool for at least 2 hours before slicing.
Recipe adapted from Bake from Scratch