Pumpkin Pie with Chocolate Crust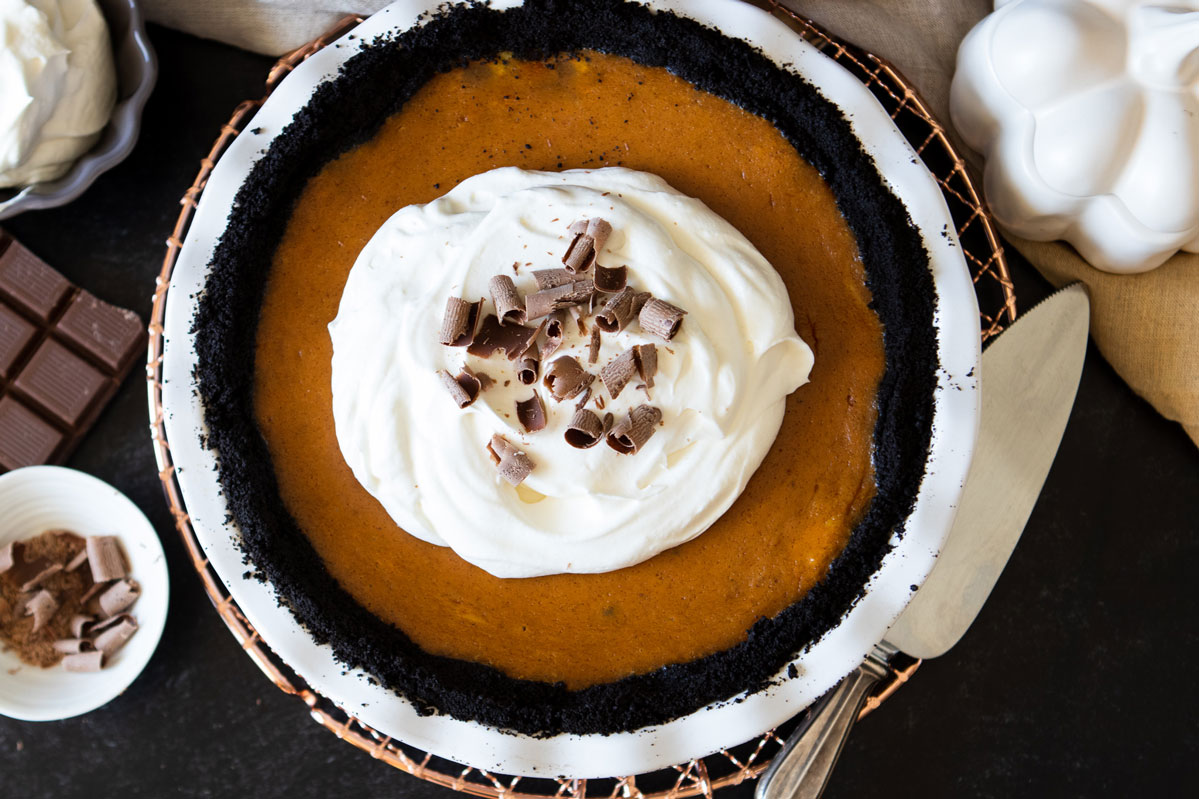 I have a hard time doing traditional, but when tradition calls for a pumpkin pie, let's take it up a notch with Pumpkin Pie with Chocolate Crust.  This pie is absolutely delicious!
The chocolate crust is made with my favorite chocolate wafer cookies (remember that rectangular yellow box with the stack of chocolate cookies in it?) and a decent amount of butter.  That chocolate crust gives this pie a wonderfully deep flavor, unlike a "traditional" pie crust.  And calling it a pie is a bit of a misnomer…it's really more like a tart with a press-in cookie crust which means no rolling the dough (clap clap).
And that filling…let me just say that it is spectacular!  Combining pumpkin purée, sweetened condensed milk, lemon juice, light brown sugar, eggs and winter spices like cinnamon and nutmeg creates a truly divine pie/tart!
Finish the pie off with a creamy sweetened whipped cream and drop some chocolate shavings over the top (or not) and you will have a dessert that people will rave over.  How's that for tradition??!!
Lastly, if you make Pumpkin Pie with Chocolate Crust, be sure to leave a comment and/or give this recipe a rating! Above all, I love to hear from you and always do my best to respond to each and every comment. And of course, if you do make this recipe, don't forget to tag me on 
Instagram
! Looking through the photos of recipes you all have made is one of my favorite things to do!
Pumpkin Pie with Chocolate Crust
Makes: 8 servings
Prep Time: 10 minutes
Bake Time: 1 hour & 10 minutes
Total Time: 3 hors & 20 minutes
Ingredients
Crust:
9 ounces chocolate wafers, finely ground

1/2 cup (1 stick) unsalted butter, melted
Filling:
1 (15-ounce) can pumpkin purée OR 2 ½ cups fresh roasted pumpkin purée

1 (14-ounce) can sweetened condensed milk

1/2 lemon, juiced

5 tbsp unsalted butter, melted

3 1/2 tbsp light brown sugar

2 eggs

1 tbsp vanilla extract

2 tsp ground cinnamon

1/2 tsp nutmeg

1/2 tsp Kosher salt
Sweetened Whipped Cream:
1 cup heavy cream

1/2

cup superfine sugar

1/2 tsp vanilla extract

Shaved milk chocolate
Ingredients
For Crust:
Preheat oven to 350˚F. In a large bowl mix together the chocolate wafer crumbs and melted butter until fully incorporated. Press the mixture into a 9" pie dish or tart shell, pressing both evenly on the bottom and up the sides. Place onto a baking sheet and then into the refrigerator until ready to use.
For Filling:
Place pumpkin purée in a bowl and add the remaining filling ingredients. Stir together until fully incorporated and no lumps remain. Pour the filling into the prepared crust and carefully set into the lowest rack of the oven. Bake for 55 to 70 minutes or until the filling has set, but is slightly loose in the middle.
Allow pie to cool completely, about 2 hours.
For Sweetened Whipped Cream:
Pour cream, sugar and vanilla extract into a mixing bowl and beat together using an electric hand mixer until stiff peaks form.
To serve, generously top pie with whipped cream and finish with chocolate shavings.
Recipe inspired by Spoon, Fork, Bacon
Pumpkin Pie with Chocolate Crust