Giant Fusilli a la Vodka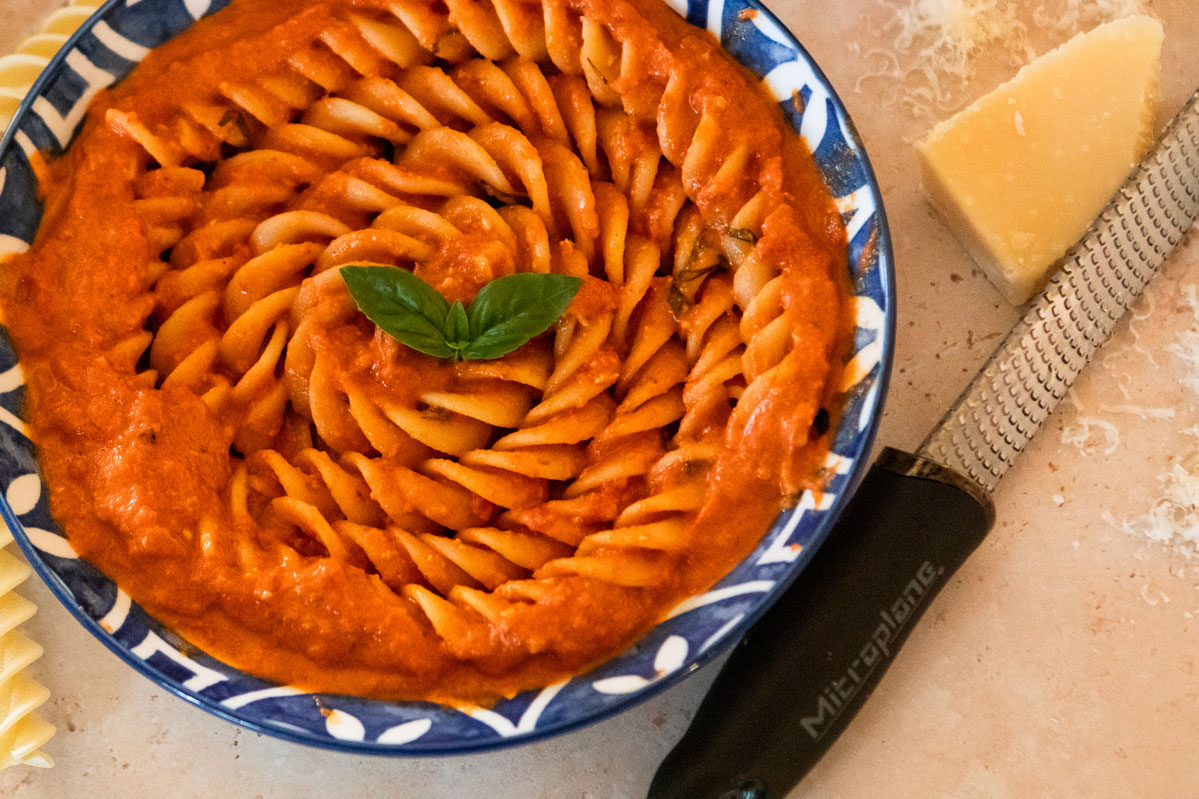 Giant Fusilli Pasta a la Vodka…can I just say WOW!  What a fun way to eat pasta.  The fusilli is huge and very tasty.  The vodka tomato sauce is delicious.  And, the presentation is so darn fun!
I saw this pasta on a blog post and thought it looked amazing!  I, of course, ordered some while I was reading the article.  A few days later, my pasta was delivered and I was on my way to making this fun dish.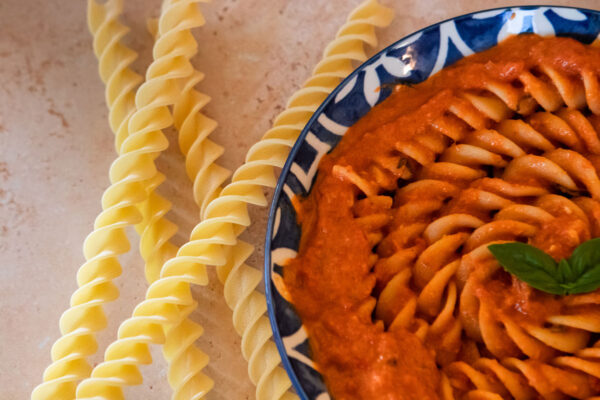 The vodka tomato sauce is a riff on the sauce in Cherry Tomato Pasta alla Vodka except that I didn't have any fresh cherry tomatoes.  Instead, I used canned whole tomatoes and made a rich vodka sauce that tastes equally delicious on the jumbo pasta!
Soften up the shallots in a skillet, add garlic, fresh oregano, red pepper flakes and the tomatoes.  I like to crush up the tomatoes somewhat with my hands before adding them to the skillet to release all the juices.  Cook this down until it starts to thicken, maybe 15 minutes or so.
To make the sauce creamy, blend about half of the sauce in a blender and then add back into the skillet.
Add the vodka and cream, season it with a little salt and pepper and keep it warm while you are cooking the pasta.
And, let's talk about this pasta…It's just fun, right?  If you want to get some, follow this link.  While it may be gimmicky-large, it's really very tasty pasta.  Boil some up in salted water,  and add the drained pasta to the sauce along with a little butter, parmesan cheese and chopped fresh basil.
You can pile it all in a serving bowl, or twist it like I did into a big spiral in individual plates.  Either way, everyone will get a kick out of this pasta!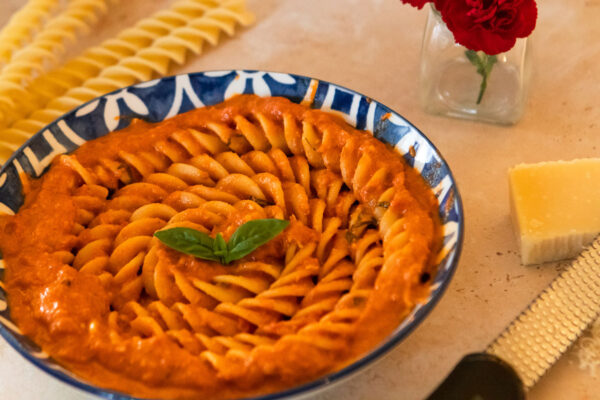 Lastly, if you make Giant Fusilli a la Vodka, be sure to leave a comment and/or give this recipe a rating! Above all, I love to hear from you and always do my best to respond to each and every comment. And of course, if you do make this recipe, don't forget to tag me on 
Instagram
! Looking through the photos of recipes you all have made is one of my favorite things to do!
Makes: 4 servings
Prep Time: 10 minutes
Bake Time: 25 minutes
Total Time: 35 minutes
Ingredients
Tomato Vodka Sauce:
1/4 cup extra-virgin olive oil

1 shallot, chopped

4 cloves garlic, chopped

2 tbsp fresh oregano

1 tsp crushed red pepper flakes

2 28-ounce cans whole tomatoes

1/2 cup vodka

1 cup heavy cream or canned coconut milk

1 tbsp sugar
Pasta & Assembly:
1 pound giant fusilli pasta (colonne pompeii)

3 tbsp unsalted butter

3/4 cup grated Parmesan cheese

1/2 cup fresh basil, roughly chopped
Instructions
Prepare Sauce:
Heat the olive oil in a large skillet with sides over medium-high heat. Add the shallots and cook until the shallots begin to soften, about 3 minutes.
Pour tomatoes with juices into a medium bowl. With your hands, crush the tomatoes until they are broken up into small pieces.
To the skillet, add the garlic, oregano, tomatoes, and chili flakes. Cook 15-20 minutes, until heated through and starting to thicken. Remove from the heat. Blend about half the tomatoes in a blender until smooth, stir the tomato sauce back into the skillet.
Place the skillet over medium heat. Stir in the vodka, cook 2 minutes, then stir in the cream. Season with salt and pepper. Keep warm over low heat.
Meanwhile, bring a large pot of salted water to a boil. Boil the pasta according to package directions, until al dente. Drain.
Add the pasta, butter, parmesan, and basil to the sauce, tossing until the butter has melted.
Divide the pasta among plates and top with basil and cheese. Enjoy!