Bucatini with Clams and Wilted Greens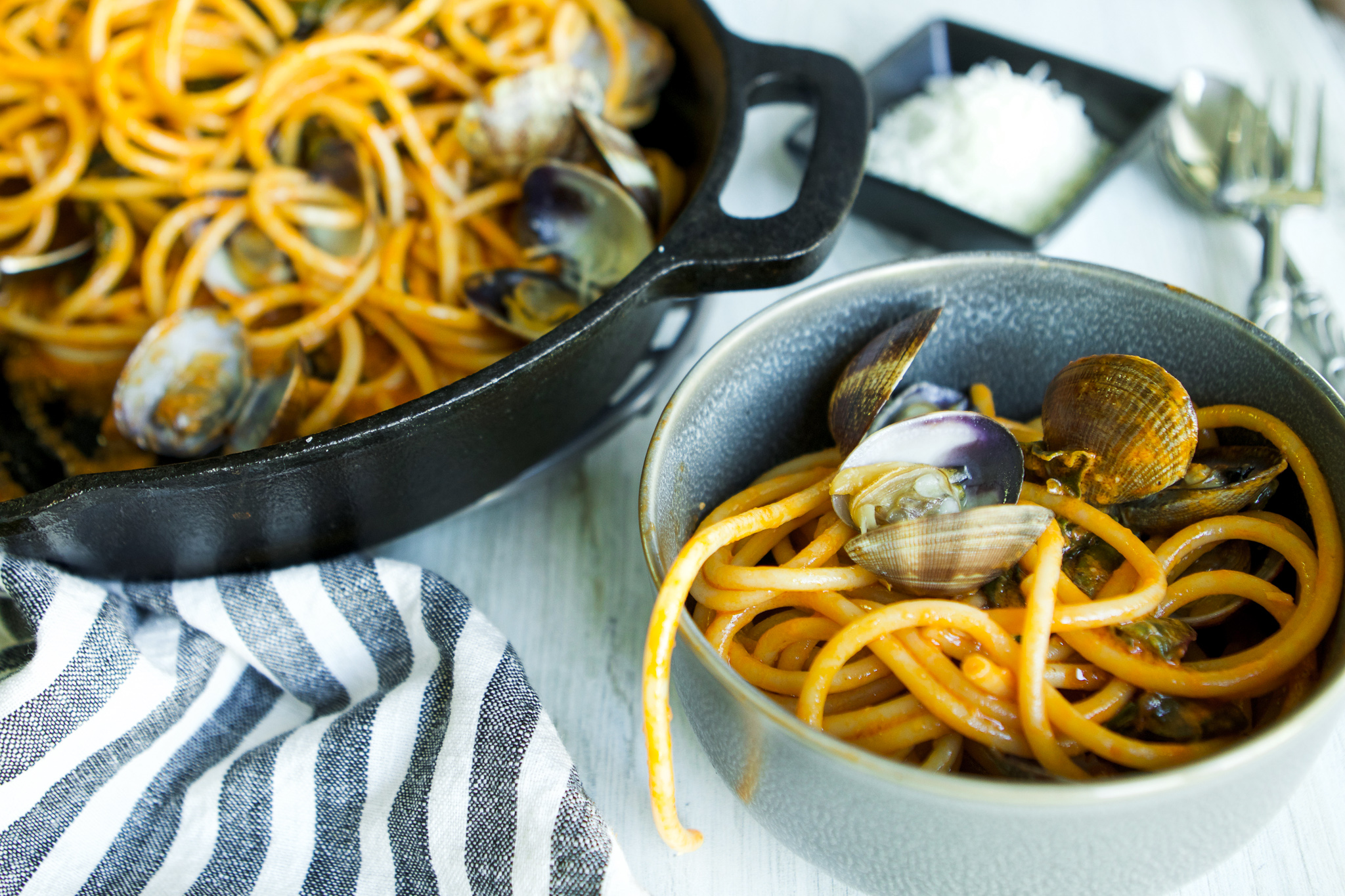 When small clams are available, I don't ever hesitate to buy them.  What I will do with them is anyone's guess.  I decided to deviate from a typical clams and tomato-based sauce.  Instead, I cover thick, but hollow, bucatini pasta with a sauce comprised of roasted red peppers, white wine and garlic.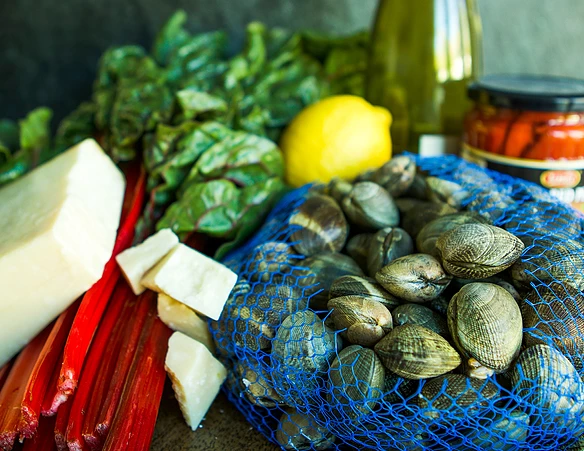 I wilt some Swiss chard and add it into a red pepper sauce that I make.  Finish it with some butter, lemon juice and lemon zest, and you are ready to serve! ​ The flavor is unexpected but surprisingly delicious!  Enjoy!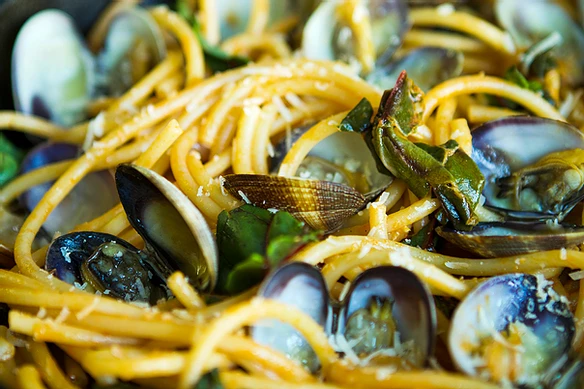 Lastly, if you make Bucatini with Clams and Wilted Greens, be sure to leave a comment and/or give this recipe a rating! Above all, I love to hear from you and always do my best to respond to each and every comment. And of course, if you do make this recipe, don't forget to tag me on 
Instagram
! Looking through the photos of recipes you all have made is one of my favorite things to do!
Bucatini with Clams and Wilted Greens
Makes: 4 servings
Prep Time: 15 minutes
Cook Time: 20 minutes
Total Time: 35 minutes
Ingredients
1/2 cup extra-virgin olive oil

8 garlic cloves, crushed

4 dozen littleneck clams

2 cups dry white wine

2 jarred roasted red peppers, drained

1 tsp crushed red pepper

1 pound Swiss chard or collard greens, stemmed and chopped (8 cups)

Kosher salt

Pepper

1/2 pound spaghetti

2 tbsp unsalted butter, cubed and chilled

1 tsp grated lemon zest

1 tbsp fresh lemon juice

1/2 cup grated Parmigiano-Reggiano cheese, plus more for garnish
Instructions
In a large pot, heat 1/4 cup of the oil. Add half of the garlic and cook over moderate heat, stirring, for 1 minute. Stir in the clams. Add the wine and bring to a boil. Cover and cook over moderately high heat, stirring occasionally, 5 to 7 minutes; as the clams open, transfer them to a baking sheet. Discard any unopened clams. Strain the cooking liquid through a sieve into a blender. Add the roasted peppers and purée until smooth.
Wash out the pot, then heat the remaining 1/4 cup of oil in it. Add the remaining garlic and cook over moderate heat, stirring, for 1 minute. Stir in the crushed red pepper and Swiss chard in batches until the chard is just wilted, about 3 minutes. Stir in the roasted pepper broth and season with salt and pepper.
In a large pot of salted boiling water, cook the spaghetti until al dente; drain. Add the pasta to the Swiss chard mixture along with the butter, lemon zest, lemon juice and the 1/2 cup of grated cheese. Add the clams and toss to heat through. Transfer the pasta and broth to shallow bowls, garnish with grated cheese and serve.
Bucatini with Clams and Wilted Greens