Jody's Everything Salad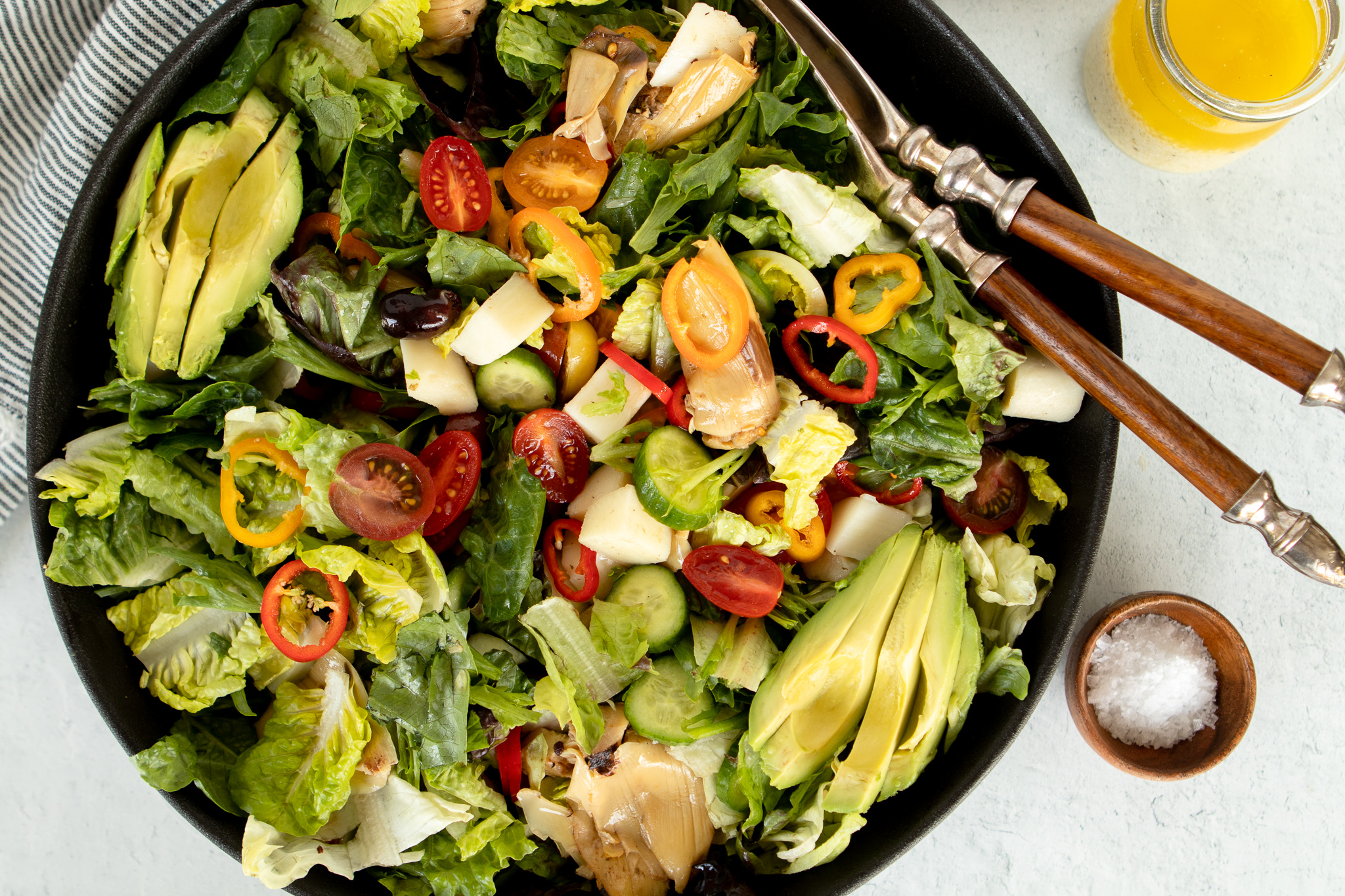 If I was going to choose the healthiest, and most delicious, way to kick off the new year it would be with this salad from my incredible friend, Jody. Not only does she offer up this beautiful salad at our gatherings, she is one of the funniest people I know! She's also got a heart of gold and would do anything for anyone!
Back to the food! Jody makes this wonderful salad that's got everything in it: she includes the typical stuff like lettuce, tomatoes, cucumbers and peppers, but then she steps it up with roasted marinated artichoke hearts, hearts of palm, Kalamata olives & avocado.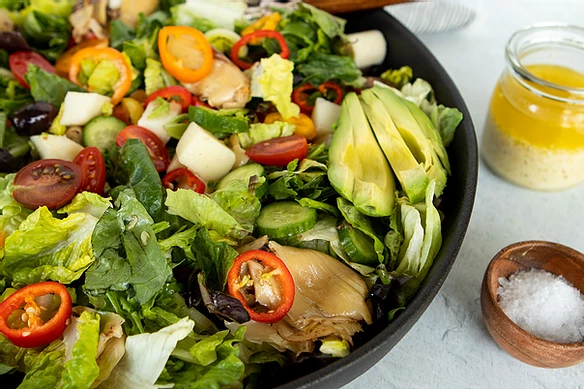 The dressing is a simple vinaigrette of olive oil, lemon juice and cheese.
This is a very versatile salad: use any greens you like, use any cheese you like, make the southwestern or Greek version…it's all up to whatever you have in the fridge and pantry. And whatever tickles your fancy!
Thanks, Jody, for a sublime salad recipe! And, Happy New Year, friends!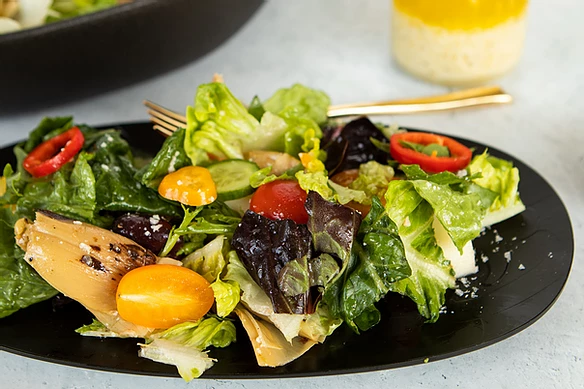 Lastly, if you make Jody's Everything Salad, be sure to leave a review down below at the bottom of this page (stars are also appreciated)! Above all, I love to hear from you and always do my best to respond to each and every review. And of course, if you do make this recipe, don't forget to tag me on 
Instagram
! Looking through the photos of recipes you all have made is one of my favorite things to do!
Makes: 6 servings
Prep Time: 20 minutes
Total Time: 30 minutes
Ingredients
8 cups Romaine, mixed greens, butter lettuce, or combination

4 small Persian cucumbers cut into rounds

12 cherry tomatoes, halved

1/2 red sweet pepper, cut into small pieces (See Chef's Notes)

1/2 yellow sweet peppers, cut into small pieces

1 (12-ounce) jar grilled marinated artichoke hearts

1/2 cup Kalamata or Castelvetrano olives, pitted

1 (14-ounce) can hearts of palm, cut into rounds

1 avocado, sliced

1/2 cup Asiago, Parmesan or Pecorino grated cheese
Dressing:
6 tbsp extra-virgin olive oil

3 tbsp fresh lemon juice

Kosher salt & freshly ground black pepper
Instructions
Toss all of the salad ingredients together. In a separate small bowl, whisk together the olive oil and lemon juice. Season with salt & pepper to taste. Pour over the salad ingredients and toss again. The dressing will mix with the cheese and avocado and create a creamy coating for the salad.
Chef's Notes:
Feel free to use baby bell peppers in the place of regular peppers. Cut into thin rings.
For a southwestern variation, add jicama, roasted chili peppers, corn, black beans, roasted pumpkin seeds and/or hominy and top with broken pieces of tortilla chips.
For a Greek Variation, use feta cheese, pita croutons & Kalamata olives.
Recipe from Jody Bartel
Download PDF