Retro-Style Chocolate Sheet Cake (GF)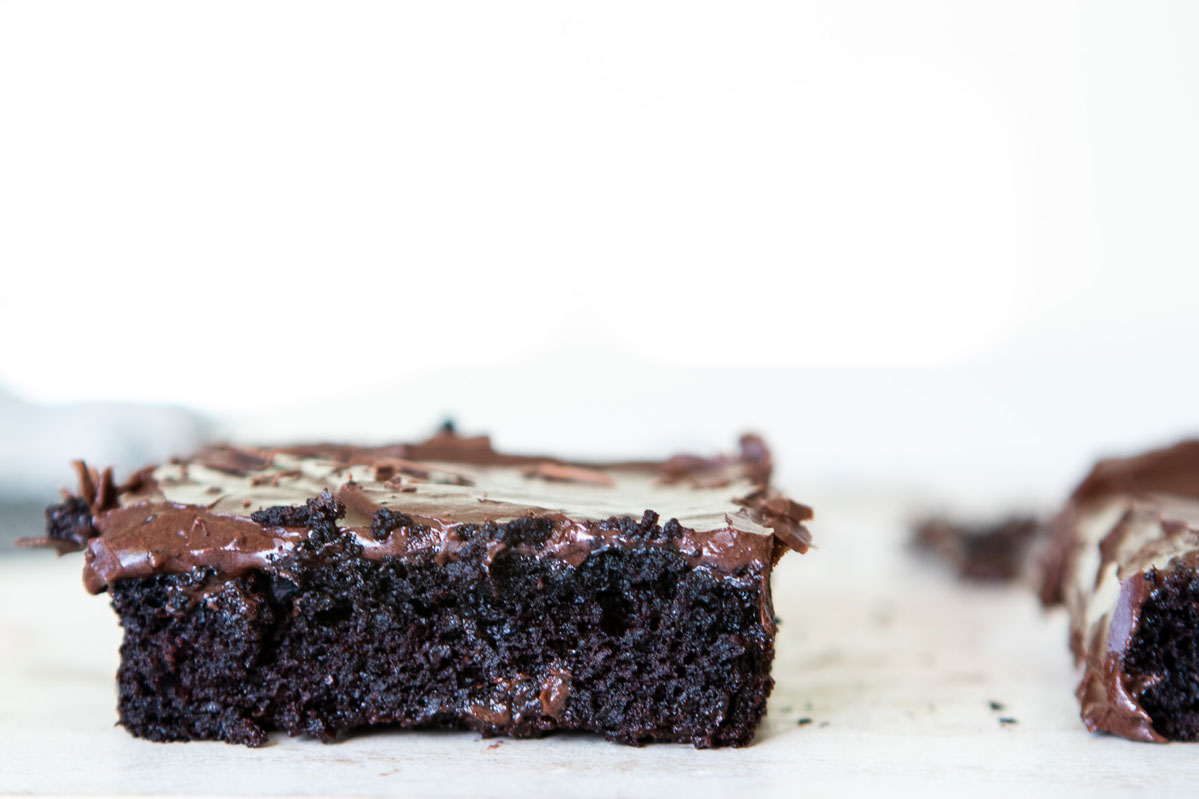 This retro-style Chocolate Sheet Cake checks all the boxes…deep chocolate flavor, one bowl, gluten-free, healthy-ish (read on), and Easy Peasy!
My mom used to make sheet cakes in a pyrex baking dish that were supposed to be for snacks after school.  In one bowl, she would mix (from scratch, not a box) the batter, pour it into the pyrex, bake it, cool it and frost it.  She would then insist "hands off" until after school, but I would be first to sneak down and eat a slice for breakfast.  As far as I'm concerned, sheet cake is a breakfast food!
My healthy-ish comment comes from the fact that there is no butter, no sugar and no flour in this recipe.  Instead, we're using coconut oil, maple syrup and almond flour.  You would never know unless you tend to get sugar headaches or are gluten-free.
Mix all the wet ingredients together, then add the dry ingredients and chocolate chips.  Pour into the baking dish and bake until it's just set.
The frosting is a traditional chocolate frosting made in a stand mixer (definitely not "healthy-ish").  Combine the butter, powdered sugar, cocoa powder, vanilla and warm milk in the bowl of the mixer and beat until it's smooth.
Once the cake is cooled, spread the frosting over the top and let it set for an hour or so, if you can.  I like the frosting to have a slight set to it on top but be slightly runny underneath.  Very retro.
Don't go eating this for breakfast, now.  It's strictly for after school.  Yeah, right!
Lastly, if you make Retro-Style Chocolate Sheet Cake (GF), be sure to leave a review down below at the bottom of this page (stars are also appreciated)! Above all, I love to hear from you and always do my best to respond to each and every review. And of course, if you do make this recipe, don't forget to tag me on 
Instagram
! Looking through the photos of recipes you all have made is one of my favorite things to do!
Retro-Style Chocolate Sheet Cake (GF)
Makes: 12 servings
Prep Time: 25 minutes
Bake Time: 30 minutes
Total Time: 55 minutes
Ingredients
1/2 cup

melted coconut oil

1/2 cup

whole milk

1/2 – 3/4 cup

maple syrup

2

eggs, at room temperature

2 tsp

vanilla extract

2 cups

almond flour

1 cup

cocoa powder

1 tsp

baking soda

1 tsp

kosher salt

3/4 cup brewed coffee

1/2 cup

semi-sweet mini chocolate chips

(optional)
Chocolate Icing:
1 stick (1/2 cup)

salted butter, at room temperature

2-3 cups

powdered sugar

1/2 cup

cocoa powder

2 tsp

vanilla extract

1/4 cup warmed milk, plus more for thinning
Instructions
Preheat oven to 350° F. Line a 9×13 inch baking dish with parchment paper.
In a large bowl, beat together the coconut oil, milk, maple syrup, eggs, and vanilla. Add the almond flour, cocoa powder, baking soda, and salt. Mix until just combined, then slowly beat in the coffee until combined. It will be thin. If using, stir in mini-chocolate chips.
Pour the batter into the prepared pan. Bake 30-35 minutes, until the top is just set and no longer wiggly in the center. Remove and let cool completely before frosting.
To make the frosting, add the butter, 2 cups powdered sugar, cocoa powder, vanilla, and 1/4 cup warm milk to the bowl of a stand mixer. Beat until smooth, adding additional warm milk until the frosting becomes thicker, but still drizzly. Taste, adding more sugar if needed. Spread the frosting over the cake. Let sit for one hour or so to set. Slice and enjoy!
This cake will keep well for 3-4 days at room temperature or in the fridge.
Recipe by Half Baked Harvest
Retro-Style Chocolate Sheet Cake (GF)