Late Summer Plum Galette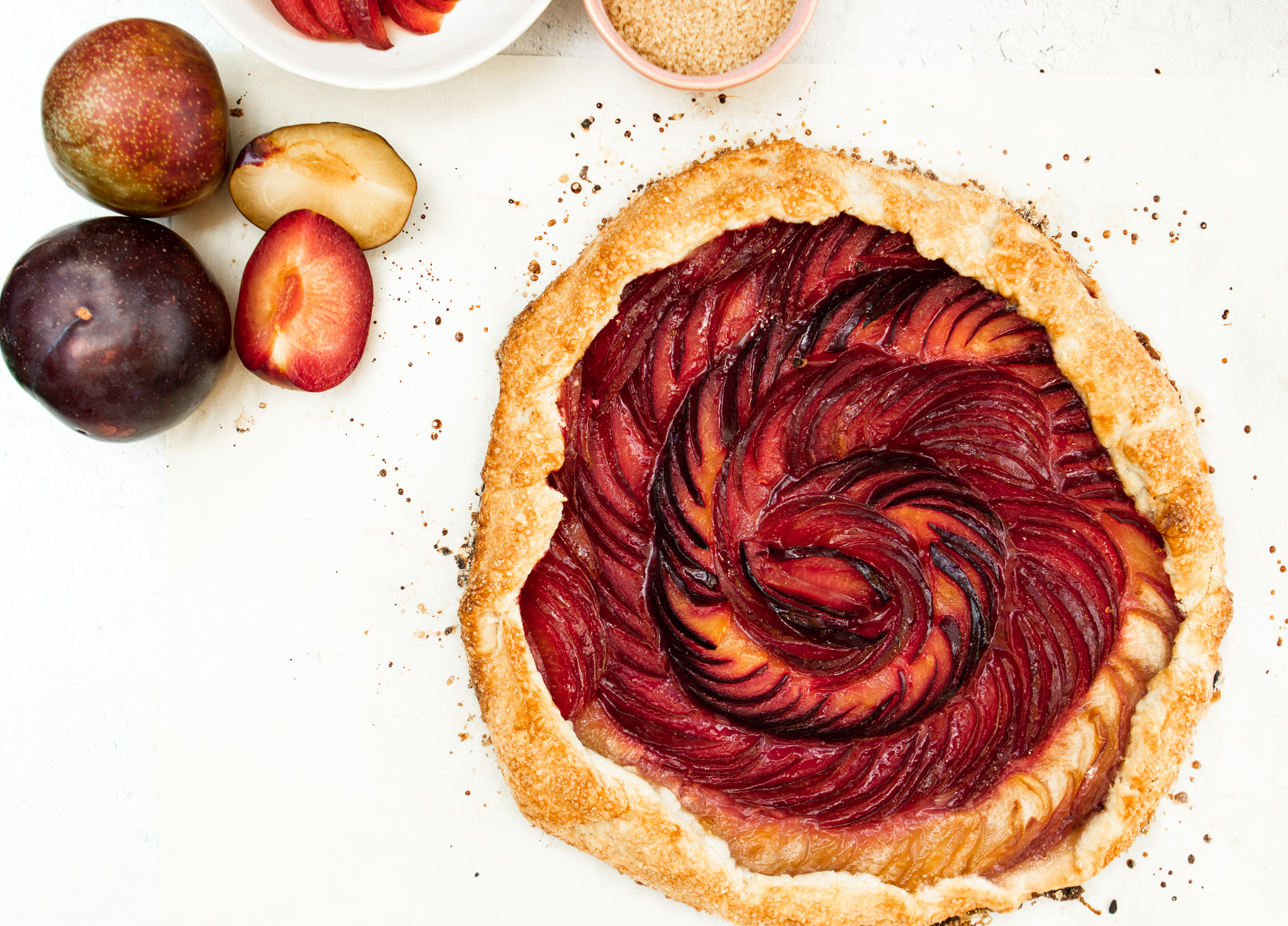 One of the simplest desserts to make is a galette. Also known as a crostada, it incorporates a no-fail pastry dough and then fresh fruit. Add a little egg wash and coarse sugar to the outside of it, and you're good to go!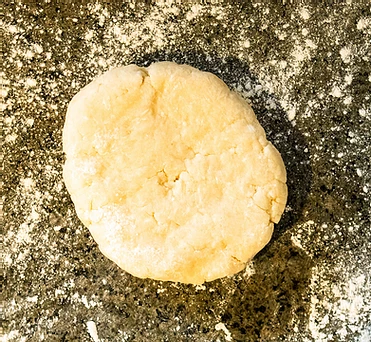 When I think about making pies, I have to confess that I get a little stressed. I am usually patching it up after I transfer it to the pie pan. I never feel that there's enough dough to go up the sides of the pan to make a decorative border, and I never feel that my lattice work is pretty enough. Now that I have confessed all my pie insecurities, I'm here to tell you that for people like me, galettes are the way to go.
The dough is hearty, meaning that it won't tear, even after you've rolled it out and transferred it to a parchment-lined baking sheet. That makes me happy.
I have discovered that if you sprinkle flour and a little sugar on the raw dough prior to adding the fruit, it seals the dough when it bakes so that the fruit doesn't make it soggy.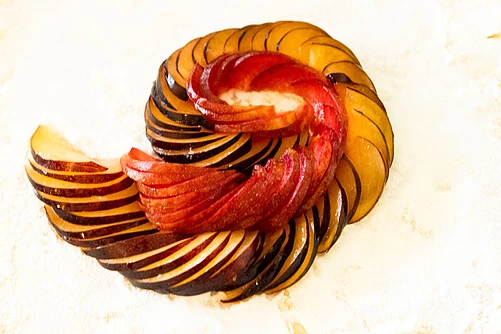 Feel free to use all one kind of plum or mix it up and use different varieties so that you get a variation in colors. I also included a nectarine that was at it's peak to add a little different flavor around the outside.
This recipe is so versatile…it will work with apples, pears, peaches, berries, or cherries. Just adjust the sugar that you sprinkle on the fruit depending on the sweetness of the fruit.
Also, you don't have to get fancy and spiral the fruit, as I did. Just spread the fruit in any direction and you will still have a beautiful delicious galette!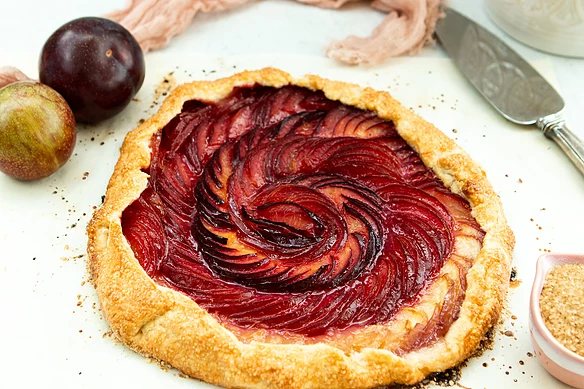 Lastly, if you make Late Summer Plum Galette, be sure to leave a review down below at the bottom of this page (stars are also appreciated)! Above all, I love to hear from you and always do my best to respond to each and every review. And of course, if you do make this recipe, don't forget to tag me on 
Instagram
! Looking through the photos of recipes you all have made is one of my favorite things to do!
Makes: 8 servings
Prep Time: 25 minutes
Bake Time: 40 minutes
Total Time: 1 hour & 50 minutes
Ingredients
Pastry Dough:
1 & 1/4 cups all-purpose flour, plus more for dusting

2 tbsp sugar

1/4 tsp salt

1 stick cold unsalted butter, cubed and chilled

1/4 cup ice water
Filling:
8 to 10 firm-ripe plums, assorted types, pitted and sliced thinly

2 tbsp flour

5 tbsp sugar, or to taste

1 large egg, beaten with 1 tbsp water

Turbinado sugar
Instructions
In a food processor, add the 1 & 1/4 cups of flour, 2 tablespoons of sugar and the salt and pulse to combine. Add the butter and pulse until the mixture resembles coarse meal. Sprinkle on the ice water and pulse until the dough just barely comes together. Gather the dough and pat it into a disk. Wrap the dough in plastic and refrigerate until chilled, about 30 minutes.
Preheat the oven to 400°F and position a rack in the lower third. Line a baking sheet with parchment paper. Working on a lightly floured surface, roll out the disk of dough to a 12-inch round; transfer to the baking sheet. Chill the dough until firm, 15 minutes.
Leaving a 2″ border, sprinkle the surface of the dough with 2 tablespoons flour and 1 tablespoon of the sugar.
Place the plum slices on the dough. You can arrange them artfully or place them helter-skelter; either way, it will look lovely.
Carefully draw up the dough from the sides and fold it over to form the rim. Make sure there are no cracks where juices can run out during baking.
Brush the rim of the dough with egg wash and sprinkle generously with Turbinado sugar. Sprinkle the plums with the remaining 4 tablespoons sugar, or more, depending on sweetness of plums.
Bake until well-browned and bubbly, about 40 minutes, rotating as needed so the tart browns evenly.
Transfer to a cooling rack so the bottom crust doesn't get soggy.
Serve the galette warm with a scoop of vanilla ice cream.