Maple Molasses Glazed Pecans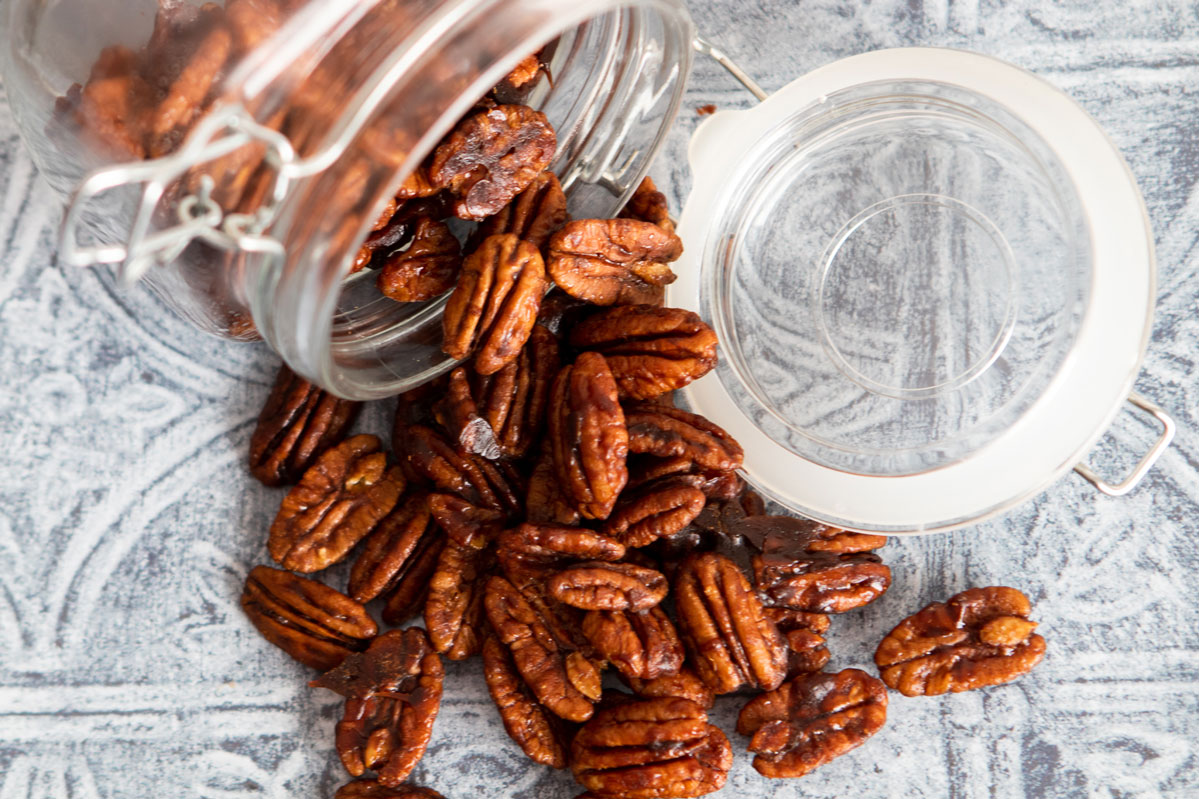 Maple Molasses Glazed Pecans are amazingly easy and amazingly delicious!  This is the snack that you can't stop at just one handful, so I suggest you make bunches of batches!  
On the drive from Phoenix to Tucson, there are a number of pecan farms.  In fact, you can see them from the freeway.  I have had an opportunity to try these pecans and they are outstanding.  So much so, that I ended up with pounds of them.  While wondering what to do with all of them, I decided some should be candied, and voila!  
In about 5 minutes of prep time and 20 minutes in the oven, you've got yourself some richly flavored and highly glazed crunchy treats to nibble on any ol' time!
You will love the maple and molasses combination along with a hint of cinnamon that coat the pecans.  And, once the pecans are done roasting, you will have a beautifully shiny pecan to snack on or to gift.  They make wonderful hostess gifts, if you can stop eating them long enough to gift them!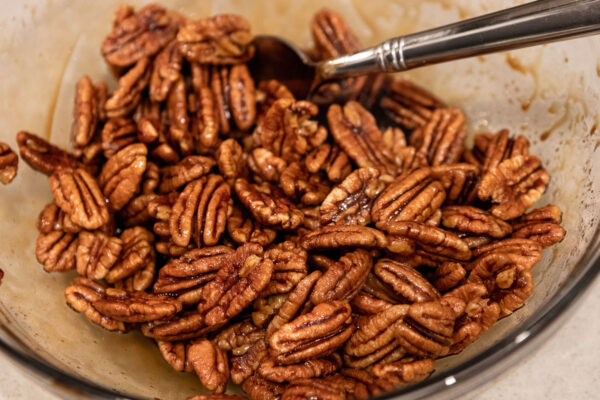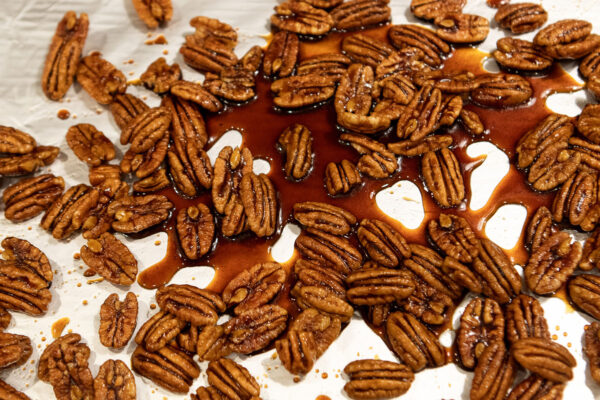 Begin by microwaving the maple syrup, olive oil, molasses, cinnamon and kosher salt.  Add the pecans and heat for a minute.  Then stir the pecans continuously for one minute.  This is really important as you want the syrup to get into every little nook and cranny in the pecans.
Then, spread the pecans out onto a sheet pan that's been lined with foil and coated with cooking spray.
Now, go ahead and bake the pecans for 20 minutes, stirring halfway through.  You want them to be a deep golden brown.
Give them a stir once they come out of the oven and spread them on a sheet of foil on your work surface.  Let them cool completely, so that the syrup becomes hardened and shiny.
That's all it takes to create these delicious snacks that can be used on a charcuterie board, in a salad, with caramel sauce over ice cream or just nibbled on their own.
Lastly, if you make Maple Molasses Glazed Pecans, be sure to leave a comment and/or give this recipe a rating! Above all, I love to hear from you and always do my best to respond to each and every comment. And of course, if you do make this recipe, don't forget to tag me on 
Instagram
! Looking through the photos of recipes you all have made is one of my favorite things to do!
Maple Molasses Glazed Pecans
Makes: 2 cups
Prep Time: 5 minutes
Cook Time: 20 minutes
Total Time: 25 minutes
Ingredients
1/4 cup pure maple syrup

1 tbsp extra virgin olive oil

1 tbsp molasses

1/2 tsp ground cinnamon

1/2 tsp kosher salt

2 cups pecans
Instructions
Preheat oven to 325˚F. Line a sheet pan with foil and spray the foil generously with nonstick cooking spray. (this will keep nuts from sticking to the pan). Layout a second piece of foil on a work surface and again spray with nonstick cooking spray. Rub each with a small piece of paper towel to evenly coat with the oil.
Combine all ingredients except pecans in a medium microwave-safe bowl. Stir well. Add pecans, then place bowl in the microwave and cook on high power for 1 minute. This will thin out the maple mixture to help coat the pecans better. Stir continuously for 1 minute (no cheating, you want the syrup mixture to get in every little nook and cranny of the pecans), until pecans are thoroughly coated.
Turn pecans out onto the prepared sheet pan, making sure to scrape out all of the maple syrup mixture as well. Spread out pecans to a single layer on the pan.
Place pan in the oven and bake for 10 minutes. Remove from oven and stir well to redistribute nuts then spread out again to a single layer. Bake until deep golden brown, about 8-12 minutes more. Watch them carefully towards the end as nuts can quickly burn.
Stir again after removing from oven then spread out to a single layer on the prepared foil on your work surface. Allow to cool completely, then transfer to an airtight container for storage.
Recipe from Cafe Sucre Farine
Maple Molasses Glazed Pecans