Mini Turtle Cakes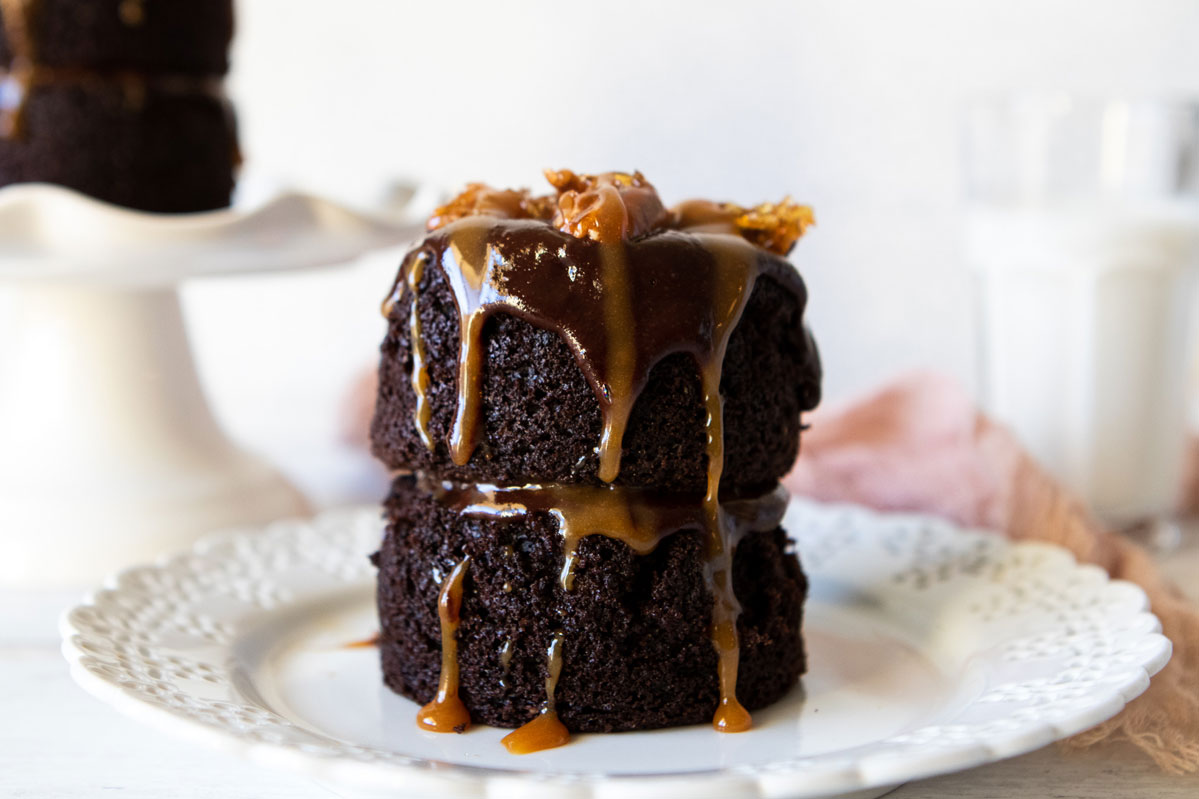 Mini Turtle Cakes are an easy way to combine everything you love…chocolate, coffee, caramel, candied pecans.  You get it all in one bite.  Could heaven be any closer?
These mini coffee chocolate cakes are stacked on top of each other, sandwiched together with a layer of chocolate sauce, candied pecans and caramel sauce, and then topped with the same layers.
This is a small batch recipe…it makes enough for two mini cakes but each one will easily feed two people.  If you've got more people to feed, it's an easy recipe to double!
This batter easily comes together in one bowl with all of the ingredients being mixed at the same time.  No need to separate wet or dry ingredients.  No need for a mixer.  Very simply dump all ingredients in one bowl and mix!  Divide the batter between the 4 ramekins and pop them into the oven.  Bake, cool, remove from ramekins, let cool.  That wasn't hard, was it??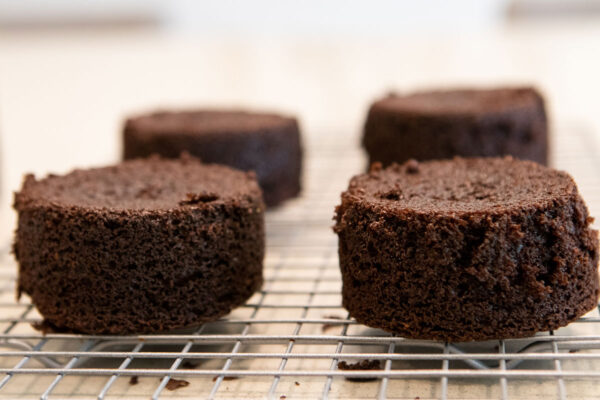 While the cakes are cooling, make the chocolate sauce by bringing milk, sugar and butter to a boil in a small saucepan.  Remove it from the heat and stir in chocolate chips.  Whisk that until it's smooth and then thin the sauce with strong coffee.  Then let the sauce cool a bit so that the frosting isn't too runny.
To make this a very simple recipe, it's okay to us store-bought caramel sauce and candied pecans.  But, if you want to step it up a bit, try making Salted Caramel Sauce and Easy Candied Pecans.  They are both easy and quick to make and something you should always keep in stock.  They are both great for snacking and nibbling and serving over ice cream!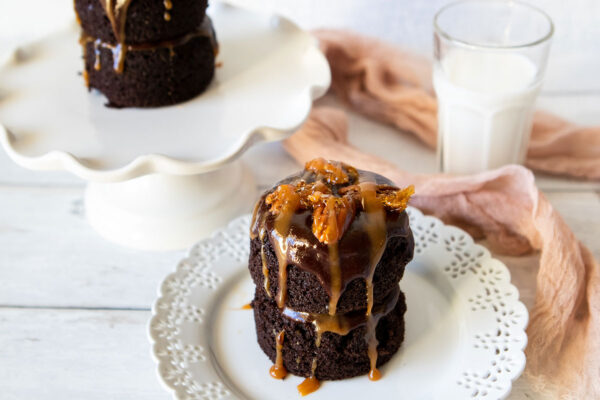 To assemble these amazing Mini Turtle Cakes, place one cake on a serving dish and pour some chocolate sauce in the center.  Nudge it until it starts to "waterfall" down the sides of the cake.  Then, add some chopped up pecans and drizzle caramel sauce over.  Add the next cake and repeat the layers but use the whole pecans to that it looks prettier.
The only thing left to do it serve these pretty babies and devour them!
Lastly, if you make Mini Turtle Cakes, be sure to leave a comment and/or give this recipe a rating! Above all, I love to hear from you and always do my best to respond to each and every comment. And of course, if you do make this recipe, don't forget to tag me on 
Instagram
! Looking through the photos of recipes you all have made is one of my favorite things to do!
Makes: 2-4 servings
Prep Time: 15 minutes
Bake Time: 15 minutes
Total Time: 30 minutes plus cooling time 20 minutes
Ingredients
Chocolate Cake:
1 egg yolk

1/4 cup vegetable oil

1/4 cup sour cream or plain full-fat Greek yogurt

1/3 cup granulated sugar

1/2 cup flour

2 tbsp cocoa

1/4 tsp salt

1 tsp baking soda

2–3 tbsp strong hot coffee
Chocolate Frosting:
2 tbsp milk

1/4 cup sugar

2 tbsp unsalted butter

1/2 cup chocolate chips

1 tbsp coffee
Toppings:
1/4 cup caramel sauce (homemade Salted Caramel Sauce or store-bought)

1/2 cup toasted or candied pecan pieces (recipe for Easy Candied Pecans), some chopped and some left whole
Instructions
Preheat the oven to 350°F. Generously grease four 8-ounce ramekins with cooking spray.
Whisk all the cake ingredients in a large bowl to combine into a batter. Divide batter between the ramekins and spread into the dishes so it covers the bottom. Bake for 15-20 minutes. Let cool for 10 minutes. Remove the cakes gently from the ramekins and allow to cool for at least 20 minutes before adding frosting.
Chocolate Frosting:
In a small saucepan, bring the milk, sugar, and butter to a boil. After 15-20 seconds of boiling, remove from heat and melt in chocolate chips. Whisk until smooth. Add coffee to thin slightly, whisking to get it smooth and shiny. Allow to cool for a few minutes so the frosting isn't quite so runny.
Layer one cake, frosting (see Chef's Note), pecans, caramel, and repeat until you have your nice decadent, over-the-top 2-layer cake. Do the same for the second mini turtle cake. Eat the cake while warm or store in the fridge for a day or two.
Chef's Notes:
Spoon a bit of frosting into the center of each cake and gradually work it out to the edge to get a waterfall effect.
Chop up the pecans that go in the middle layer for a more textured crunchy bite, and then use the whole pecans in a circular pattern on top.
Recipe inspired by Pinch of Yum