Easy Candied Pecans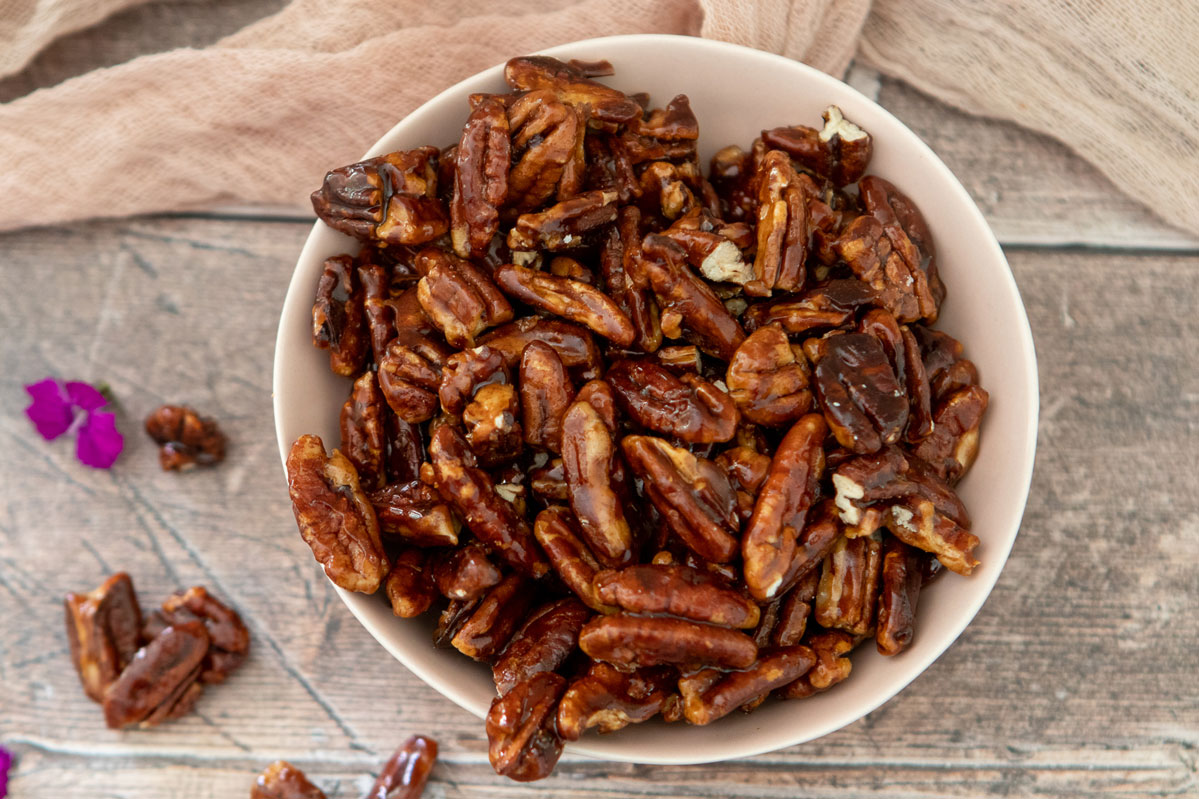 Easy Candied Pecans are something that you have to always keep on hand!  They are amazing in salads, on a charcuterie board or just for nibbling.  I keep a baggie of them in my freezer at all times so that I can do just that!
Oh, and did I say they were easy??  So simple!  You don't have to bake them.  You simply toast the pecans in a skillet, add a sauce of sugar, water, corn syrup and cinnamon and stir them until nicely coated.  Once browned, remove the nuts from the skillet and turn out onto a sheet pan.  Spread them into a single layer, and once they have cooled, enjoy them however it makes you happy!
Lastly, if you make Easy Candied Pecans, be sure to leave a comment and/or give this recipe a rating! Above all, I love to hear from you and always do my best to respond to each and every comment. And of course, if you do make this recipe, don't forget to tag me on 
Instagram
! Looking through the photos of recipes you all have made is one of my favorite things to do!
Makes: 1 & 1/2 cups
Prep Time: 3 minutes
Bake Time: 12 minutes
Total Time: 15 minutes
Ingredients
1/3 cup sugar

5 tsp water

1 tbsp corn syrup

1/2 tsp ground cinnamon

1/4 tsp Kosher salt

1

&

1/2 cups roughly chopped pecans, pecan halves or pieces
Instructions
Line a sheet pan with foil and spray with cooking spray. Rub the spray with a paper towel to thoroughly coat the pan. Spray two spoons (regular table size spoons) or two small silicone spatulas with cooking spray. Set aside.
Combine sugar, water, corn syrup, salt and cinnamon in a small bowl. Stir well until all ingredients are incorporated. Set aside.
Add pecans to a small nonstick sauté pan. Cook over medium heat, stirring frequently, for 2-3 minutes or until fragrant and beginning to toast.
Add the sugar/spice mixture to the pan and stir with a heat-resistant spatula frequently until the syrup mixture is completely gone and is coating the nuts (about 2-3 minutes).
Now, stir continuously for another 2-5 minutes, until the pecans are shiny and turn a deep golden mahogany color. If the nuts seem to be browning too fast or you see a lot of smoke coming from the pan (a little is okay), reduce the heat. The length of time depends on the heat level.
Turn out onto prepared foil. With the two prepared spoons (or small spatulas), spread nuts apart and separate to a single layer. Cool completely and store in an airtight container.