Miso-Roasted Vegetable Soup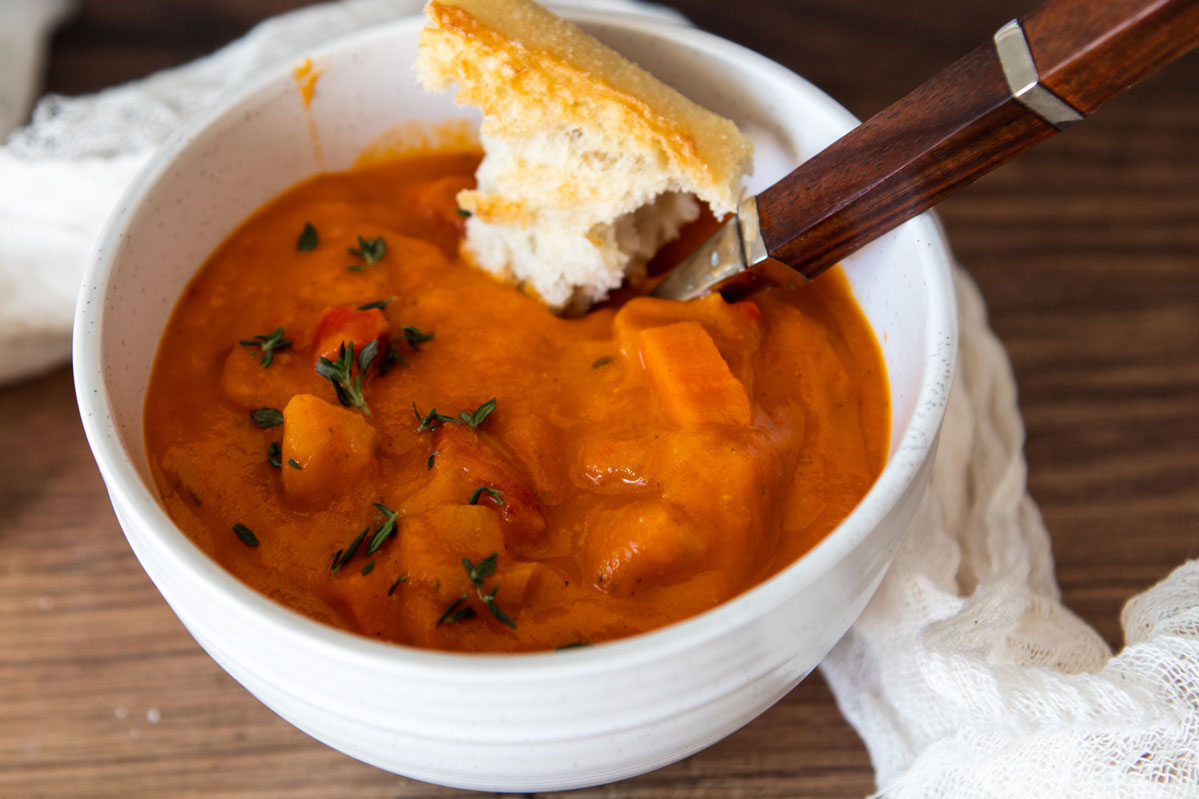 Is there any better way to welcome in 2022 than with a hearty and healthy Miso-Roasted Vegetable Soup?  This soup has all the most wonderful components we're looking for in a soup:  rich flavor, chunky but smooth (how does that happen?), delicious umami earthiness.  It all comes together to create a healthy, hearty vegan soup!
To create the rich flavor, you must roast your veggies.  Make sure you use vegetables that will stand up to a good roasting, such as carrots, peppers, winter squash and onions.  To add depth of flavor, you'll want to add miso, soy sauce, canned tomatoes and a pinch of smoked paprika to the finished product.
And, to get the creamy but chunky texture, purée half of the soup to a creamy texture and then mix it in with the chunky vegetables.
This soup will quickly become a favorite!
Let's begin this soup by roasting the vegetables mixed with oil, white miso and salt in a hot Dutch oven until they are tender and starting to caramelize, about 45 minutes.
In the meantime, combine canned tomatoes, soy sauce, thyme, paprika, cumin, salt, pepper and water.  Pour this mixture over the roasted vegetables once they are tender.  Return the pot to the oven and cook until the flavors are concentrated, about and hour.
Transfer half of the mixture to a blender and blend until you have a coarse or smooth purée, depending on your taste.  Pour the purée back into the Dutch oven and adjust the thickness by adding water, if necessary.
It's just that easy!  Enjoy this delicious, rib-sticking soup!
Lastly, if you make Miso-Roasted Vegetable Soup, be sure to leave a comment and/or give this recipe a rating! Above all, I love to hear from you and always do my best to respond to each and every comment. And of course, if you do make this recipe, don't forget to tag me on 
Instagram
! Looking through the photos of recipes you all have made is one of my favorite things to do!
Miso-Roasted Vegetable Soup
Makes: 4 servings
Prep Time: 40 minutes
Cook Time: 2 hours
Total Time: 2 hours & 40 minutes
Ingredients
2 red bell peppers, halved, cut into 1/2-inch pieces

2 medium carrots, peeled and cut into 1/2-inch pieces

1 medium-size yellow onion, cut into 1/2-inch pieces

1 & 1/2 cups chopped (1/2-inch pieces) winter squash (such as kabocha or acorn)

2 large garlic cloves, coarsely chopped

3 tbsp vegetable, grapeseed or avocado oil

2 tbsp white miso

1 & 1/2 tsp kosher salt, divided, plus more to taste

1 (14.5-ounce) can diced tomatoes

1 tbsp soy sauce

1 tbsp chopped fresh thyme

1 tsp smoked paprika

1 tsp ground cumin

3/4 tsp black pepper, plus more to taste

3 cups water, plus more as needed

Lemon wedges and crusty bread, for serving
Instructions
Place a medium Dutch oven in oven. Preheat oven to 400°F. Toss together bell peppers, carrots, onion, squash, garlic, oil, miso, and 1 teaspoon salt in a medium bowl until vegetables are coated in miso mixture.
Add vegetable mixture to hot Dutch oven. Return to oven, and roast in preheated oven, uncovered, until vegetables are tender, about 45 minutes, stirring every 15 minutes and scraping to loosen any browned bits along sides of Dutch oven.
While vegetables roast, stir together canned tomatoes, soy sauce, thyme, paprika, cumin, pepper, 3 cups water, and remaining 1/2 teaspoon salt in same medium bowl. Remove vegetable mixture from oven. Pour tomato mixture over vegetables, and stir to combine (vegetables should be covered in tomato mixture). Return pan to oven, and cook, uncovered, stirring occasionally, until flavors are concentrated and vegetable mixture is very tender, 1 hour to 1 hour and 15 minutes (add up to 2 cups water as needed throughout cook time so vegetables stay just covered in liquid).
Transfer half of the vegetable mixture to a blender, and blend on medium speed to a coarse puree, 3 to 5 seconds; return to pan. Alternatively, use an immersion blender to blend soup in Dutch oven to desired consistency. Adjust the consistency with additional water, as desired. Season with salt and pepper to taste. Serve with a lemon wedges and bread for dunking.
Recipe from Food & Wine
Miso-Roasted Vegetable Soup