Mixed Berry Scones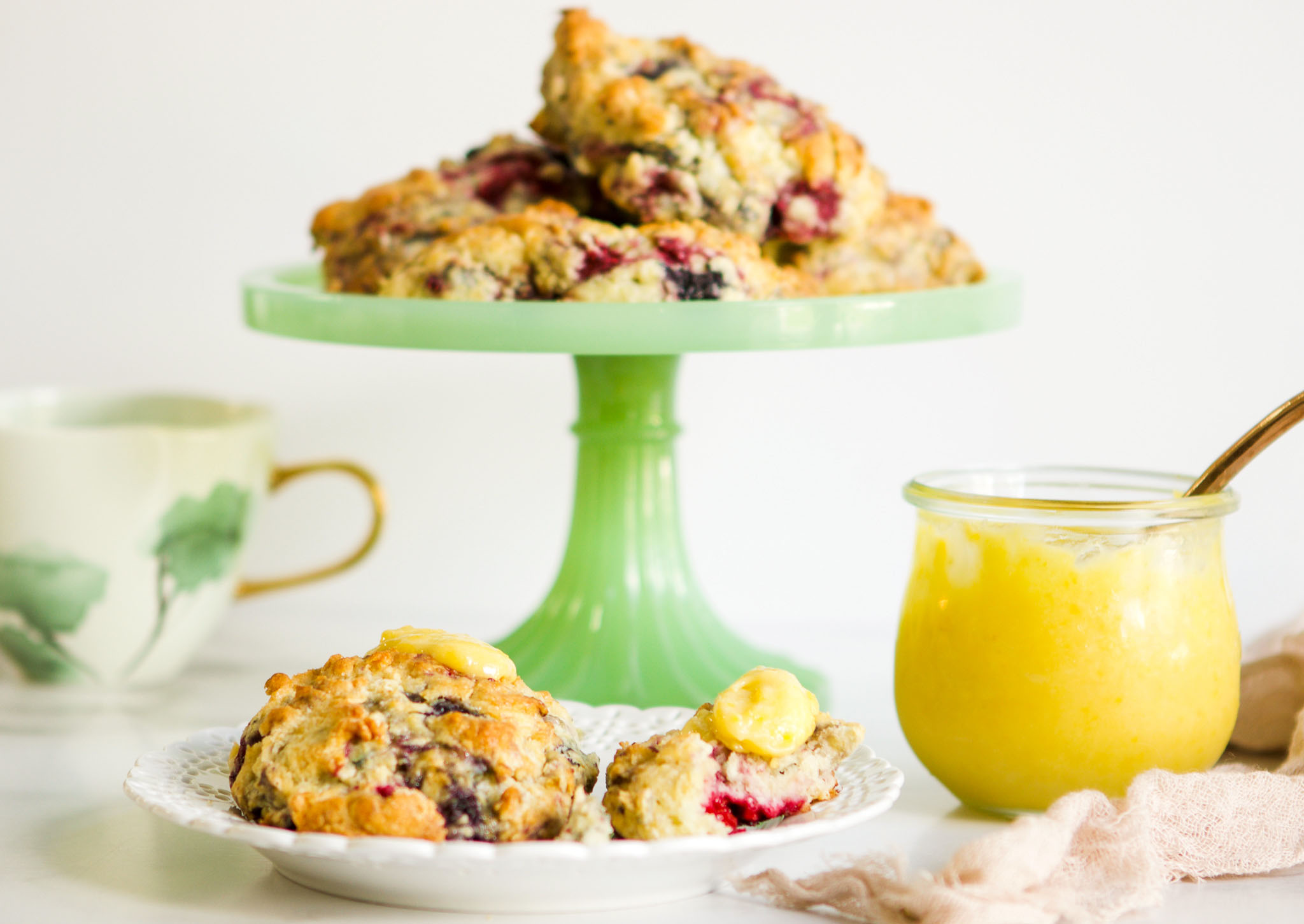 Mixed Berry Scones are a wonderful breakfast or brunch offering. Scones, in general, are so versatile with the addition of fruit, nuts, chocolate, cranberries or whatever suits your fancy.  Suiting my fancy was all about mixed berries…  
In this version, I have used frozen berries, so that all year long I can make these bad boys! They get glazed with a sweet honey glaze that adds a delicious flavor to them.
I have sometimes found that bakery scones are a little dry.  It's why I often avoid them.  Have no fear…this Mixed Berry Scones recipe produces the most delicious, tender scones that are anything but dry!
And, I must say that they come together so easily.  I use a food processor and it makes it a snap to get these in the oven quickly!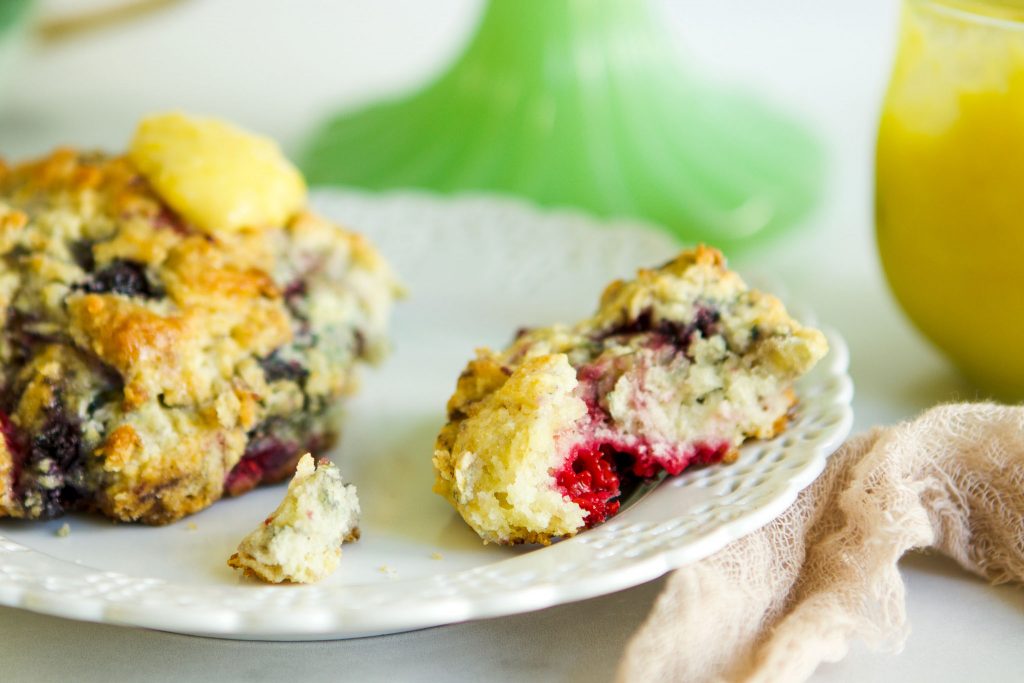 Another thing I love about this recipe is that you can use frozen fruit.  I'm a huge advocate of using fresh fruit, but this is a place where frozen fruit works very nicely.  The primary reason for that is that it really helps to keep the dough cold.  For the same reason that you use cold butter when making pastries, frozen fruit helps create air pockets when the heat of the oven hits it, thereby creating a tender, flaky crust.  
The same principal applies with scones.  So, keep frozen mixed berries on hand, and this delightful snack will be the perfect little treat.  Check out all of the berries that run through this scone…it's hard to beat this recipe!
My favorite accompaniments for these scones are Lemon Curd and Raspberry Curd.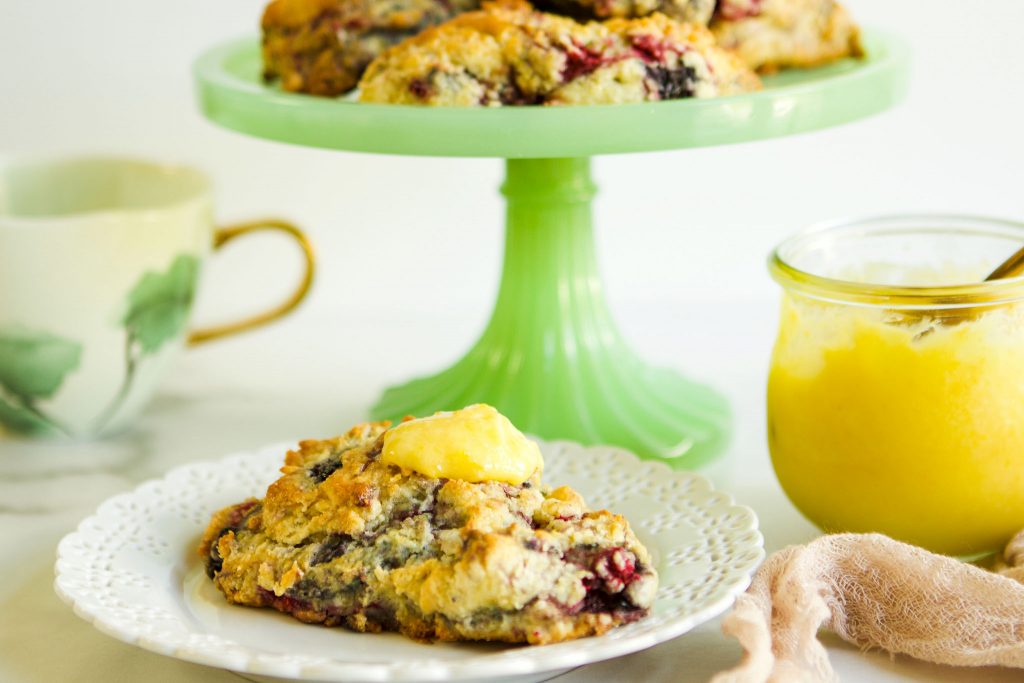 Lastly, if you make Mixed Berry Scones, be sure to leave a comment and/or give this recipe a rating! Above all, I love to hear from you and always do my best to respond to each and every comment. And of course, if you do make this recipe, don't forget to tag me on 
Instagram
! Looking through the photos of recipes you all have made is one of my favorite things to do!
Makes: 8 scones
Prep Time: 10 minutes
Bake Time: 25 minutes
Total Time: 45 minut4s
Ingredients
Scones:
1 & 3/4 cups (8 & 3/4 ounces) frozen mixed berries

3 tbsp confectioners' sugar

3 cups (15 ounces) all-purpose flour

12 tbsp unsalted butter, cut into 1/2-inch pieces, chilled

1/3 cup (2 & 1/3 ounces) granulated sugar

1 tbsp baking powder

1 & 1/4 tsp salt

3/4 cup plus 2 tablespoons whole milk

1 large egg plus 1 large yolk
Glaze:
2 tbsp unsalted butter, melted

1 tbsp honey
Instructions
For the Scones:
Adjust oven rack to upper-middle position and heat oven to 425°F. Line rimmed baking sheet with parchment paper. If your berry mix contains strawberries, cut them in half. Toss berries with confectioners' sugar in bowl; freeze until needed.
Combine flour, 6 tablespoons butter, granulated sugar, baking powder, and salt in food processor and process until butter is fully incorporated, about 15 seconds. Add remaining 6 tablespoons butter and pulse until butter is reduced to pea-size pieces, 10 to 12 pulses. Transfer mixture to large bowl. Stir in berries.
Beat milk and egg and yolk together in separate bowl. Make well in center of flour mixture and pour in milk mixture. Using rubber spatula, gently stir mixture, scraping from edges of bowl and folding inward until very shaggy dough forms and some bits of flour remain. Do not over-mix.
Turn out dough onto well-floured counter and, if necessary, knead briefly until dough just comes together, about 3 turns. Using your floured hands and bench scraper, shape dough into 12 by 4-inch rectangle, about 1 & 1/2 inches tall. Using knife or bench scraper, cut dough crosswise into 4 equal rectangles. Cut each rectangle diagonally into 2 triangles (you should have 8 scones total). Transfer scones to prepared sheet. Bake until scones are lightly golden on top, 16 to 18 minutes, rotating pan halfway through baking.
For the Glaze:

While scones bake, combine melted butter and honey in small bowl.
Remove scones from oven and brush tops evenly with glaze mixture. Return scones to oven and continue to bake until golden brown on top, 5 to 8 minutes longer. Transfer scones to wire rack and let cool for at least 10 minutes before serving.
Chef's Notes:
To make ahead, unbaked scones can be frozen for several weeks. After cutting scones into triangles in step 4, freeze them on baking sheet. Transfer frozen scones to zip-lock freezer bag. When ready to bake, heat oven to 375°F and extend cooking time to 23 to 26 minutes.
To keep the (frozen) berries from bleeding into the dough, we tossed the berries in confectioners' sugar.
To get light and flaky scones, we discovered that treating the butter in two different ways was key. First, we processed half the butter until fully incorporated into the dough. Then, we added the remaining cold butter and processed it until small clumps remained, creating pockets of steam as the scones baked.
A simple glaze of butter and honey adds a nice finish to the scones.
Work the dough as little as possible, just until it comes together. Work quickly to keep the butter and berries as cold as possible for the best results. Note that the butter is divided in this recipe. An equal amount of frozen blueberries, raspberries, blackberries, or strawberries (halved) can be used in place of the mixed berries.
Recipe is not my original but I can't find the author.