No-Bake Blueberry Pie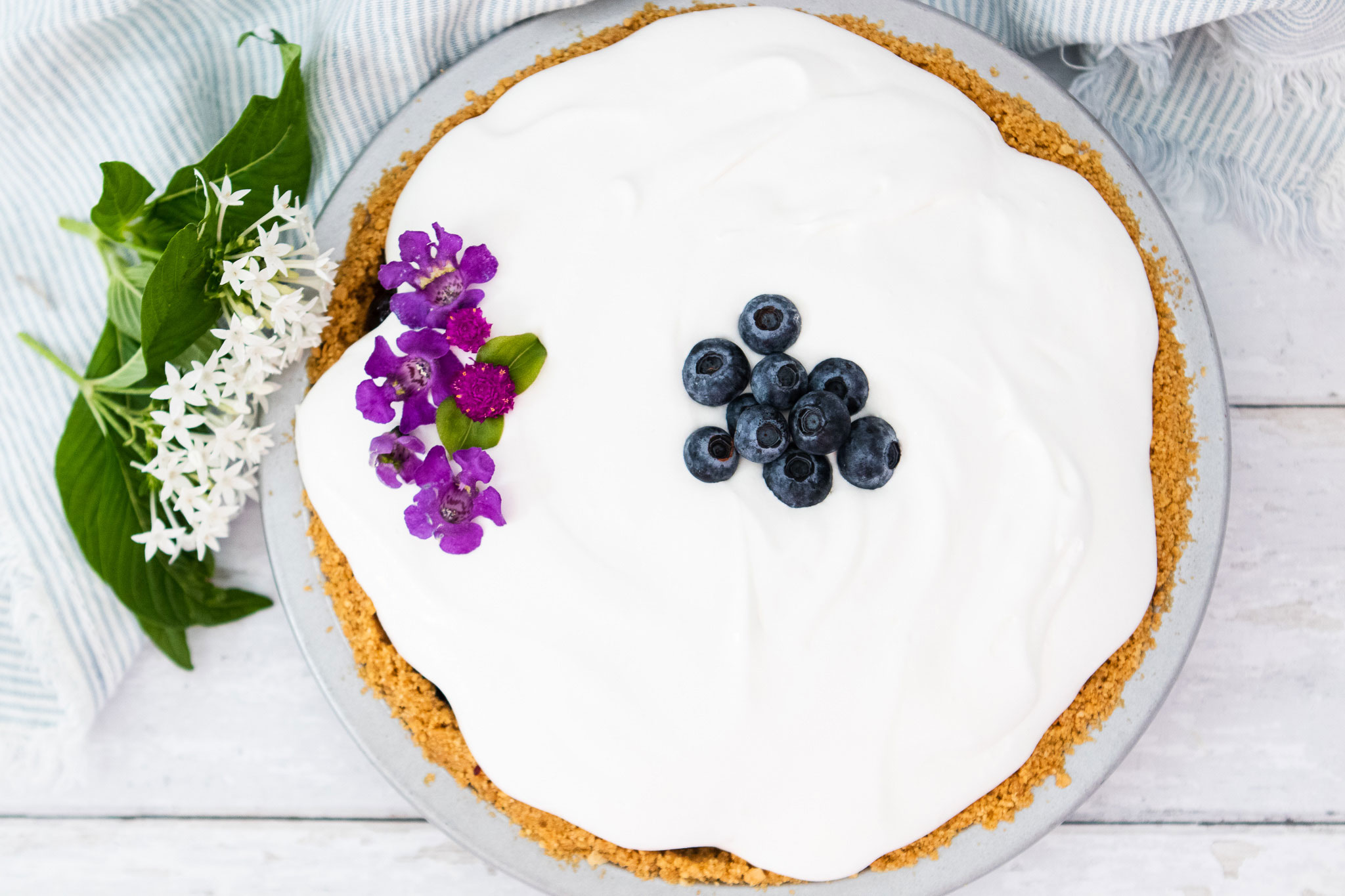 People keep saying that summer is over, that it's time for kids to go back to school and for summer relaxing to end.  I say "humbug" (I really don't say that, but how about "boo").
It's August, and in Arizona our kiddos really do start school early.  But it's still at least 100°F, so it still feels like summer to me.  Besides, doesn't summer really end after Labor Day?  So, before I get into Autumn recipes, how about a gorgeous summery no-bake blueberry pie?
You know I love no-bake desserts, especially in the summer (yep, still summer the last time I checked…I'm not giving up on it that easily).  Last week, I featured a No-Bake Summer Fruit Cream Tart and a few weeks before that, I posted No-Bake S'mores Cheesecake Cups.  So, I'm definitely all about keeping it simple and cool in the kitchen!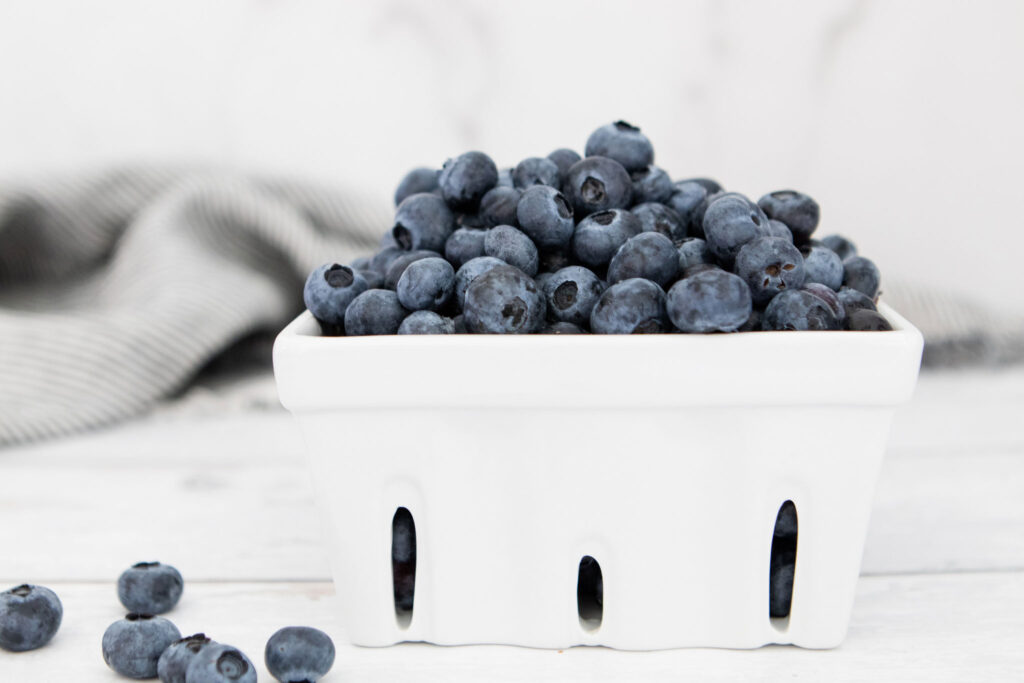 The star of this pretty little thing is the humble blueberry.  I love that they are basically in season all year long, but of course the best flavor will happen in the summer, especially if you can find the Oregon-grown berries.  But, you can also use frozen blueberries if you like, and you can often find those that hail from the Pacific Northwest.
Let's begin this pie by making the crust.  Combine graham cracker crumbs with melted butter.  If you can't find the crumbs, it's very easy to make them by putting sheets of graham crackers into a large baggy and pounding them with a rolling pin.  It actually feels good!  Smash 'em!!!
Okay, I'm fine now.
Press the graham cracker mixture into the bottom of a pie pan.  That's it for the crust.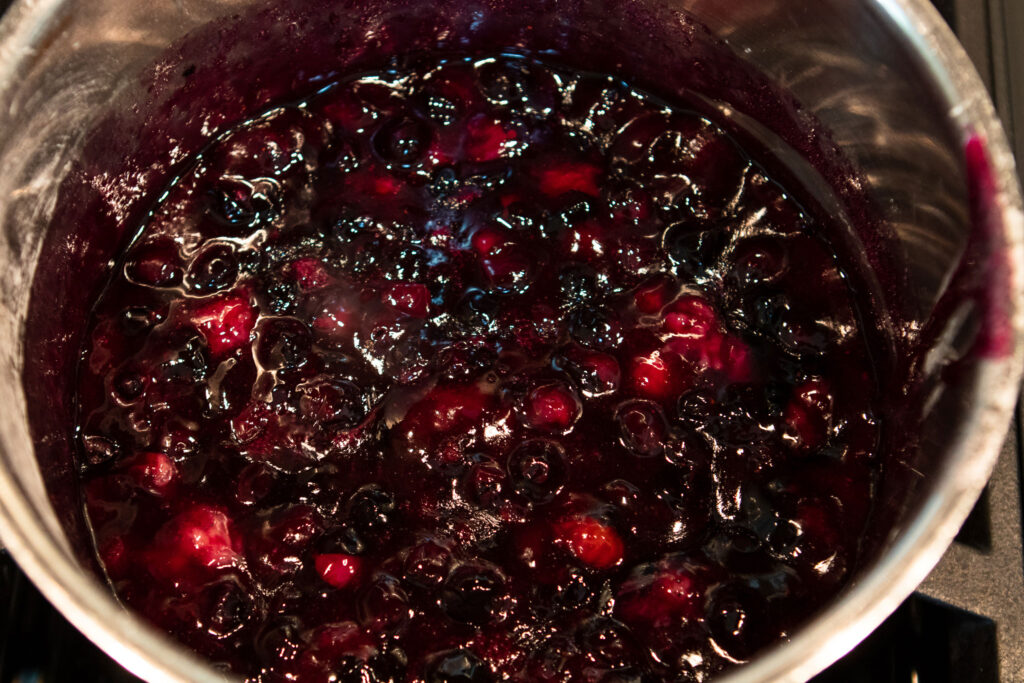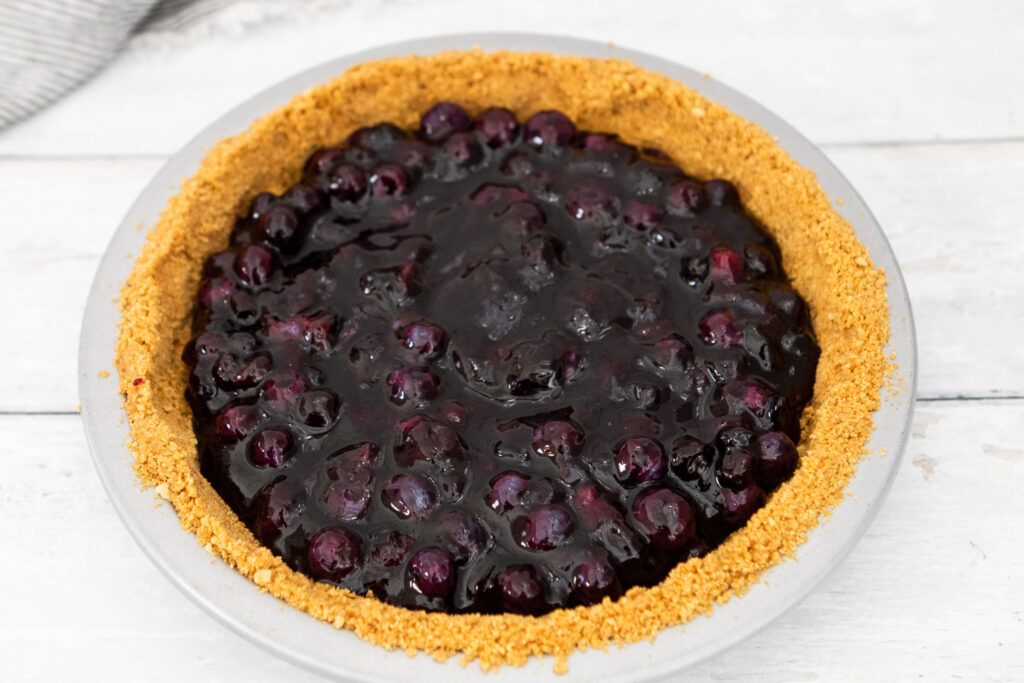 To make the filling, begin with making a cornstarch slurry of constarch and water.  Then, place one cup of blueberries in a saucepan with some water.  I like to pick out any that are mushy or bruised to go into the saucepan as they are going to be cooked and will lose their shape anyhow.  Once they start to burst, add the slurry, sugar, and lemon juice.  Cook it a bit, and then add the rest of the blueberries.
Pile the blueberry mixture into the prepared crust and refrigerate for at least two hours.  I wouldn't cut that time short as you will need that amount of time for the blueberries to set up.
Finally, make the whipped cream by whipping the cream until soft peaks begin to form.  At that point, add in a bit of confectioners' sugar and vanilla extract.  Continue to beat until peaks are stiff.  Watch it carefully so that you don't over-beat it.  You don't want the cream to start to clump.  It'll taste fine but it won't look fine!
Decorate the pie as you like with additional blueberries and edible flowers.  All done!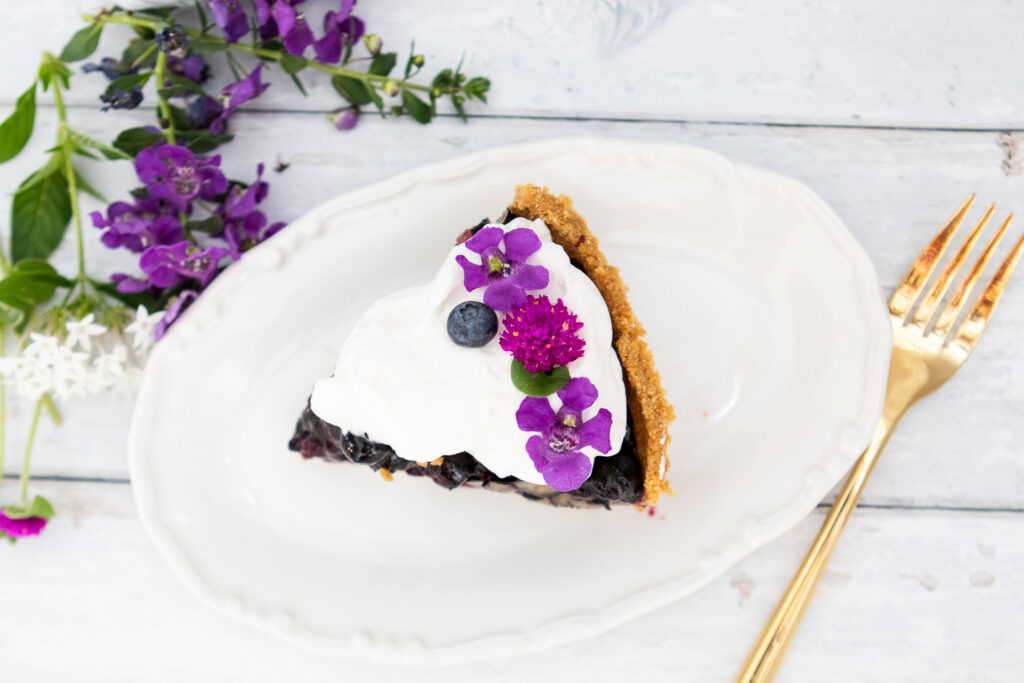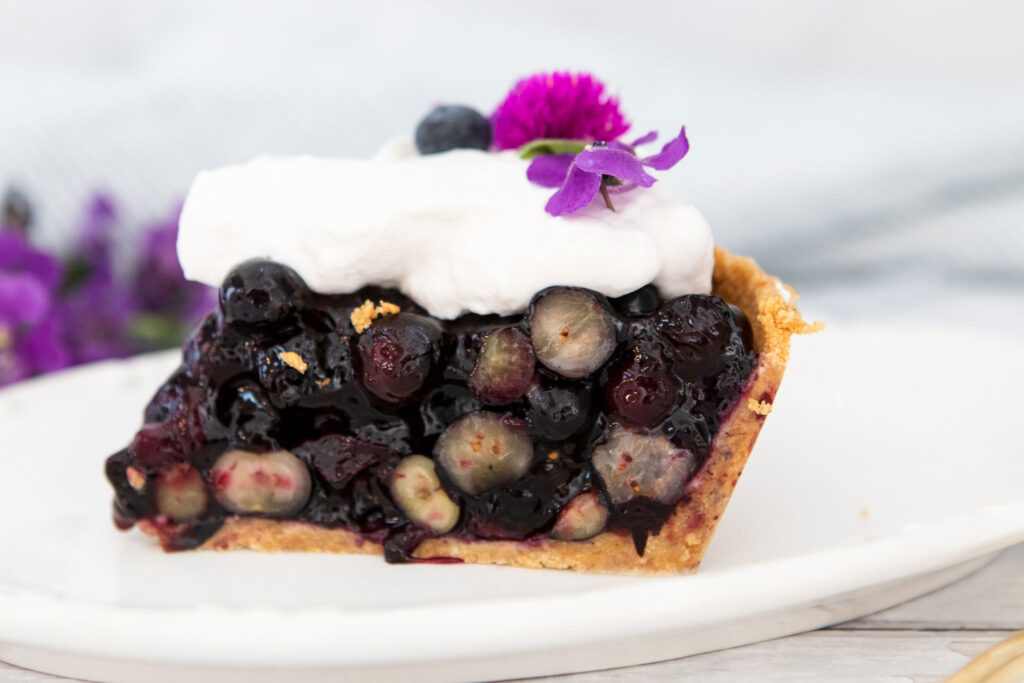 Lastly, if you make No-Bake Blueberry Pie, be sure to leave a comment and/or give this recipe a rating! Above all, I love to hear from you and always do my best to respond to each and every comment. And of course, if you do make this recipe, don't forget to tag me on 
Instagram
! Looking through the photos of recipes you all have made is one of my favorite things to do!
Makes: 8 servings
Prep Time: 15 minutes
Chill Time: 2 hours
Total Time: 2 hours & 5 minutes
Ingredients
1 & 1/2 cups graham cracker crumbs, about 10 sheets of crackers

6 tbsp butter, melted
Filling:
4 cups blueberries rinsed and dried

1/2 cup water, plus another 2 tbsp water divided

2 tbsp cornstarch or arrowroot starch

1/2 cup sugar

1 tsp fresh lemon juice

Pinch of kosher salt
Whipped Cream:
2 cups whipping cream

2 tbsp confectioners' sugar

2 tsp vanilla extract
Instructions
In a small bowl, add the melted butter to the graham cracker crumbs and, using a fork, mix well. You want every crumb coated in the butter as this will be the glue that holds it together.
Pour the graham cracker crumbs into a 9-inch pie dish. Pat them flat with your hand and then use a kitchen glass to press flatter. Start at the center and work out to and up the sides. Set aside.
Filling:
Measure out 1 cup of the blueberries, choosing any that are soft or slightly bruised. Put them into a sauce pan along with 1/2 cup of water. Cover and bring to a boil.
Meanwhile, in a small bowl, mix the cornstarch with the remaining 2 tablespoons of water to create a smooth slurry. When the blueberries and water have come to a boil, reduce the heat and simmer, stirring constantly for 3-4 minutes, until the berries have started to burst and the juices are starting to thicken. Stirring constantly, add the cornstarch slurry, the sugar, lemon juice and salt. Simmer for a minute or two until the filling becomes translucent. Immediately remove from the heat and add the remaining 3 cups of berries.
Pour this filling carefully into the cooled pie shell. Smooth out the top. Refrigerate for 2 hours.
When ready to serve, make whipped cream by beating whipping cream in the bowl of a stand mixer until stiff peaks start to form. Add confectioners' sugar and vanilla and beat until incorporated. Do not over-beat or the whipped cream will get chunky.
Top pie with whipped cream, decorate with additional blueberries and edible flowers.