Nutella-Filled Biscotti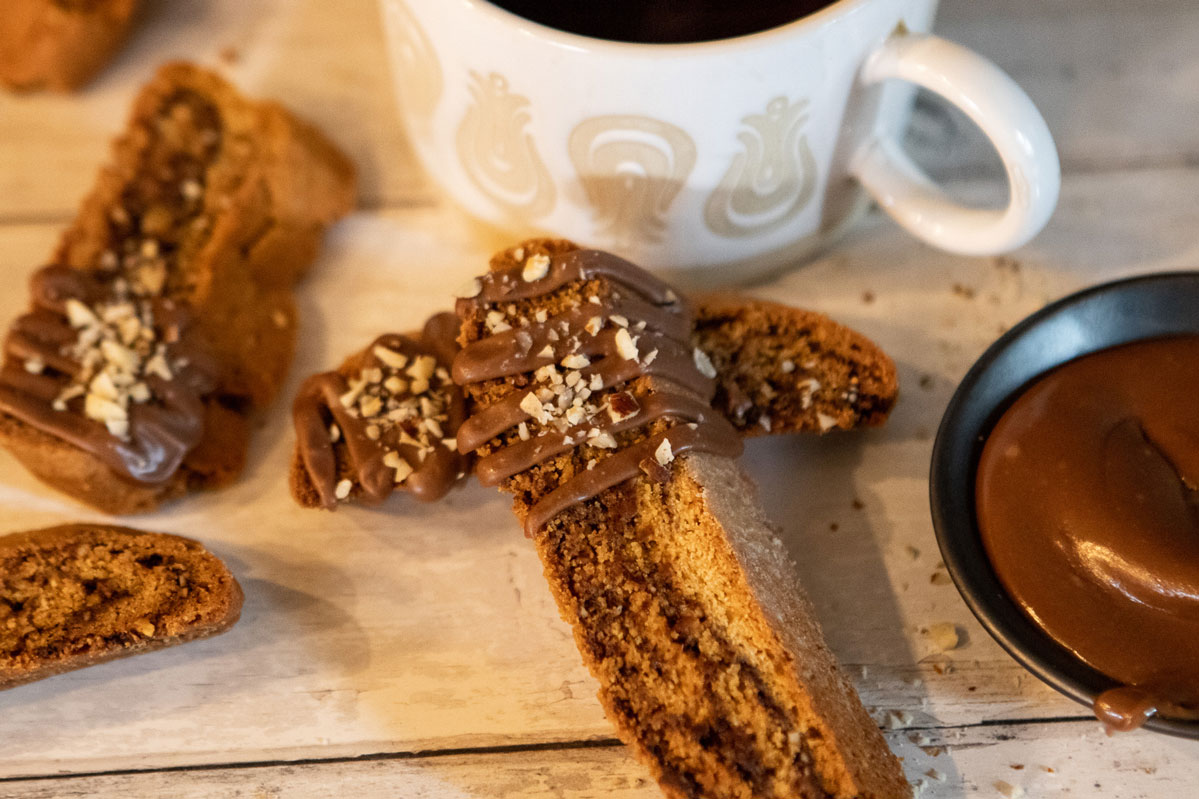 Nutella-Filled Biscotti are an interesting twist on a plain biscotti.  Rolling biscotti with a layer of Nutella running throughout gives them a beautiful spiral look along with a delicious chocolate hazelnut taste.  Drizzle a Nutella glaze over them and sprinkle some chopped hazelnuts on and you have a show-stopper snack!
I have made biscotti for years (also know as mandel brot, in the Jewish world).  This is the first time that I thought to try rolling them with a filling instead of simply forming them into a log and baking them.  I'm so glad I took on the challenge.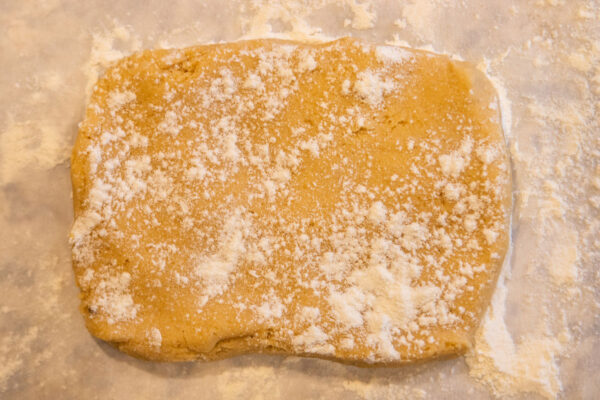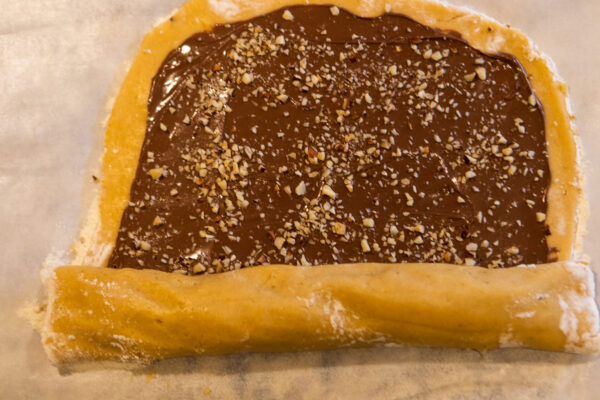 It's not much of a challenge to make these.  Once you make the dough, divide it in two and work with one piece at a time.  Sprinkle it with flour and roll the dough into a 12×8-inch rectangle.  Spread half of the Nutella and half of the hazelnuts over the dough and then roll up into a tight cylinder.  Place the log onto a parchment-lined sheet pan, make the other log and then pop the pan into the oven.  These will bake for about 35-40 minutes.
Once they are baked, let them cool for about 10 minutes and then slice them into 3/4-inch slices.  Lay the slices down on the sheet pan and continue to bake them for another 35 minutes.  This makes a crispy biscotti.  If you like them a little more chewy, you can shorten the second baking period to 25 minutes.
Let the biscotti cool completely.
The chocolate hazelnut glaze comes together easily by combining confectioners' sugar, Nutella, water and salt and stirring until smooth.  
Drizzle or spread the glaze over the cooled biscotti, sprinkle some chopped hazelnuts over and let them sit until the glaze firms up.
Now, grab a cuppa Joe, a good book and a plate of these yummy bites…ahhhhh! 
Lastly, if you make Nutella-Filled Biscotti, be sure to leave a review down below at the bottom of this page (stars are also appreciated)! Above all, I love to hear from you and always do my best to respond to each and every review. And of course, if you do make this recipe, don't forget to tag me on 
Instagram
! Looking through the photos of recipes you all have made is one of my favorite things to do!
Makes: 22-24 biscotti
Prep Time: 15 minutes
Bake Time: 1 hour & 15 minutes
Total Time: 2 hours
Ingredients
Biscotti:
1/2 cup unsalted butter, softened

1/3 cup granulated sugar

1/4 cup firmly packed light brown sugar

2 large eggs, room temperature

1 tsp vanilla bean paste or vanilla extract

1/2 tsp almond extract

2 & 1/4 cups all-purpose flour

1 tsp baking powder

1 tsp kosher salt

1/2 cup chocolate hazelnut spread

3 tbsp very finely chopped dry-roasted hazelnuts

Chocolate Hazelnut Glaze

Garnish:

chopped dry-roasted hazelnuts
Chocolate Hazelnut Glaze:
1 cup confectioners' sugar, sifted

1/4 cup chocolate hazelnut spread

2 tbsp water

1/8 tsp kosher salt
Instructions
Preheat oven to 325°F. Line a baking sheet with parchment.
In the bowl of a stand mixer fitted with the paddle attachment, beat butter and sugars at medium speed until fluffy, about 3 minutes, stopping to scrape sides of bowl. Beat in eggs, vanilla bean paste, and almond extract. (Mixture may look a bit broken, but dough will come together.)
In a medium bowl, whisk together flour, baking powder, and salt. With mixer on low speed, gradually add flour mixture to butter mixture, beating until combined.
Divide dough in half. Shape half of dough into a rough 6 & 1/2 x 5-inch rectangle. (Keep remaining dough covered to prevent it from drying out.) Place dough rectangle on a lightly floured sheet of parchment on top of dough. Roll dough between parchment into a 12 x 8-inch rectangle; lightly flour dough on both sides to prevent sticking as needed. Remove top parchment.
Using a small offset spatula, spread half of chocolate hazelnut spread on top of dough, leaving a 1/2-inch border around edges. Sprinkle with half of very finely chopped hazelnuts. Starting on one short side and using parchment to help support, roll up dough, jelly roll style. Pinch ends to seal, and tuck edges under to create a rectangular block (about 1 inch tall). Place dough, seam side down, on prepared pan. Repeat procedure with remaining dough. Space dough rectangles 3 to 4 inches apart on prepared pan.
Bake until golden brown and edges are set, 35 to 40 minutes. (Dough will crack along the top a little–this is normal.) Let cool on pan for 10 minutes. Leave oven on.
Carefully transfer dough to a cutting board. Using a serrated knife, carefully cut dough diagonally int 3/4-inch-thick slices. Place slices, cut side down, 1 inch apart on parchment-lined baking sheets.
Bake until toasted and centers are mostly dry and firm, 30-37 minutes (see Chef's Note), turning biscotti halfway through baking. Remove from pan, and let cool completely on a wire rack.
Drizzle or spread Chocolate Hazelnut Glaze onto cooled biscotti. Garnish with chopped hazelnuts, if desired. Serve immediately, or let stand until glaze is set, about 30 minutes.
Chocolate Hazelnut Glaze:
In a small bowl, stir together confectioners' sugar, chocolate hazelnut spread, 2 tablespoons water, and salt until smooth and well combined. Use immediately.
Chef's Notes:
This recipe produces crisp biscotti. If you prefer yours with a slightly softer texture, you can toast them for a shorter period of time.
Recipe from Bake from Scratch