Marshmallow Molasses Cookies
Marshmallow Molasses Cookies are the way to take an ordinary molasses cookie to a crazy high level!  Just wrap a marshmallow in molasses cookie dough and bake it.  You end up with the chewy spiced flavor of a traditional molasses cookie with gooey marshmallowy yumminess in every bite!
These cookies are the perfect addition to a holiday cookie exchange or a gift box filled with cookies (see my Holiday Cookie Box post).
They are beautifully flavored with molasses and brown sugar and spiced up with ginger, cloves and cinnamon.
And with the burst of marshmallow in the center of each cookie, expect to be the hands-down winner of any cookie bake-off!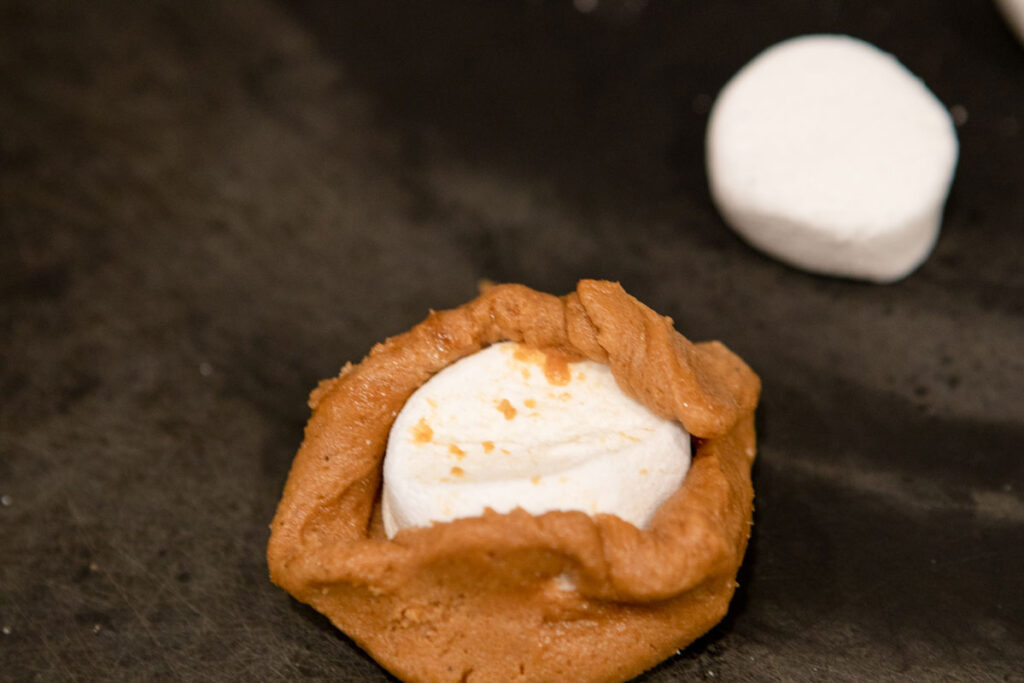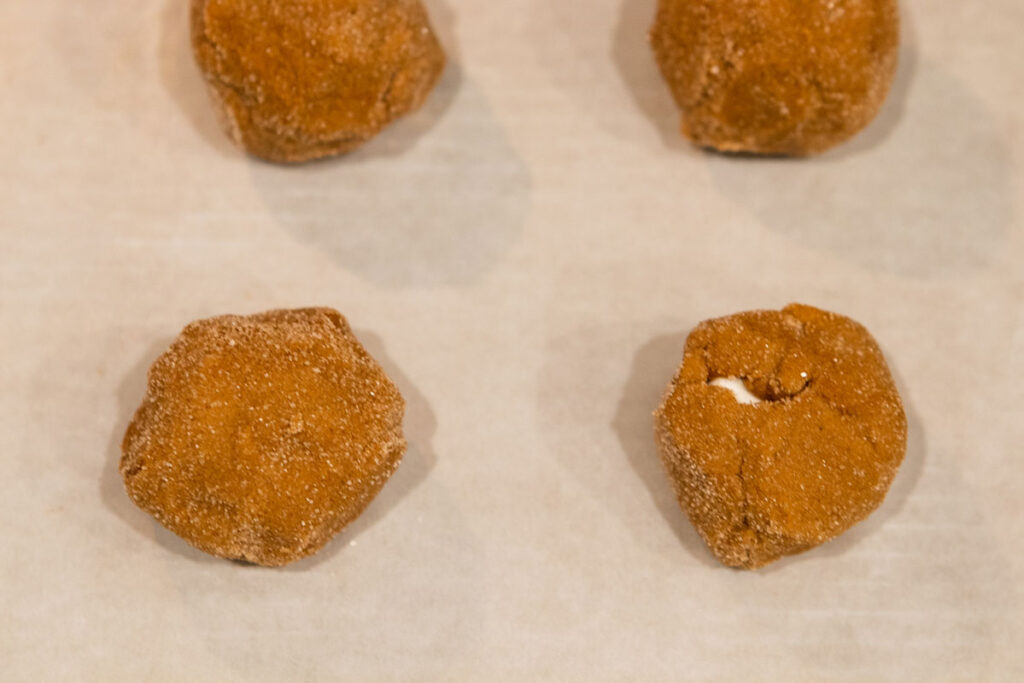 To begin, cream the butter and sugar together.  Add the molasses, vanilla and egg and beat until combined.  The flour, baking soda, baking powder and all the spices get mixed in a separate bowl and then gradually added into the wet ingredients until there are no streaks of flour remaining.
Using a scoop to portion out the batter, flatten one scoop of dough in the palm of your hand. I would use about 2 tablespoons of dough in each scoop.  For me, that's a medium-sized scoop.  Place a marshmallow in the middle and fold up the batter around the marshmallow until the marshmallow is completely covered.  Then, form the batter into a round ball, dip in cinnamon sugar and place on a cookie sheet.
Bake the cookies for about 11 minutes and then allow them to cool completely before transferring to a wire rack.
These cookies are amazing…I know you're gonna love them!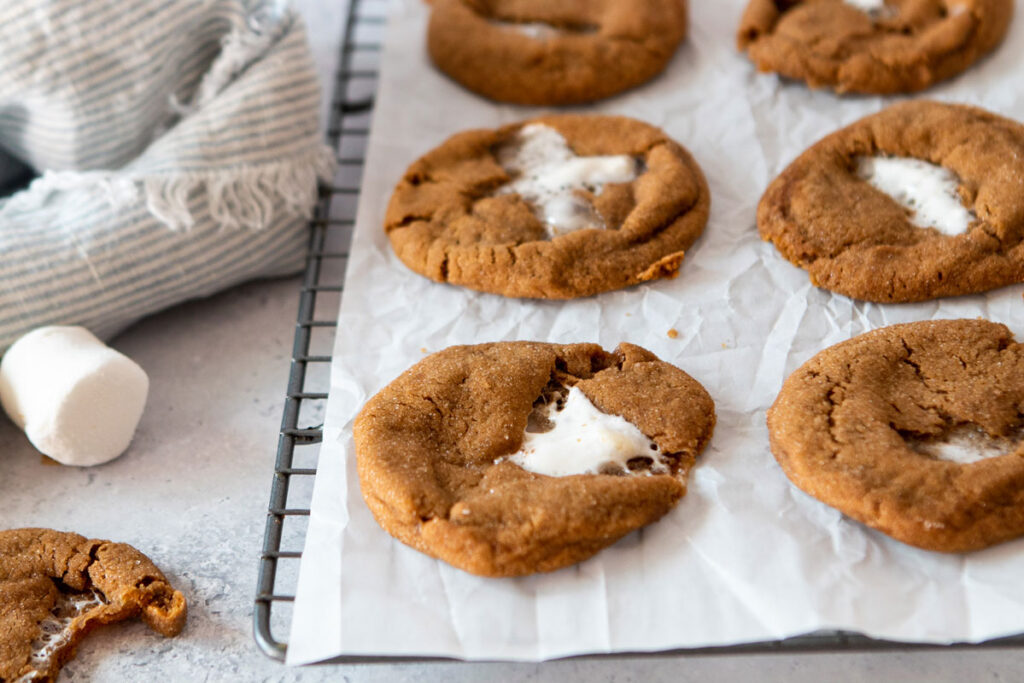 Lastly, if you make Marshmallow Molasses Cookies, be sure to leave a comment and/or give this recipe a rating! Above all, I love to hear from you and always do my best to respond to each and every comment. And of course, if you do make this recipe, don't forget to tag me on 
Instagram
! Looking through the photos of recipes you all have made is one of my favorite things to do!
Marshmallow Molasses Cookies
Makes: 16 cookies
Prep Time: 15 minutes
Bake Time: 11 minutes
Total Time: 30 minutes
Ingredients
3/4 cup unsalted butter, softened
3/4 cup light brown sugar
1/3 cup molasses
2 tsp vanilla extract
1 egg
2 & 1/3 cups all-purpose flour
1/2 tsp baking soda
1/4 tsp baking powder
4 tsp cinnamon, separated
2 tsp ground ginger
1/2 tsp ground cloves
1/2 tsp Kosher salt
3/4 cup granulated sugar
16 large marshmallows
Instructions
Preheat the oven to 350°F and line two cookie sheets with parchment paper. Set aside.  In a stand mixer fit with the paddle attachment, beat the butter and sugar together until light and fluffy, about 2 minutes. Add the molasses and vanilla extract and mix until combined.  Add the egg. Beat well.
In a separate bowl, stir together the flour, baking soda, baking powder, 2 teaspoons of the cinnamon, ginger, cloves, and salt.
Add the dry ingredients to the wet and beat until combined and no streaks of flour remain.
In a small bowl combine the granulated sugar and remaining 2 teaspoons of cinnamon to make cinnamon sugar. Set aside.
Use a medium size cookie scoop to scoop out a cookie. The dough will be soft and slightly sticky. Flatten out the dough in your palm and place a marshmallow in the center. Fold the dough up around the edges to form it into a ball.
Roll the cookies in cinnamon sugar and place two inches apart onto the prepared cookie sheets.  Bake for 11 minutes, or until the cookies have puffed up and crinkled and are set on the edges but still gooey in the middle. Allow to cool completely before using a spatula to transfer to a wire rack. Enjoy!
Recipe from Broma Bakery
Marshmallow Molasses Cookies