Pistachio Rose Sugar Cookies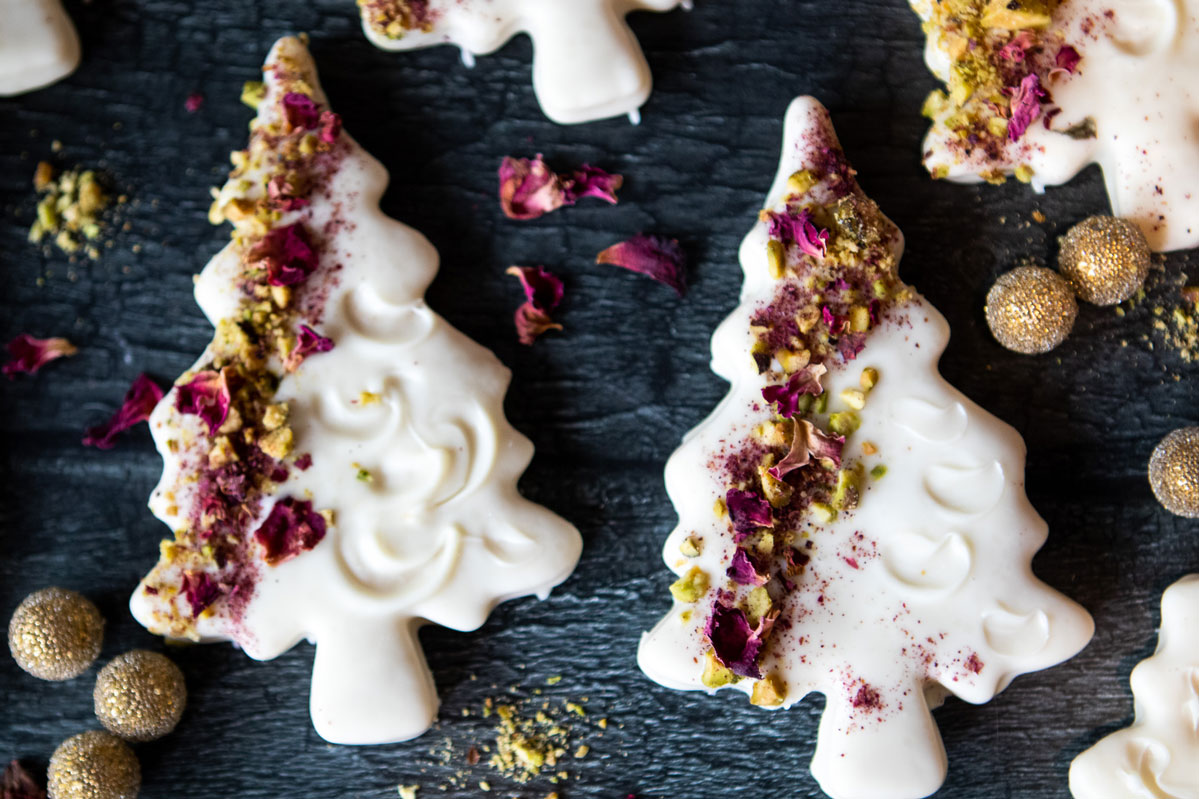 These picture-perfect Pistachio Rose Sugar Cookies are a delight to look at and delicious to eat!  A rose water-infused sugar cookie is dipped in white chocolate and then sprinkled with rose petal dust, pistachios and rose petals.  It is an elegant finish to any holiday meal.
While I love sweet holiday treats (Christmas Santas, Candy Cane Shortbread Kisses, and Ornament Iced Sugar Cookies) there is something wonderful about a less-sweet morsel at the end of a meal.  These cookies are a traditional sugar cookie, but instead of vanilla, I've added rose water to give them a unique flavor.  I'll caution that if you haven't tried rose water-infused desserts, you may not enjoy them so I would add the vanilla extract instead.
The cookies get dipped in melted white chocolate that also tames down the sweetness.  Typical sugar cookies are iced with a royal icing that is very sweet.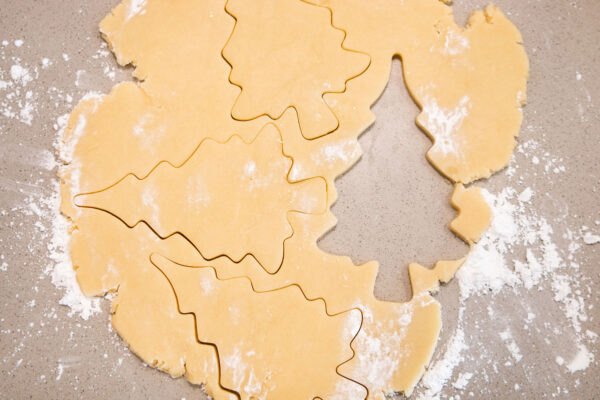 You'll need to give yourself some time for the cookie dough to rest, about 2 hours.  Once the dough has been made, rested and rolled out, cut tree shapes from the dough.
Bake the cookies for 8 minutes per cookie sheet.  Let them cool and then melt the white chocolate.
Quickly decorate the cookies by sprinkling on some rose-petal "dust" (grind some petals in a spice grinder until a fine powder), chopped up pistachio nuts and a few rose petals.
I placed them in the fridge to firm up the white chocolate somewhat (about 10 minutes) and then used the back of a spoon to create swirls in the white chocolate.
These cookies have a lovely old-world look to them.  Enjoy!
Lastly, if you make Pistachio Rose Sugar Cookies, be sure to leave a review down below at the bottom of this page (stars are also appreciated)! Above all, I love to hear from you and always do my best to respond to each and every review. And of course, if you do make this recipe, don't forget to tag me on 
Instagram
! Looking through the photos of recipes you all have made is one of my favorite things to do!
Pistachio Rose Sugar Cookies
Makes: 22-24 cookies
Prep Time: 20 minutes
Bake Time: 16 minutes
Total Time: 45 minutes plus chill time 2 hours
Ingredients
Sugar Cookies:
3 cups all-purpose flour

3/4 tsp baking powder

1/4 tsp kosher salt

2 sticks butter, softened

1 cup granulated sugar

1 egg

1 tbsp rose water or 1/2 tbsp vanilla extract

powdered sugar (for rolling)
Toppings:
12 ounces white chocolate, finely chopped

1/2 cup pistachios, finely chopped

1/4 cup dried rose petals
Instructions
Sugar Cookies:
Sift the flour, baking powder, and salt together in a mixing bowl. Set aside.
In the bowl of a stand mixer fitted with a paddle attachment, combine the butter and sugar. Cream the butter and sugar for a few minutes until light and fluffy, scraping down the sides of the bowl as needed. Mix in the egg and rose water (or vanilla) until incorporated.
Add the dry ingredients. Mix on low speed, and then raise the speed to medium and mix until the dough starts to pull away from the sides of the bowl. Divide the dough into 2. Flatten each piece and wrap with plastic wrap. Chill for 2 hours.
Preheat the oven to 375°F. Roll the dough out to 1/4" on a clean surface dusted very lightly with powdered sugar (dust a little powdered sugar on top, too, if the dough starts to stick). Work gently and quickly with the dough. You don't want the dough to get too warm.
Use a cookie cutter of your choice to cut the dough. Gently transfer the cookies to a parchment-lined sheet pan using a spatula.
Bake the cookies for 8 minutes, turning the pan half way through. Let cool for 5 minutes. Transfer the cookies to a wire rack to finish cooling.
Toppings:
Melt the white chocolate over a double boiler until smooth.  You can also melt in a microwave in 30-second intervals.
Gently dip the cookies face-down into the white chocolate. Be extremely gentle as these will easily break. It helps to hold the cookie with a light grip and rinse your fingers of any chocolate periodically.
Sprinkle half of each cookie with the pistachios and a few rose petals. Let set (you can place these in the refrigerator for 10 minutes to speed up the process). When almost set, use the tip of a spoon to create a random swirly pattern.
Chef's Notes:
To get the look of the cookies in the photos, I used a spice grinder to "grind" half of the rose petals. This creates a pretty "pink dust" look. I then added a few whole rose petals over top as well.
Recipe from The Original Dish
Pistachio Rose Sugar Cookies