Candy Cane Shortbread Cookies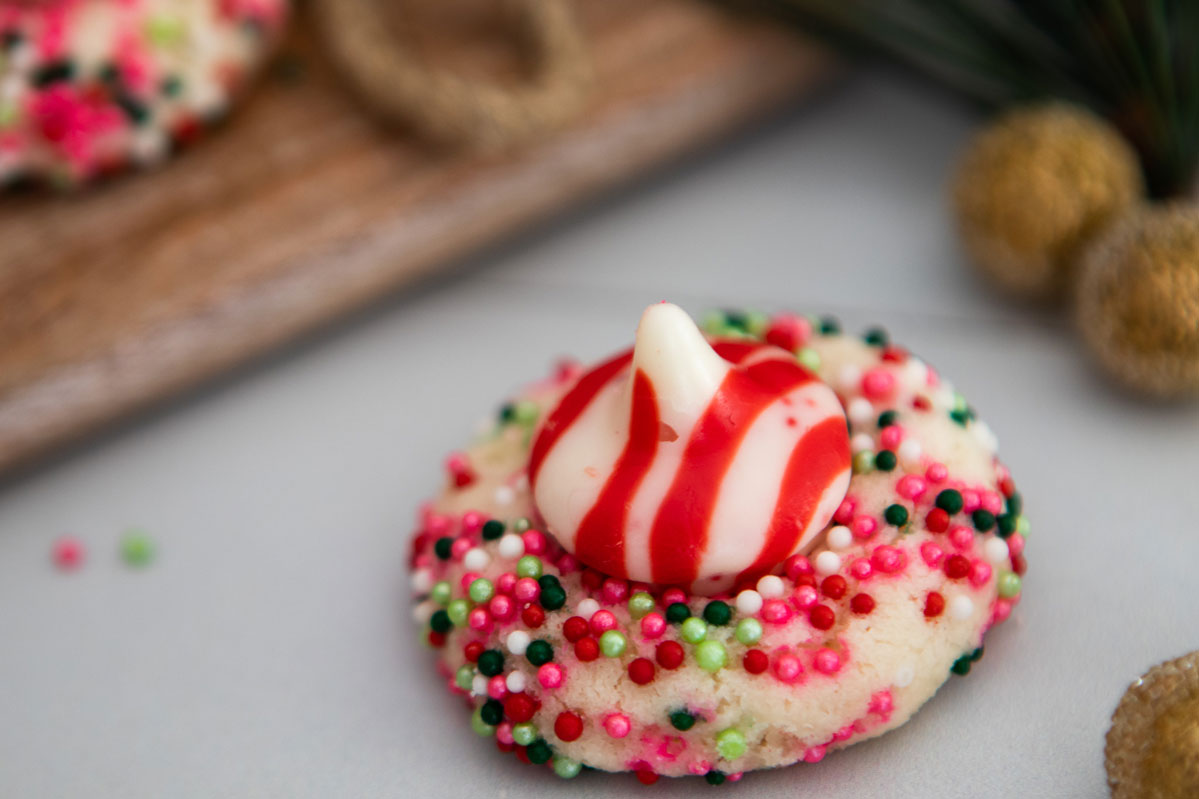 Candy Cane Shortbread Cookies are the perfect little holiday treat!  They are small, buttery, and crunchy.  The peppermint kiss is a wonderful topping to this buttery shortbread cookie.  Best of all they are so easy.  The hardest thing about them is waiting for the kiss to firm up.  Ah well…soft kisses are dreamy, too!
The base of the cookie is a shortbread cookie recipe originally from Land o' Lakes Butter and it uses only four ingredients.  Gotta love that!
The dough is rolled into small balls and then dipped into the tiny sprinkles called nonpariels.  I added some light green and pink nonpariels to a traditional Christmas mix to get this fun look!  You might have to press the nonpariels into the dough as the dough is dense and the nonpariels don't stick very well to the cookie dough.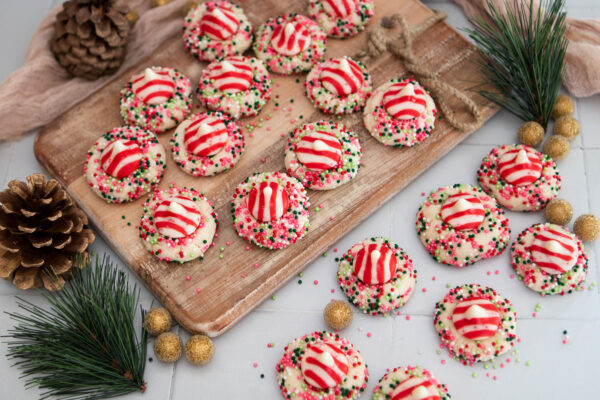 Bake the cookies for about 15 minutes, remove from the oven and press an unwrapped kiss into the top of each cookie.  Don't press it so deep that you crack the cookie, maybe about 1/4-inch.
Let the cookies sit for a few minutes on the sheet pan and then move the cookies to a wire rack for cooling.
It's important to let the Hershey's kisses cool completely.  The cookies will cool much quicker than the kisses, but if you try to stack the cookies, it will become a mess because the  kisses will not be firm yet and will collapse and distort in shape.  Have some patience…it can take an hour or more to firm up.  Once firm, you can stack them on a platter, move them to an airtight container or just dive in and enjoy them!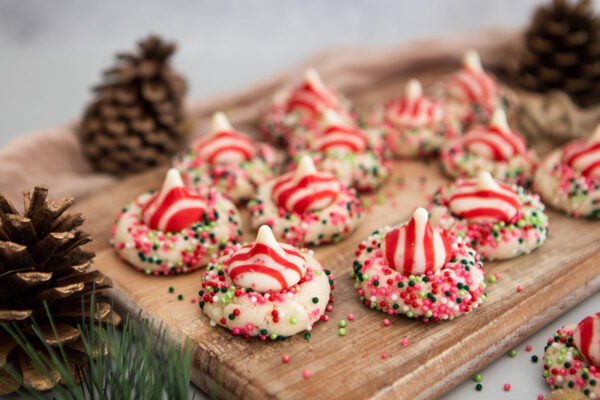 Lastly, if you make Candy Cane Shortbread Cookies, be sure to leave a comment and/or give this recipe a rating! Above all, I love to hear from you and always do my best to respond to each and every comment. And of course, if you do make this recipe, don't forget to tag me on 
Instagram
! Looking through the photos of recipes you all have made is one of my favorite things to do!
Candy Cane Shortbread Cookies
Makes: 36 cookies
Prep Time: 20 minutes
Bake Time: 20 minutes
Total Time: 40 minutes
Ingredients
1 cup salted butter, softened

2/3 cup sugar

1/2 tsp vanilla extract

2 cups all-purpose flour

1/2 cup color nonpareil sprinkles

1 (10- ounce) bag Hershey's Holiday Candy Cane Kisses
Instructions
Heat oven to 350°F. Pour sprinkles into shallow bowl. Unwrap Candy Cane Kisses
Combine butter, sugar and ½ teaspoon vanilla extract in bowl. Beat at medium speed, scraping bowl often, until creamy. Add flour; beat at low speed, scraping bowl often, until well mixed. Shape dough into small 1-inch balls (I use a small ice cream scoop).
Roll balls of dough in sprinkles, patting sprinkles gently onto any areas where sprinkles have not adhered. You want to have the little balls covered with sprinkles. Place 2 inches apart onto ungreased cookie sheets.
Bake 14-18 minutes or until bottoms are lightly browned. Remove from oven and quickly place a kiss in the center of each cookie, pressing down barely (about ¼ inch or less!) into the cookie. Don't be tempted to press the kiss too deeply into the cookies as they will crack at the edges. If you do have any cracking, gently push the crack back together while the cookies are still warm.
Let the cookies stand 5 minutes on sheet pan, then carefully remove to cooling rack. Cool completely before moving or touching. The kisses will take a while to firm up. If you try to move them too soon the kisses will collapse or distort in shape.
Candy Cane Shortbread Cookies