Roasted Tomato Burgers with Garlic Mayo and Gouda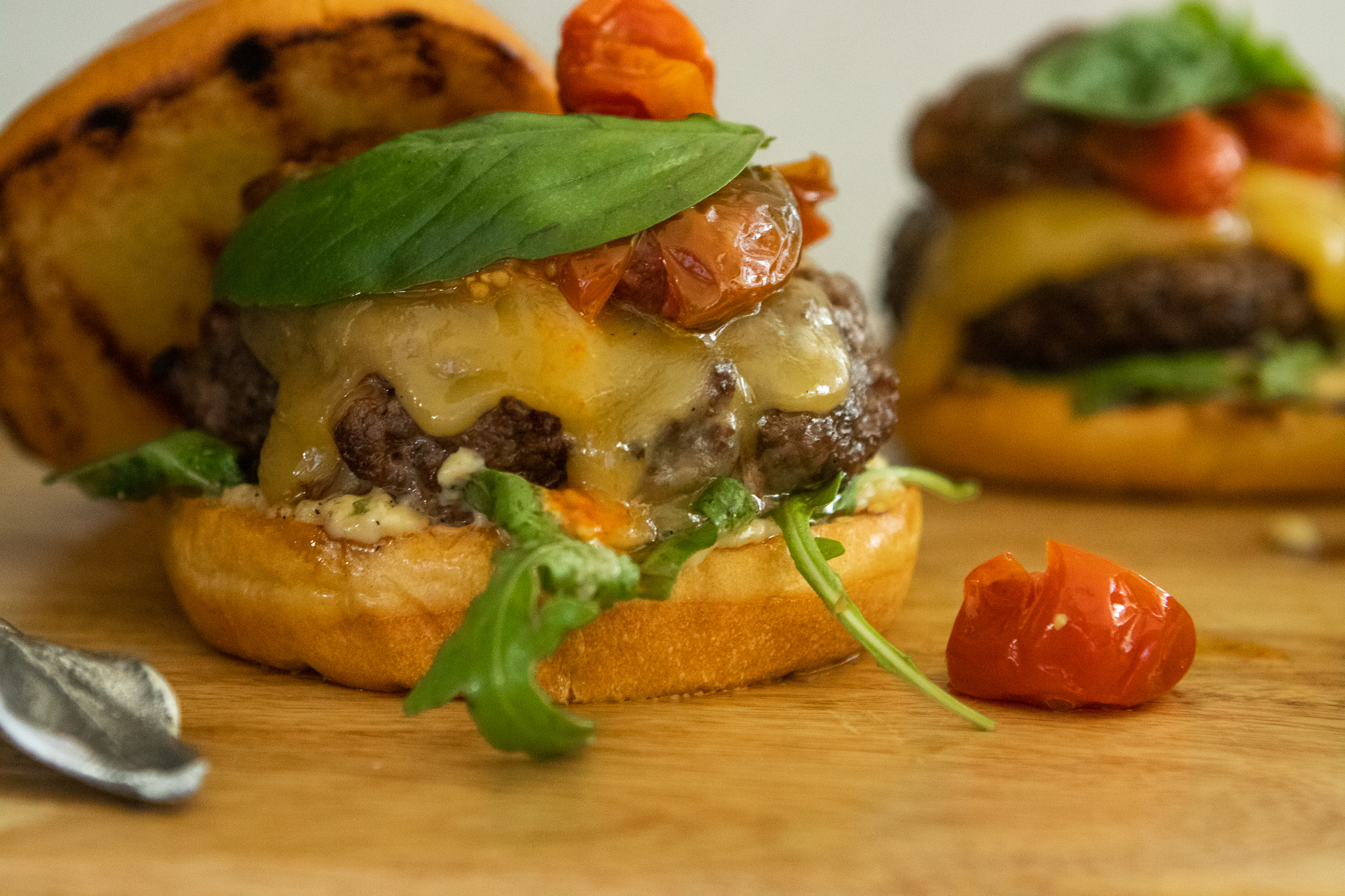 With the arrival of so many specialty burger joints, it's hard to choose where to eat a burger and what concoction to get. Do I want a beef burger? Do I want lamb? How about toppings? Bacon, cheese, a fried egg? It's inspiring!
Back in the day, I would make a delicious burger patty, top in with sautéed mushrooms, caramelized onions, crispy bacon, aged cheddar cheese, Kosher pickle slices and ripe tomatoes. How would I get my mouth around that, you might ask? I'd squeeze it all together and be in heaven!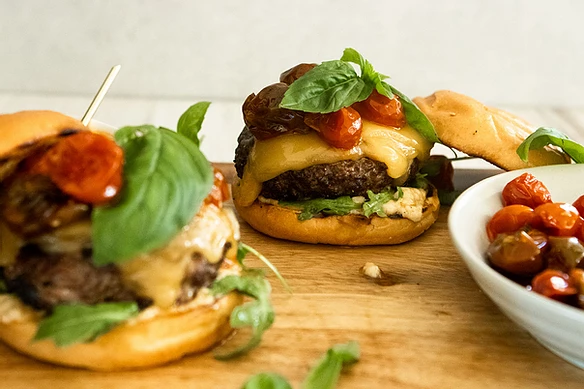 Recently, I found this recipe and am over the moon about it. It's the absolute perfect way to cook a burger: pure, unadulterated beef, salt & pepper and olive oil. I'm convinced that the olive oil is the secret ingredient here to give a crispiness to the exterior. These burgers are grilled, but if it's too cold or you don't want to brave the elements, you could cook it in a grill pan. I haven't done it so you'll have to figure out your own timing, but they should taste just as delish!
Besides the burger, there are these amazing roasted tomatoes that are simple to make but add such a depth of flavor over a traditional slice of tomato. From the roasted tomatoes, you keep the garlic-infused olive oil along with the garlic and blend them all into the most luscious garlic mayo. Finally, top the burger with sliced gouda, throw it all on a brioche bun and say "come to Momma" (or Papa)!
Happy, happy, happy!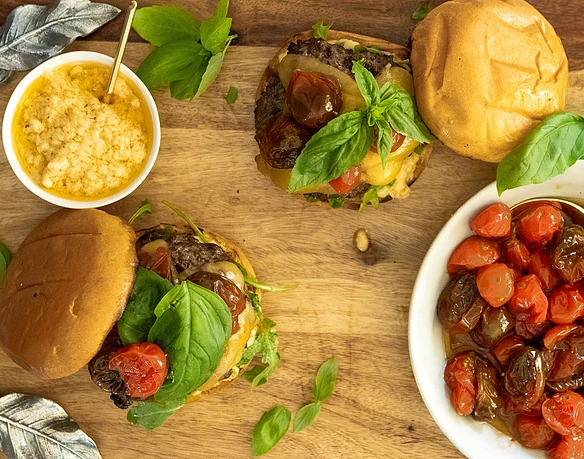 Lastly, if you make Roasted Tomato Burgers with Garlic Mayo and Gouda, be sure to leave a review down below at the bottom of this page (stars are also appreciated)! Above all, I love to hear from you and always do my best to respond to each and every review. And of course, if you do make this recipe, don't forget to tag me on 
Instagram
! Looking through the photos of recipes you all have made is one of my favorite things to do!
Roasted Tomato Burgers with Garlic Mayo and Gouda
Makes: 6 servings
Prep Time: 20 minutes (not including Roasted Tomatoes)
Cook Time: 10 minutes
Total Time: 30 minutes
Ingredients
1 pound (1/2 batch) Roasted Cherry Tomatoes with Garlic and Herbs
1 & 1/2 cups (12 ounces) mayonnaise
2 heads roasted garlic (from roasted tomatoes)
1/4 cup tomato-garlic oil (from roasted tomatoes)

1 tsp water

Kosher salt

Freshly cracked black pepper

2 & 1/2 pounds ground beef (85% lean)

Olive oil

1/2 pound Gouda cheese, thinly sliced

6 brioche buns, halved crosswise

2 ounces arugula

1 tbsp red wine vinegar

1/2 cup fresh basil leaves, torn
Instructions
Add the mayonnaise to a food processor. Add the roasted garlic, discarding the skins. Pulse to combine. With the processor running, slowly drizzle in the tomato-garlic oil until incorporated. Add in the water. Season with salt and pepper to taste.
Heat the grill over high heat (see Chef's Note below). Form the ground beef into 6 patties, each about a 1/2-inch thick. Coat each side with a drizzle of olive oil and season well with salt and pepper. Grill the patties for about 2-3 minutes per side, or until slightly charred. Lower the heat to medium and continue to cook the patties for about 4 more minutes, or until your desired doneness. For the last minute, distribute the Gouda cheese slices on top of the patties. Cover the grill and allow the cheese to melt as the meat finishes cooking. Transfer the patties from the grill and cover with foil.
Meanwhile, drizzle the inside half of each bun with olive oil. Quickly toast the buns on the grill, halved-side down.
Toss the arugula with the red wine vinegar, 1 tablespoon of olive oil, and a pinch of salt.
To assemble the burgers, spread a generous amount of garlic mayo onto each bun and distribute the arugula onto the bottom buns. Top with the grilled patties, roasted tomatoes, and fresh basil leaves. Close the burgers with the top buns.
Chef's Note:
Reserve any extra garlic mayo in an air-tight container in the fridge for up to 7 days.
Burgers can also be cooked using a grill pan on the cooktop.
Recipe adapted from The Original Dish
Roasted Tomato Burgers with Garlic Mayo and Gouda