Coffee-Rubbed Salmon Sandwiches
For a healthy and delicious lunch option, look no further than Coffee-Rubbed Salmon Sandwiches! Loaded with omega-3 fatty acids, this sandwich is sure to be a hit with your tastebuds and your body.
This quick searing method just enhances the fabulous taste you get when  you rub salmon fillets with brown sugar, coffee granules and ancho chile powder.
Slather some whole wheat buns with a horseradish sour cream sauce, add some salad greens and thin sliced red onions and enjoy this wonderful sandwich!
I like to begin by making the rub.  Combine instant espresso coffee powder, ancho chile powder, brown sugar, dry mustard, ground cumin and cayenne pepper together.  Sprinkle it evenly over the salmon fillets and rub it into the fish.
Heat the oil in a large nonstick skillet and cook the salmon for 3-4 minutes per side or until the fish is nicely seared on both sides and starting to flake.
While the fish is cooking, mix together the sauce ingredients.  Stir sour cream, parsley, apple cider vinegar and prepared horseradish together and set aside.
To serve these yummy sandwiches, top the bottom half of the toasted whole wheat buns with salad greens, salmon and onion rings.  Spoon the sauce over and then top with the other half of the bun.
Enjoy this healthy, delicious sandwich!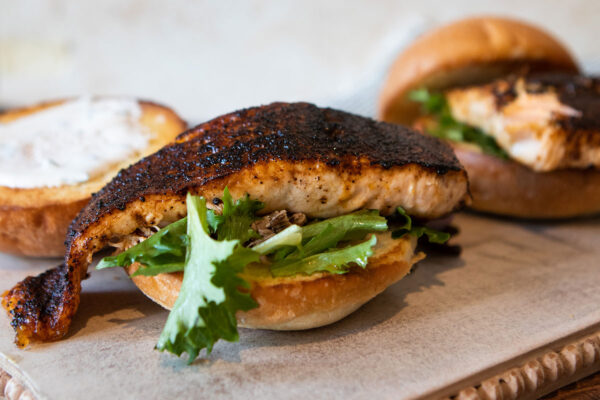 Lastly, if you make Coffee-Rubbed Salmon Sandwiches, be sure to leave a review down below at the bottom of this page (stars are also appreciated)! Above all, I love to hear from you and always do my best to respond to each and every review. And of course, if you do make this recipe, don't forget to tag me on 
Instagram
! Looking through the photos of recipes you all have made is one of my favorite things to do!
Coffee-Rubbed Salmon Sandwiches
Makes: 4 servings
Prep Time: 10 minutes
Cook Time: 8 minutes
Total Time: 20 minutes
Ingredients
1 pound fresh skinless salmon fillets
Sauce:
1/4 cup light sour cream

1 tbsp snipped fresh parsley

2 tsp apple cider vinegar

1 tsp prepared horseradish
Coffee Rub:
1 tsp instant espresso coffee powder

1 tsp dried ancho chile powder

1/2 tsp packed brown sugar

1/4 tsp dry mustard

1/4 tsp ground cumin

1/8 tsp cayenne pepper
Cooking & Assembly:
2 tsp olive oil

4 whole wheat hamburger buns, toasted

2 cups baby salad greens

8 thin red onion rings
Instructions
Pat fish dry with paper towels. Cut salmon into four equal pieces; set aside.
In a small bowl stir together the sour cream, parsley, vinegar, and horseradish. Set aside.
Make coffee rub by combining all rub ingredients in a small bowl. Sprinkle salmon evenly with coffee rub; rub mixture into salmon with your fingers.
In a large nonstick skillet, heat oil over medium heat. Cook salmon in hot oil for 3-4 minutes per side or until fish begins to flake when tested with a fork.
Top bottom halves of toasted buns with salad greens, salmon pieces, and onion rings. Spoon sauce over salmon and onion rings. Add top halves of buns.
Coffee-Rubbed Salmon Sandwiches