Scandalous Brownies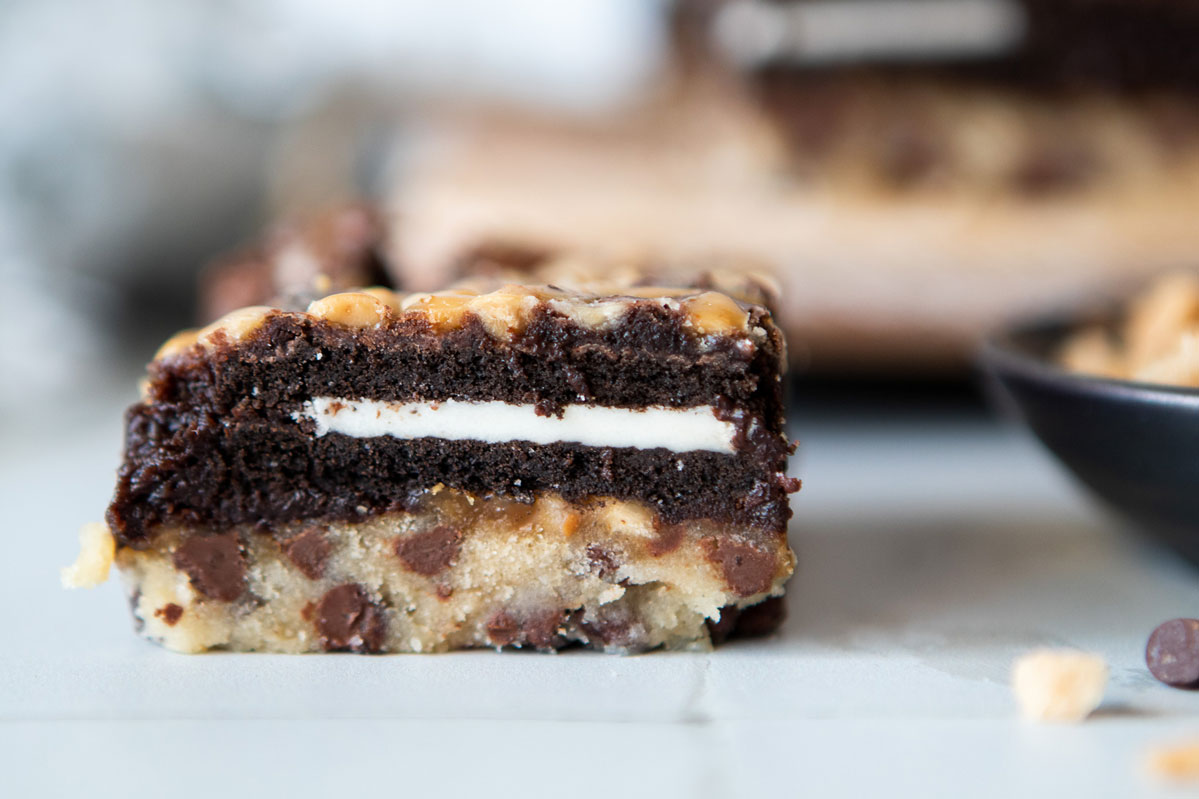 These Scandalous Brownies caught my attention from their original name.  Don't shoot the messenger, but they were originally called Slutty brownies.  There are lots of recipes on line for them and there are lots of reasons for the name (such as there are so many different things that go into them 🤣) but my favorite is because they are scandalous!
Scandalous because of what's in them and how unbelievably good they are!  This is a layered brownie of chocolate chip cookie, salted caramel sauce, Heath bits, Oreo cookies, fudgy brownies and more Heath bits.  Bake them all together and you end up with an outrageously scandalous dessert! 
The bottom layer is a chocolate chip cookie base. It's made by creaming together butter with white and brown sugar.  Add the vanilla, followed by the dry ingredients including mini chocolate chips.  Press the batter into the bottom of your baking pan.
Making the salted caramel sauce is not hard;  you just have to watch it so that it doesn't burn.  No multi-tasking allowed for the few minutes that you're making this!
Whisk the sugar over medium heat until it starts to melt.  It will look granular and chunky as it begins to melt.  That's okay…keep whisking it until the sugar dissolves.  
At this point, stop whisking and let the caramel cook to a deep amber color.  Watch carefully as this is where it can burn quickly!
Remove it from the heat and stir in the butter until it's incorporated and then add the cream and salt.
Let it cool a bit and then pour 1/2 cup over the cookie base.  You'll have some left over to pass on the side, pour over ice cream or to just eat spoonfuls of!
Sprinkle Heath bits over the caramel layer and then spread out Oreo cookies.  Feel free to add more cookies if you want a more intense Oreo taste.  If you use the quantity specified, you will get a little bit in each bite.
To make the brownie layer, whisk melted butter with white and brown sugars until they are combined.  Stir in the eggs and vanilla and finally add the flour, cocoa powder, baking powder and salt.
Spread the batter over the Oreo cookie layer and top it with more Heath bits.
Bake the brownies for 25 minutes and then cool completely.  I like to pop them in the fridge for an hour or so to make it easier to cut them.
Enjoy these scandalous treats!
Lastly, if you make Scandalous Brownies, be sure to leave a review down below at the bottom of this page (stars are also appreciated)! Above all, I love to hear from you and always do my best to respond to each and every review. And of course, if you do make this recipe, don't forget to tag me on 
Instagram
! Looking through the photos of recipes you all have made is one of my favorite things to do!
Makes: 25-30 brownies
Prep Time: 15 minutes
Bake Time: 35 minutes
Total Time: 50 minutes
Ingredients
Chocolate Chip Cookie Crust:
3/4 cup butter, room temperature

1/2 cup sugar

1/2 cup brown sugar

1 tsp vanilla extract

1 & 1/2 cups flour

1/4 tsp kosher salt

1 & 1/2 cups mini chocolate chips
Salted Caramel Sauce:
1 cup sugar

1/3 cup butter

1/2 cup heavy cream, warmed

1 tsp sea salt
1/2 cup Skor or Heath bits

18 Oreo cookies
Brownies:
3/4 cup butter, melted

3/4 cup sugar

3/4 cup brown sugar

2 eggs

1 tsp vanilla extract

3/4 cup flour

1/2 cup cocoa powder, sifted

1/2 tsp baking powder

1/4 tsp kosher salt

1/2 cup Heath or Skor bits
Instructions
Preheat oven to 350°F. Line the bottom of a 13×9-inch baking pan with parchment paper. For the chocolate chip cookie crust, using an electric mixer, on medium speed cream butter, sugar and brown sugar until well combined. Add vanilla extract. On low speed, add the flour, salt and mini chocolate chips. Mix just until combined. Press into the bottom of the prepared pan.
For the caramel sauce, in a medium, heavy bottomed saucepan add sugar over medium heat. Once the sugar starts to melt, whisk until it is completely melted. Once melted, stop whisking and allow the sugar to cook to a deep amber, caramel color. Immediately add the butter and whisk until it is incorporated. Remove from heat and slowly stir in the cream and sea salt. Pour into a glass bowl and allow to cool slightly. Pour 1/2 cup caramel sauce over chocolate chip cookie crust, sprinkle 1/2 cup Heath bits over caramel. Place Oreos over top of caramel and Heath bits.
To prepare the brownie batter, in a large bowl whisk melted butter, sugar and brown sugar until combined. Add eggs and vanilla and continue to whisk until smooth. Add flour, cocoa powder, baking powder and salt. Stir just until flour has disappeared. Spread batter over Oreos and top with remaining 1/2 cup Heath bits. Bake for 25 minutes. Remove from oven and let cool completely. Once cool, refrigerate for 1 hour for easier cutting.
Recipe by Bite Me More