Bailey's Irish Cream Brownies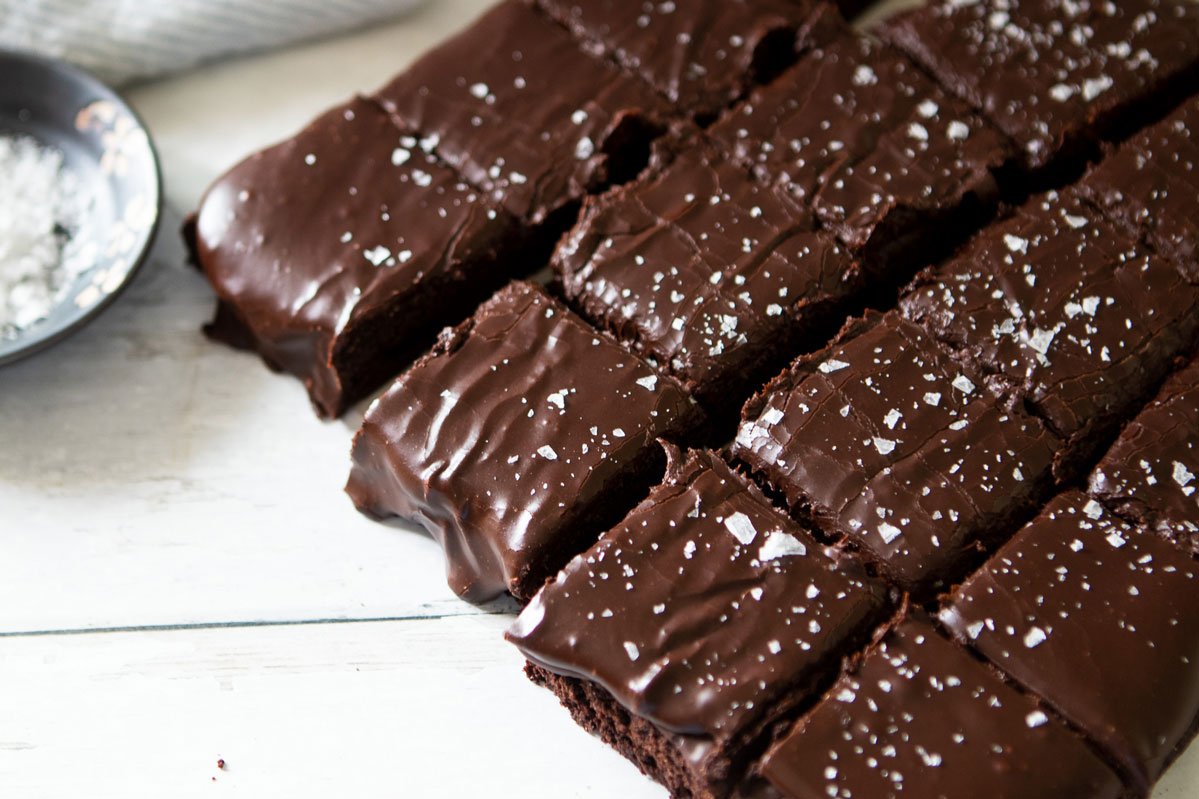 For a fudgy nod to St. Patrick's Day, try Bailey's Irish Cream Brownies.  These dense, moist morsels have the right amount of Irish Cream in the brownie and the frosting to make them the perfect choice for this special holiday!
And, not needing a mixer helps on cleanup and simplicity.  There's no excuse to not make this Easy Peasy recipe!
Melt butter and mix it with sugar, cocoa powder and salt in a bowl.  The texture will be granular, like the above photo.  Stir in the vanilla and Irish Cream and then add the eggs one at a time.  Finally, add the flour and beat briskly.  Scrape the batter into a prepared pan and bake the brownies until a toothpick inserted in the center comes out clean.
The frosting is super-easy to make!  Combine all of the ingredients and whisk until smooth and glossy.
Spread the frosting over the cooled brownies, sprinkle with flaky sea salt and serve with a glass of milk or Bailey's.  Be sure to toast the luck of the Irish!
Lastly, if you make Bailey's Irish Cream Brownies, be sure to leave a review down below at the bottom of this page (stars are also appreciated)! Above all, I love to hear from you and always do my best to respond to each and every review. And of course, if you do make this recipe, don't forget to tag me on 
Instagram
! Looking through the photos of recipes you all have made is one of my favorite things to do!
Bailey's Irish Cream Brownies
Makes: 12 brownies
Prep Time: 30 minutes
Bake Time: 24 minutes
Total Time: 54 minutes
Ingredients
Brownies:
1/2 cup unsalted butter, melted

1 cup sugar

3/4 cup unsweetened cocoa powder

1/4 tsp salt

1 tsp vanilla extract

3 tbsp Irish Cream

2 large eggs, at room temperature

2/3 cup flour
Frosting:
3 tbsp unsalted butter, melted

1/4 tsp vanilla extract

1/8 tsp salt

1 cup powdered sugar

1/4 cup unsweetened cocoa

2 tbsp Irish Cream

1 tbsp milk

flaky salt, for topping
Instructions
Preheat oven to 325°F and line an 8-inch square metal baking pan with parchment paper.
Place melted butter, sugar, cocoa powder, and salt in a large bowl and stir the mixture until combined – the texture will appear granular at this point. Stir in vanilla and Irish Cream; add eggs one at a time, stirring well after each one. When the batter is thick and shiny, add the flour and stir until completely incorporated, then beat briskly for 40 more strokes.
Scrape batter into prepared pan and smooth with an offset spatula; gently tap pan once to remove air bubbles.
Bake for 23 to 24 minutes, until a toothpick inserted in the center comes out with a few crumbs attached. Remove from oven and let cool completely on a wire rack.
For the frosting, combine melted butter, vanilla, salt, powdered sugar, cocoa, Irish Cream, and milk in a medium bowl and whisk until well combined. Whisk frosting one more minute, until smooth and glossy. Use an offset spatula to spread frosting over brownies. Sprinkle with flaky salt and cut into squares with a sharp knife.
Recipe by Tutti Dolci
Bailey's Irish Cream Brownies