Spaghetti Pie with Pecorino and Pepper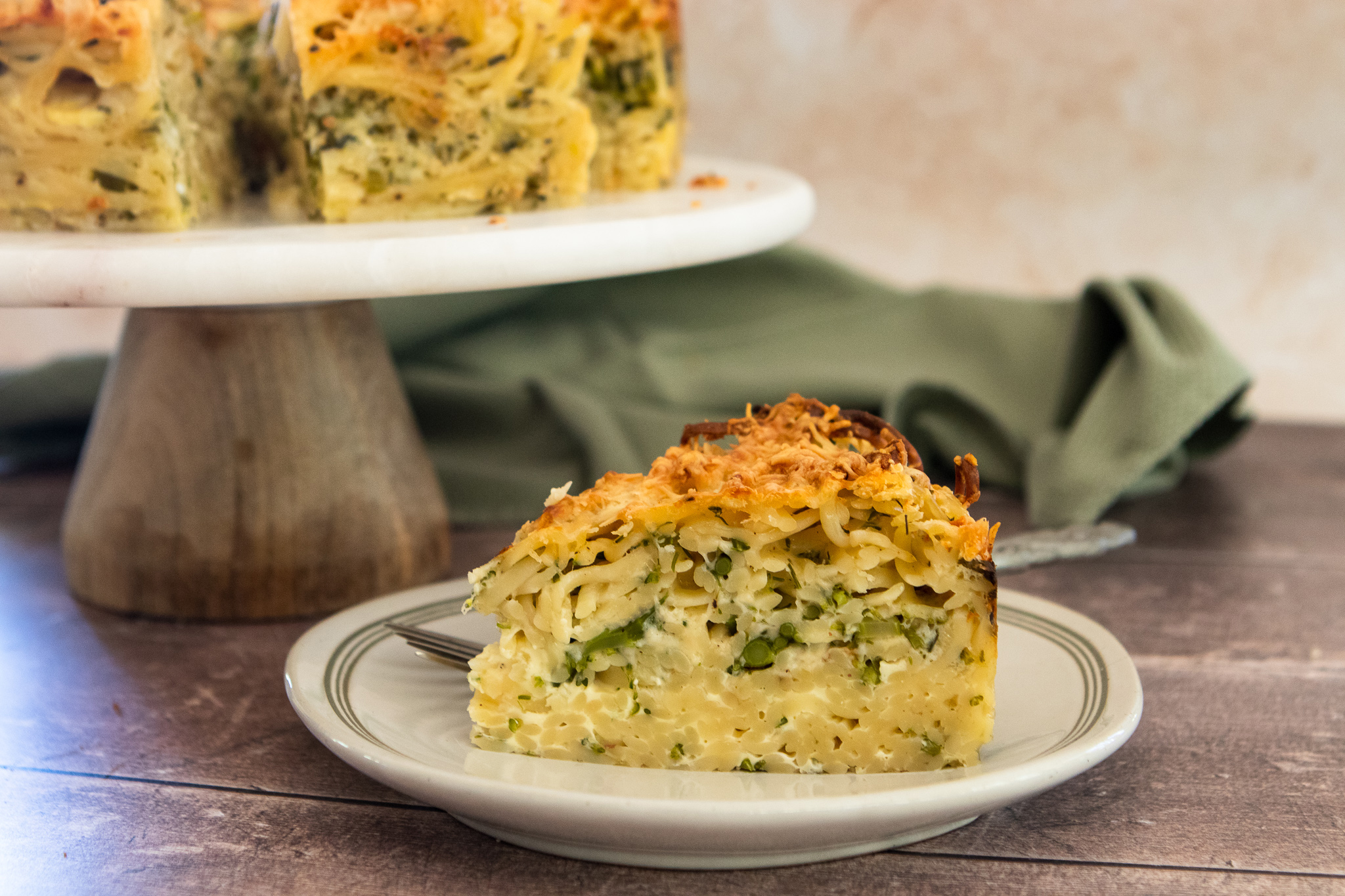 When my kids were little, I used to make them spaghetti pie all the time.  Mine was a little different that this recipe, in that I used peanut oil to grease the pan, which gave it an Asian flavor profile.  I called it "pasta pie" and they loved it!
Now, I have something new for them:  Spaghetti Pie with Pecorino and Pepper!  The spaghetti gets baked with a custard of eggs, milk, Pecorino and Fontina cheeses, and chopped up broccoli rabe (or broccolini).  Gotta make sure you get your veggies!  You don't have to add the broccoli rabe, but I thought it tasted delicious, so why not?!
Start this project by chopping up the broccoli rabe and grating the cheeses.  I love using both Pecorino and Fontina cheeses as you get nutty, salty and melty in every bite!
In a bowl, whisk eggs, milk, salt, pepper, most of the cheese and the broccoli rabe.  Add the spaghetti and toss until it's coated with the sauce.
Pour the mixture into a spring-form pan and sprinkle with some extra cheese.  Bake this bad boy for 50 minutes or so, until the cheese is melted and browned and the inside is cooked through.  All that's left to do is brown it a little more, release from the pan, cut into wedges and devour!
Lastly, if you make Spaghetti Pie with Pecorino and Pepper, be sure to leave a comment and/or give this recipe a rating! Above all, I love to hear from you and always do my best to respond to each and every comment. And of course, if you do make this recipe, don't forget to tag me on 
Instagram
! Looking through the photos of recipes you all have made is one of my favorite things to do!
Spaghetti Pie with Pecorino and Pepper
Makes: 6 servings
Prep Time: 20 minutes
Bake Time: 1 hour
Total Time: 1 hour & 20 minutes
Ingredients
Butter for greasing springform

1/2 pound broccoli rabe, toughest stems saved for another use, chopped into few-inch segments (optional)

1 pound dried spaghetti

1 & 1/2 cups milk

3 large eggs, lightly beaten

2 to 3 tsp ground black pepper

2 tsp coarse or kosher salt

8 ounces aged pecorino cheese, finely grated, divided

8 ounces fontina cheese, grated, divided
Ingredients
Heat oven to 425°F. Butter a 9-inch springform pan and this is very important, wrap the outside of the springform, focusing on the places where the ring meets the base, tightly in aluminum foil. Set aside.
Bring a large pot of well-salted water to a boil. If using broccoli rabe, add it to the pot and boil for 1 to 2 minutes, until it has some give. Fish it out with a large slotted spoon and drain it well. Set aside.
Add spaghetti to boiling water and cook until (this is also important) 2 minutes shy of done, so very al dente, as the spaghetti will continue cooking in the oven. Drain well and let cool slightly.
If using broccoli rabe, wring all extra moisture out of it and blot greens on paper towels to be extra careful. Mince rabe into very small bits. You'll have about 1 cup total.
In a large bowl, whisk eggs and milk together with salt and pepper. Stir in all but 1/2 cup of each cheese and chopped rabe, if using. Add spaghetti and toss to coat.
Pour into prepared springform and sprinkle remaining cheese on top. Bake for 35 to 40 minutes (without greens) and up to 15 minutes more (with greens, as they add moisture too), until the cheese is melted and bubbling and a knife inserted into the center of the pie and turned slightly will not release
any loose egg batter into the center. If the top of your pie browns too quickly before the center is set, cover it with foil for the remaining cooking time.
Turn on your oven's broiler. Broil the pie a few inches from the heat for 2 to 3 minutes, until browned on top. Cut along springform ring to loosen, then remove ring. Run a spatula underneath the pie to loosen the base and slide onto a serving plate. Cut into wedges.
Recipe from Smitten Kitchen
Spaghetti Pie with Pecorino and Pepper