Swirl Cookies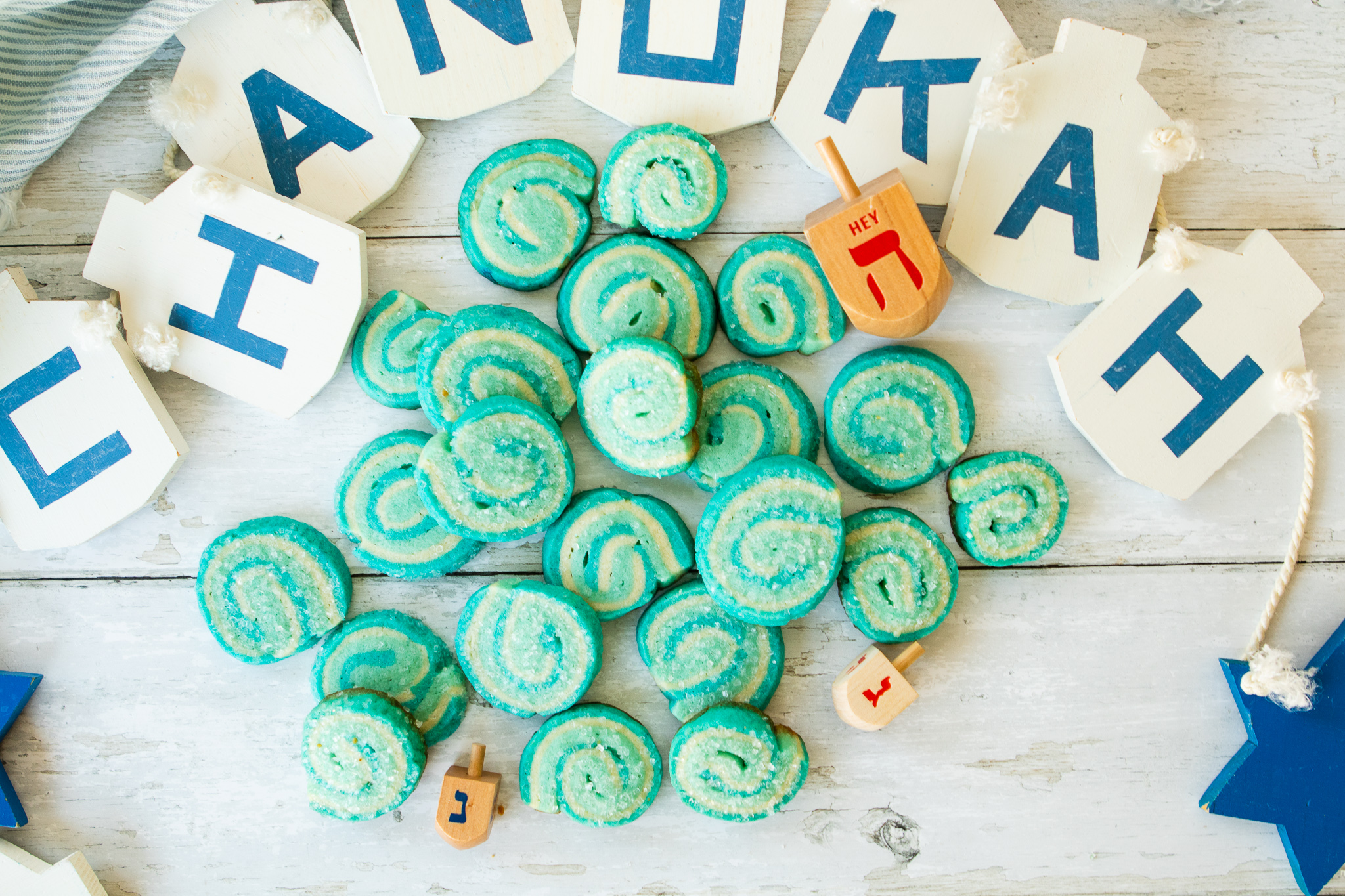 It is very traditional to have iced sugar cookies at Chanukah. It's even more special when Bubbe makes them (my step-mother, Phyllis is a master at these cookies). But, it's also nice to have a variety of other cookies to go along with the pretty dreidles, menorahs, and Jewish stars that she makes.
Last year, I included a recipe for Marbleized Iced Sugar Cookies as an alternative to highly decorated (aka time-consuming) piped cookies. This year, I've gone for the swirl!
You start with a sugar cookie batter and divide it into three pieces. Two of the pieces get tinted to whatever color you choose (I opted for royal and sky blues). After some time-out in the refrigerator, each piece gets rolled out into a rectangle (mine doesn't look like a rectangle, but I cut it into one to facilitate the recipe). The layers get stacked and then rolled into logs. More time out, then cut them into slices, and bake.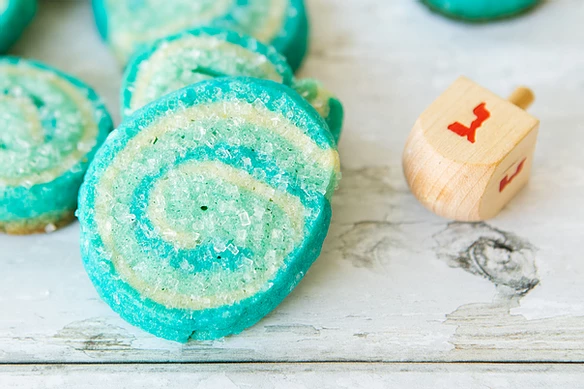 It's a bit of a process because of the refrigerator time, but look at how cute they are! And, they are very delish! 
Feel free to tint them red & green for Christmas, red, white and blue for July 4th, yellow, pink and green for Easter, orange & purple for Halloween…the combinations are only as limited as your imagination.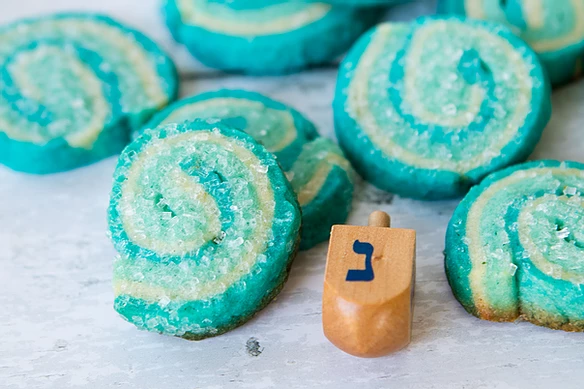 Lastly, if you make Swirl Cookies, be sure to leave a review down below at the bottom of this page (stars are also appreciated)! Above all, I love to hear from you and always do my best to respond to each and every review. And of course, if you do make this recipe, don't forget to tag me on 
Instagram
! Looking through the photos of recipes you all have made is one of my favorite things to do!
Makes: 24 cookies
Prep Time: 30 minutes
Bake Time: 15 minutes
Total Time: 45 minutes plus chill time 2 hours & 30 minutes 
Ingredients
3/4 cup unsalted butter, room temperature

3/4 cup granulated sugar

1 large egg

1 tsp vanilla extract

1/2 tsp almond extract

2 cups all-purpose flour

3/4 tsp baking powder

1/4 tsp salt

Royal Blue food coloring

Sky Blue food coloring

Sanding sugar for decorating
Instructions
Using an electric mixer, cream together butter and sugar until light and fluffy (3-4 minutes on medium-high speed). Add egg, vanilla extract and almond extract; mix on low speed until well combined.
Add flour, baking powder and salt; mix on low speed until well combined.
Divide the dough into 3 equal pieces. Place 1 piece back in mixer bowl and add several drops of royal blue food gel; mix until color is uniform throughout dough. Repeat process using another piece of dough and the sky blue food gel. (Note: The 3rd piece of dough does not get colored.)
Press each piece of dough into 4" squares and cover each piece individually with plastic wrap. Refrigerate for 1 hour. Remove one piece of dough and place between 2 sheets of wax paper. Roll dough into a 9"x12" rectangle. Repeat process with the remaining 2 pieces of dough. Refrigerate dough (still between sheets of wax paper) for 30 more minutes.
Remove all 3 pieces of dough from refrigerator. Peel top layer of wax paper off each piece and discard. Flip the piece of plain dough on top of the royal blue dough; remove wax paper. Flip the piece of sky blue dough on top of the plain dough; remove wax paper.
Cut the stacked dough crosswise to create (2) 4.5"x12" stacks of dough. Roll each of the stacks into a tight log lengthwise. Place on parchment-lined sheet pan and cover lightly with plastic wrap. Refrigerate for 1 hour.
Preheat oven to 350°F. Line 2 baking sheets with parchment paper. Using a serrated knife, slice each log into 1/4" rounds. Place each round onto prepared baking sheet. Sprinkle tops of cookies generously with sanding sugar. (Note: If dough is too soft, refrigerate for another 30 minutes.)
Bake for 12-15 minutes, or until the edges of the cookies just begin to turn brown. Let cookies cool on pans for 10 minutes and then transfer to cooling racks until completely cooled.
Chef's Notes:
Use food coloring gels rather than liquid.
Any colors can be used to create different holiday cookies (ie red/green or red/white/blue)
Recipe by Spiced Blog