Vanilla Cupcakes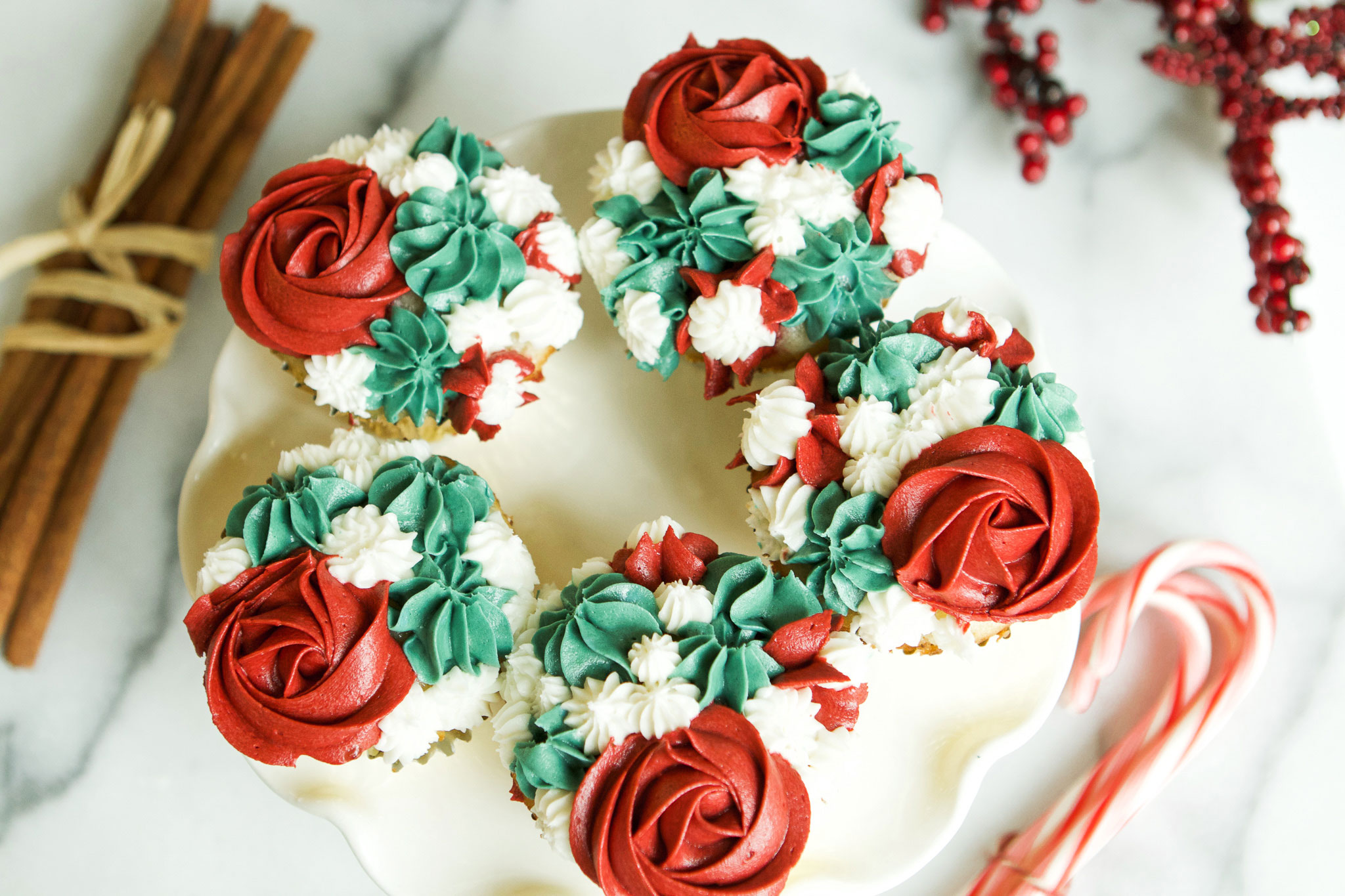 I have been admiring some of the gorgeous cupcake recipes I see on Instagram and decided it's time for me to attempt them.  With the help of a wonderful vanilla cupcake recipe inspired by Bobbette & Belle, I worked through a number of color combinations and assorted tips to come up with these pretty holiday cupcakes.
If you are unfamiliar with working with a pastry bag or tips, there are many videos you can watch to learn the basics.  Once you've got that down, you'll understand my suggestions of which tips to use.
If you decide that piping just isn't for you, this is a wonderful recipe to simply dollop the buttercream on top with a spoon or offset spatula.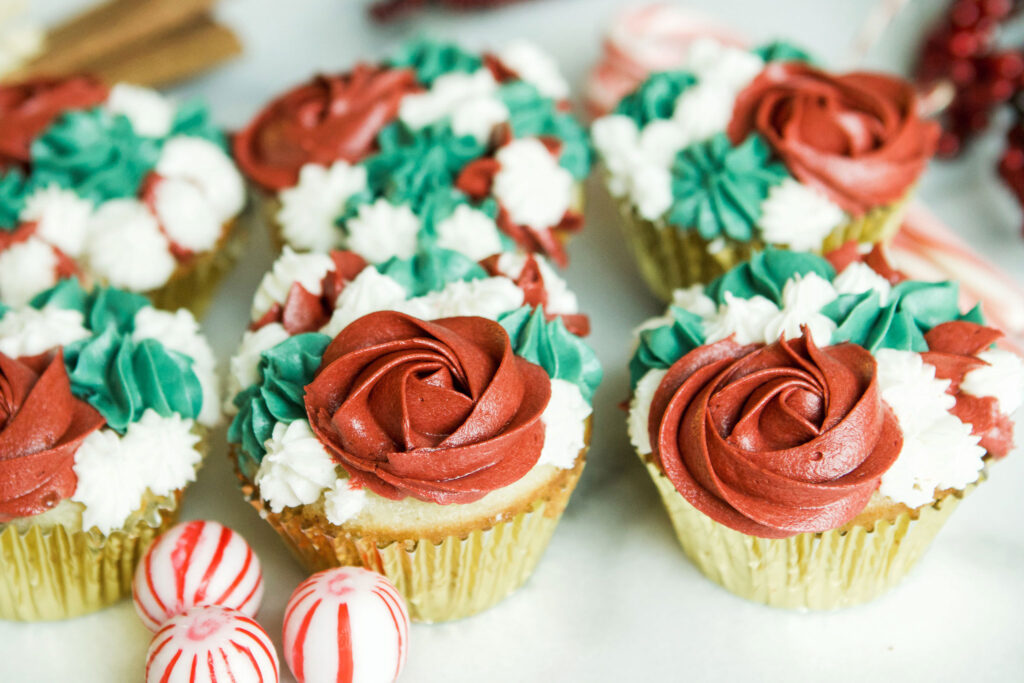 I divided the American Buttercream into three bowls.  I like to mix the colors a bit non-traditional, so this is how I came up with my colors: Red:  One drop of Super Red gel color to a touch of Black gel color. Green:  Two drops of Leaf Green, one drop of Royal Blue and a touch of Black gel color.  I use Chefmaster Gel Colors. Keep adding this ratio until you've achieved the depth of color that you like. ​ For the tips, I used the following: Wilton 1M tip for red rosettes Wilton 2D tip for the green flowers Wilton 21 tip for the white drop star flowers.
The fun part of decorating these cupcakes, similar to my cakes, is that anything goes.  If, for example, you don't have a 21 tip, use a 22 or anything similar.  I have collected tons of tips over the years, but it always seems like the one that is specified isn't in my collection.  I've learned to improvise with great results.  So, play around with the different tips and have fun!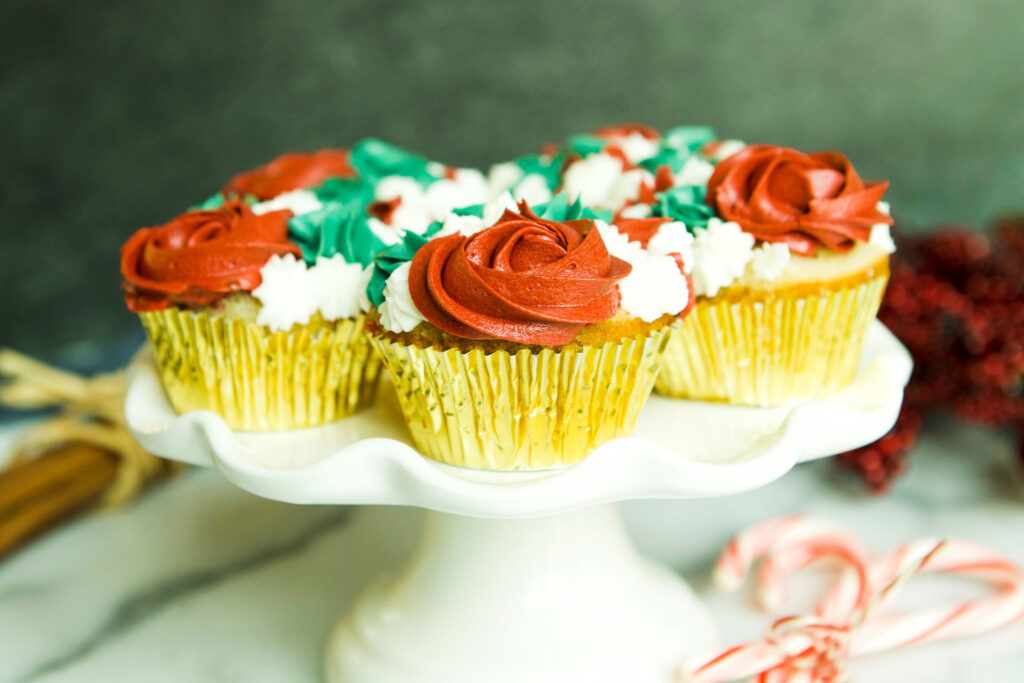 Lastly, if you make Vanilla Cupcakes, be sure to leave a comment and/or give this recipe a rating! Above all, I love to hear from you and always do my best to respond to each and every comment. And of course, if you do make this recipe, don't forget to tag me on 
Instagram
! Looking through the photos of recipes you all have made is one of my favorite things to do!
Makes: 12 cupcakes
Prep Time: 15 minutes
Bake Time: 20 minutes
Total Time: 45 minutes
Ingredients
Cupcakes:
1 cup + 2 tbsp all-purpose flour

1 & 1/4 tsp baking powder

1/4 tsp salt

1 large egg, room temperature

1 tbsp lightly beaten egg white, room temperature

1/2 cup unsalted butter, room temperature

3/4 cup granulated sugar

1 tsp pure vanilla extract

2/3 cup whole milk, room temperature
12 cupcake liners
American Buttercream:
2 cups unsalted butter, room temperature and cut into 8 pieces

6 cups powdered sugar

1/2 tsp salt

2 tbsp whole milk

1 tsp pure vanilla extract
Instructions
Preheat oven to 350°F.  Line a cupcake pan with 12 cupcake liners.
In a medium bowl, whisk together the flour, baking powder and salt.  In a small bowl, lightly beat together the egg and egg white.
In the bowl of a stand mixer fitted with the paddle attachment, cream the butter and sugar on medium speed until light and fluffy, about 3 minutes.  Beat in the eggs in 3 additions, stopping after each addition to scrape down the side of the bowl.  Add the vanilla and beat until well combined.
With the mixer on low speed, alternate adding the flour mixture in 3 additions and the milk in 2 additions, beginning and ending with the flour mixture.  Blend after each addition until just combined, stopping the mixer to scrape down the sides of the bowl at least once.  Using a spoon, divide batter evenly between the cupcake liners, filling approximately three-quarters full.
Bake for 20 minutes or until a toothpick inserted in the center comes out clean.  For even baking, rotate the pan front to back halfway through.  Allow the cupcakes to cool in the pan for 10 minutes before turning them out onto a wire rack to cool completely.
While cupcakes are cooling, make the Buttercream.  Place butter in the bowl of a stand mixer and beat on high speed until light in color and fluffy, approximately 3-5 minutes depending on strength of mixer.  Add 3 cups of powdered sugar, mix on lowest speed until just combined (the low speed prevents a puff of powdered sugar).
Add 3 more cups of powdered sugar and continue to mix on low speed.  Add milk, vanilla, and salt and gradually increase speed until high speed is reached.  Beat on high for a few minutes until stable, light and fluffy.  
Frost the cupcakes using a spoon, a small offset spatula or a piping bag and tip (see instructions above in blog).  
Chef's Note:
The cupcakes can be stored in an airtight container for up to 3 days.
Recipe from Bobbette & Belle