5-Ingredient Skillet Green Beans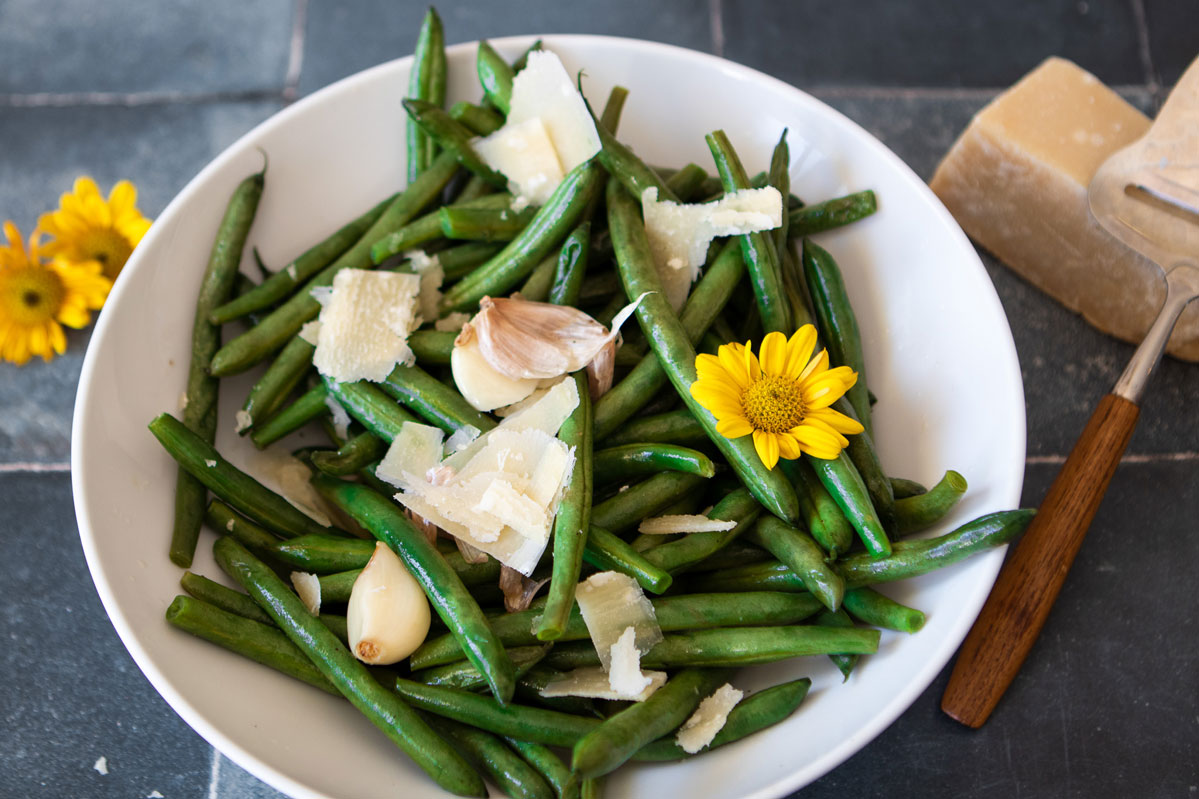 This recipe for 5-Ingredient Skillet Green Beans is possibly one of the easiest and most delicious way to prepare these green beauties!  Only 5 ingredients, only 11 minutes from start to finish and you have a side that goes with anything and will be gone in a minute!
This was originally featured as a Genius recipe from Food 52 in 2015 and has been a favorite of mine since then.
This takes a boring side dish and elevates it beyond belief!  Give it a whirl!
All of the ingredients get combined into a skillet.  Rather than blanching out all of the flavor, the beans get steamed along with butter, chicken or vegetable stock, garlic, salt and pepper.  This creates a garlicky sauce that thickens as the beans are being cooked.  Simply delicious!
Bring the stock to a simmer and cook the beans covered for 8 minutes or until they are cooked through but not mushy.
You can use haricots vert, the thin small green beans that are often available in the spring or summer, but they won't need as much time.
Remove the lid from the pot and toss the beans together in their sauce.  Taste them and adjust the seasonings, adding more salt and/or pepper if necessary.
Shave some parmesan cheese over the top, if you like, and enjoy these tasty green beans.  They won't last long!
Lastly, if you make 5-Ingredient Skillet Green Beans, be sure to leave a review down below at the bottom of this page (stars are also appreciated)! Above all, I love to hear from you and always do my best to respond to each and every review. And of course, if you do make this recipe, don't forget to tag me on 
Instagram
! Looking through the photos of recipes you all have made is one of my favorite things to do!
5-Ingredient Skillet Green Beans
Makes: 4 servings
Prep Time: 3 minutes
Cook Time: 8 minutes
Total Time: 11 minutes
Ingredients
1 pound green beans, stem ends trimmed

4 tbsp butter

1/4 cup chicken or vegetable stock, or water

2 garlic cloves, crushed but not peeled

Kosher salt or flaky sea salt and freshly ground black pepper

freshly grated Parmesan to taste, optional
Instructions
Combine the green beans, butter, stock, and garlic cloves in a large skillet. Sprinkle generously with salt and pepper. Cover the pot, place over medium-high heat, and bring to a simmer, then immediately turn heat to low once water is simmering.
Cook for 8 minutes, stirring occasionally until the beans are cooked through but not mushy. Uncover. Toss the beans in their sauce and taste. Adjust with salt and pepper to taste, then transfer the beans to a serving dish. Shave parmesan over the top if you wish. Crack more pepper over the top if you wish, too.
Recipe from Food52
5-Ingredient Skillet Green Beans