Apple and Cheddar Crisp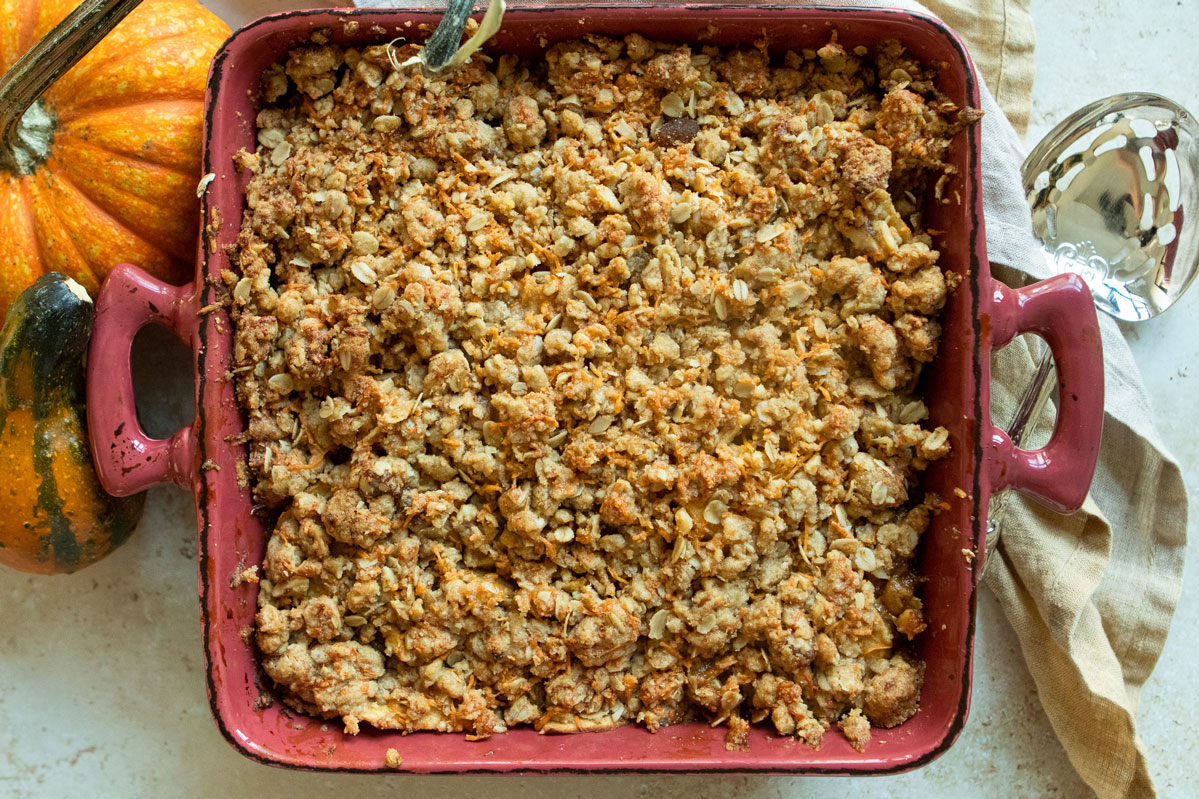 Who knows if you're one of those people that love or hate apple pie with cheddar cheese, but either way, you will adore this Apple and Cheddar Crisp!  I honestly have never tried apple pie and cheddar cheese…it sounded like such an odd combination.  I also wondered why you would ruin an iconic sweet dessert by adding something savory to the top of it.  
But, after trying this crisp, I will rescind any hesitation that I might have had.  This is simply fab!
I studied up a bit on the history behind apple pie and cheddar cheese and it's really quite interesting!  Rather than take space here, enjoy this link about the what's really behind this food pairing.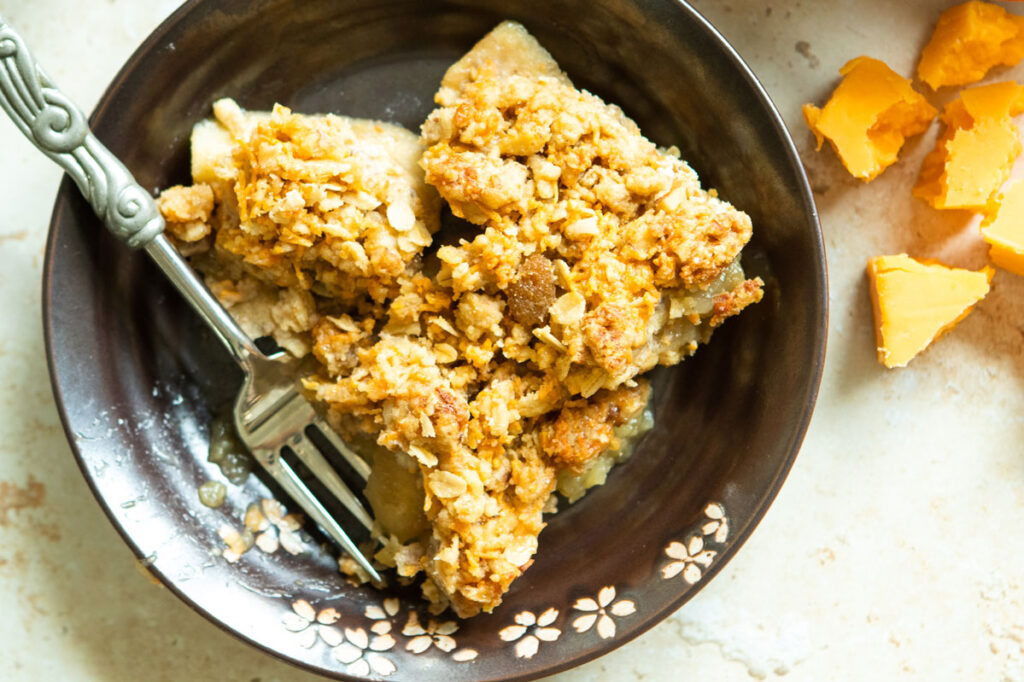 This dessert really shines because of the crumble on top of the apples.  It's made by combining butter, flour, brown sugar, rolled oats, chopped walnuts and salt together.  Shredded sharp cheddar cheese gets folded into the crumble.  That's the key!  With apple pie, the cheddar cheese is generally laid on top of the slice.  I love the idea of baking it right into the topping!
The apples get peeled, cored and thinly sliced.  Add to that a lemon juice and cornstarch slurry and some brown sugar, and give it a good toss.  Put the apples in your baking dish, top with the crumble and bake this baby until it's bubbling and golden brown on top.
Don't forget the ice cream!  Now you have the best of both worlds…apple pie with cheddar a lá mode!!!
Lastly, if you make Apple and Cheddar Crisp, be sure to leave a comment and/or give this recipe a rating! Above all, I love to hear from you and always do my best to respond to each and every comment. And of course, if you do make this recipe, don't forget to tag me on 
Instagram
! Looking through the photos of recipes you all have made is one of my favorite things to do!
Makes: 8 servings
Prep Time: 15 minutes
Bake Time: 40-50 minutes
Total Time: 55-65 minutes
Ingredients
1 stick (8 tablespoons) unsalted butter, at room temperature

3/4 cup all-purpose flour

3/4 tsp kosher salt

3/4 cup light brown sugar, divided

1/2 cup old fashioned oats

1/2 cup chopped walnuts

1 cup shredded sharp cheddar cheese, lightly packed

1 & 1/2 pounds Granny Smith apples (3 to 4 apples)

1 & 1/2 pounds crisp, sweet apples, such as Fuji or Honeycrisp (3 to 4 apples)

3 tbsps freshly squeezed lemon juice (1 lemon)

1 tbsp cornstarch

1 tsp ground cinnamon

Vanilla ice cream, for serving
Instructions
Preheat the oven to 350°F. In a medium bowl, combine the butter, flour, 1/2 cup of the brown sugar, the oats, walnuts, and salt. Using a wooden spoon (or clean hands), mix until well combined. Gently fold in the cheddar cheese, then set aside.
Peel, core, and thinly slice all the apples and place them in a large bowl. In a small bowl, whisk together the lemon juice and the cornstarch until completely smooth. Add this mixture to the apples, along with cinnamon and the remaining ¼ cup sugar. Toss well. Transfer the apples to a 9×9-inch square baking dish and spread into an even layer. Crumble the topping mixture evenly on top, covering the entire surface of the apples.
Bake for 40 to 50 minutes until bubbling and golden brown on top. Cool for 10 minutes, then serve with scoops of vanilla ice cream.
Recipe from Lidey Likes