Small Batch Pink Cinnamon Fudge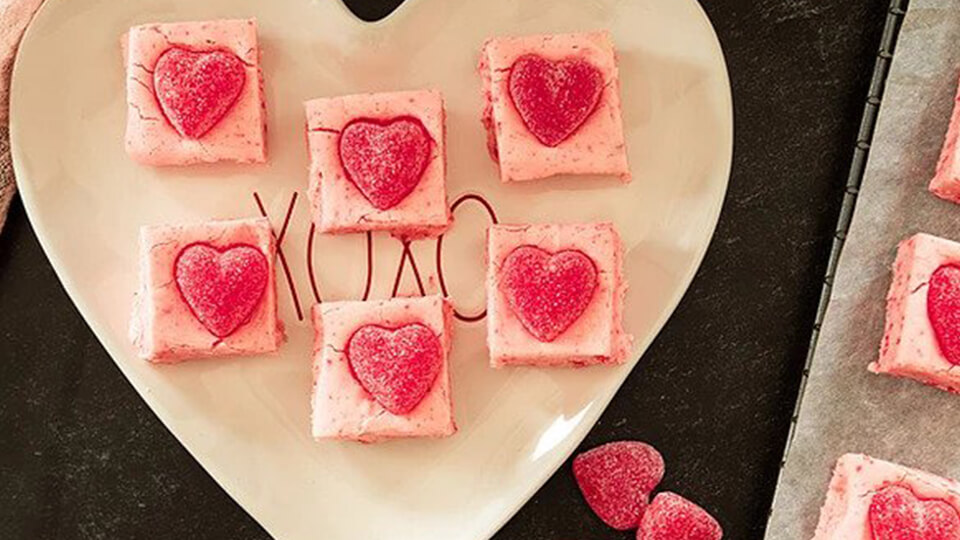 Small Batch Pink Cinnamon Fudge!  It's just a small little bite. Just a mouthful. Pink and spicy, with the heat of cinnamon. OK! This is the perfect little confection for Valentine's Day, regardless of what your Pelaton, myfitnesspal, or WeightWatchers is telling you!!!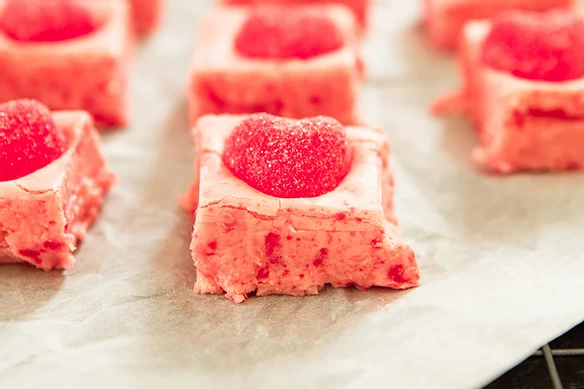 I'm giving you permission to splurge just a little bit on these soft, chewy little morsels! These are made with white chocolate, combined with crushed up red hots! Ooh la la…
They are so easy to make, and who can resist those cinnamon chewy hearts on the top? I certainly can't!
Happy Valentine's Day, loves! For more recipes for this romantic holiday, check out Beef Tenderloin in Herbed Salt Crust and French Potato Gratin with Leeks & Gruyère!
Why are we making such a small batch? To save room for the other delicious desserts that you can serve alongside these little confections, such as Iced Heart Cookies & Chocolate Lava Cakes, of course!
Feel free to double the batch. Just spread them in an 8×8-inch pan.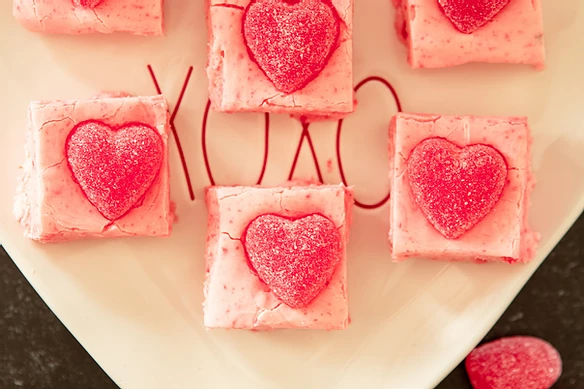 Lastly, if you make Small Batch Pink Cinnamon Fudge, be sure to leave a comment and/or give this recipe a rating! Above all, I love to hear from you and always do my best to respond to each and every comment. And of course, if you do make this recipe, don't forget to tag me on 
Instagram
! Looking through the photos of recipes you all have made is one of my favorite things to do!
Small Batch Pink Cinnamon Fudge
Makes: 18 pieces
Prep Time: 10 minutes
Bake Time: 8 minutes
Total Time: 20 minutes
Ingredients
1 & 1/2 cups white chocolate chips

1/2 cup sweetened condensed milk

1/2 cup marshmallow cream

1/2 cup red hot candies, crushed in food processor

18 cinnamon jelly hearts
Instructions
Line a 9×5-inch pan with foil.
Place white chocolate chips and sweetened condensed milk in a medium saucepan over low-medium heat. Stir until melted and creamy, about 5 minutes.
Add the marshmallow cream and red hots and stir until everything is melted again and the fudge has turned a reddish pink.
Pour the fudge into the prepared pan. Let cool for 10-15 minutes, then place the cinnamon hearts on the top of the fudge in a grid. Let set until completely cooled and hardened in the fridge. Cut into 18 squares. Store in an air-tight container in the fridge.
Small Batch Pink Cinnamon Fudge