Argentine Flank Steak with Salsa Criolla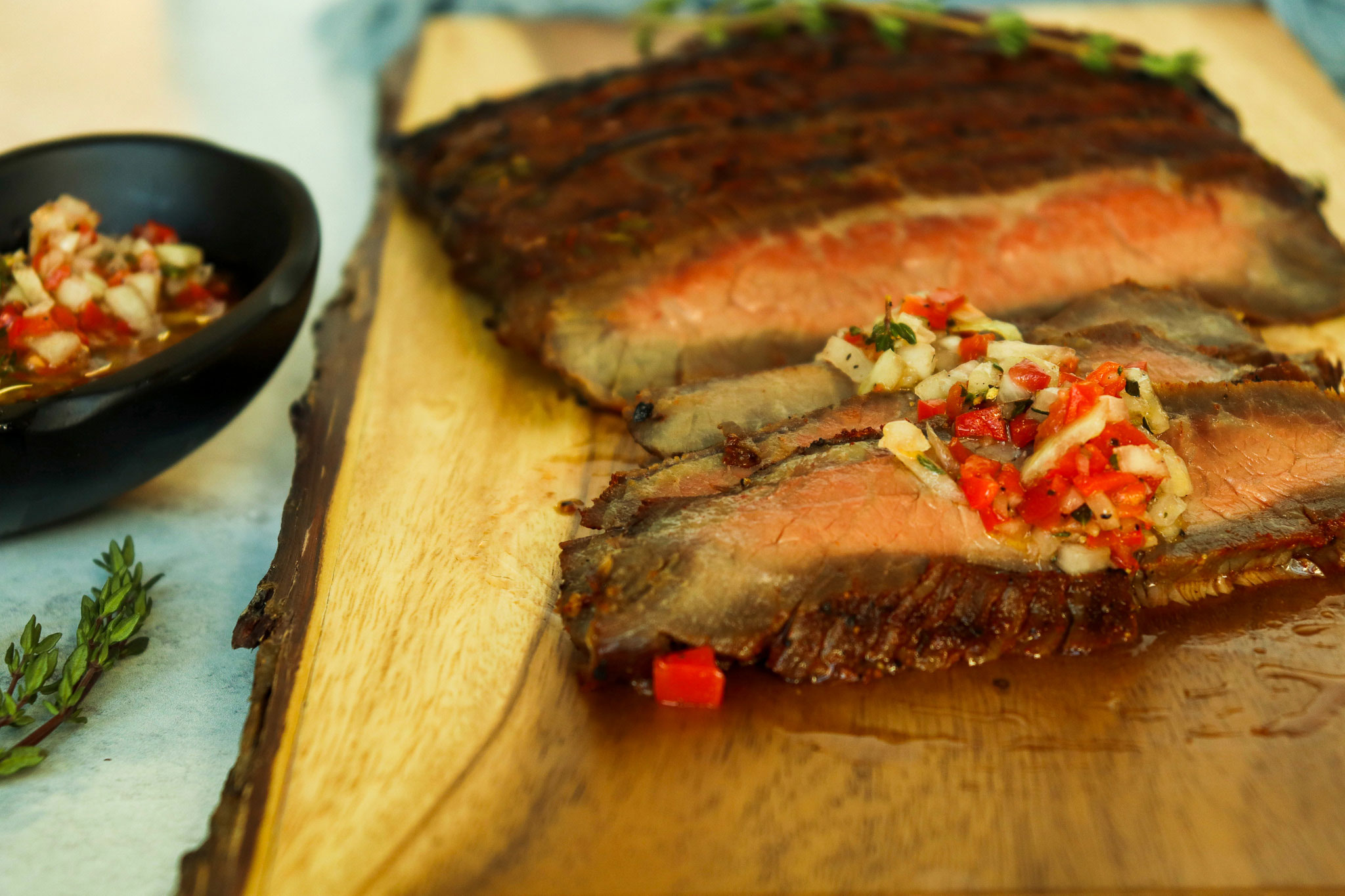 One of the tastiest preparations for flank steak is Argentine Flank Steak with Salsa Criolla.
Flank steak is one of those cuts of beef that tends to get overlooked for the more highbrow cuts: rib-eye, tenderloin, strip.  It is the cut that I love to work with when I'm cooking for a crowd, or I want something super-easy. 
Flank needs to have some marinating time, so it works perfectly when you want a do-ahead meal.  It also takes marinades and spice rubs so well, and works to tenderize what might otherwise be a tough piece of meat.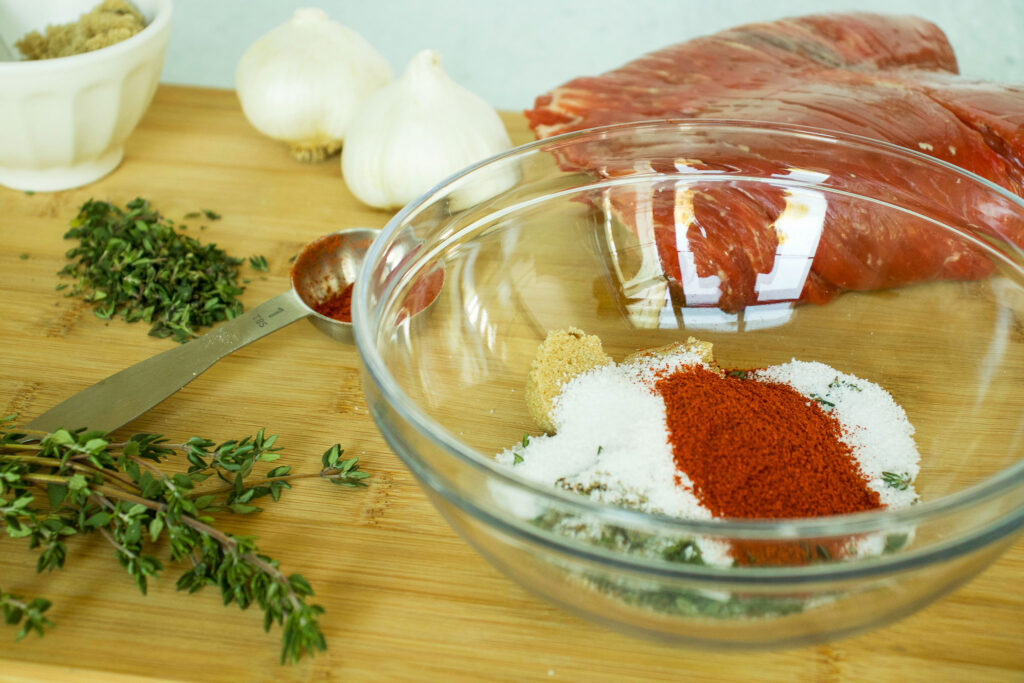 Make a rub out of thyme, brown sugar, Kosher salt, garlic and chili powder.  Rub it all over the steak and refrigerate it overnight.  The sauce compliments the rub beautifully…it incorporates garlic, diced tomatoes, onions & peppers, along with white wine vinegar, thyme and olive oil  It is a delicious accompaniment to the flank steak!
In Arizona, we are fortunate that we can grill year round (my grill & I have a special relationship) and I take advantage of that regardless of the season.  If you aren't so lucky, you can definitely broil the flank steak, per the instructions below.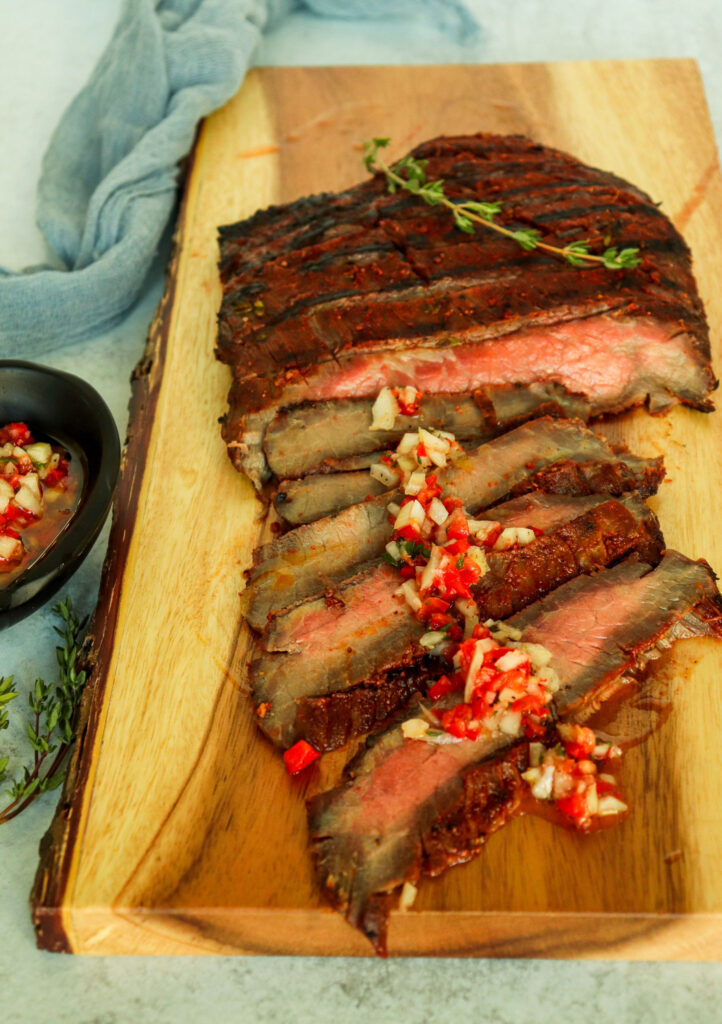 Lastly, if you make Argentine Flank Steak with Salsa Criolla, be sure to leave a comment and/or give this recipe a rating! Above all, I love to hear from you and always do my best to respond to each and every comment. And of course, if you do make this recipe, don't forget to tag me on 
Instagram
! Looking through the photos of recipes you all have made is one of my favorite things to do!
Argentine Flank Steak with Salsa Criolla
Makes: 12 servings
Prep Time: 20 minutes
Cook Time: 10 minutes
Total Time: 30 minutes plus chill time 4 hours
Ingredients
Steak:
3 cloves garlic, minced and mashed to a paste with a pinch of salt

2 tbsp chopped fresh thyme

1 tbsp freshly ground black pepper

1 tbsp chili powder

2 tsp brown sugar

1 & 1/2 tbsp plus 2 tsp kosher salt

4 & 1/2 lb flank steak (about 3 medium steaks), trimmed of excess fat
Salsa Criolla:
1 large ripe tomato, cored, seeded, and finely diced (about 1 & 1/4 cup)

1 medium yellow onion, minced (about 1 & 1/3 cups)

1/2 red bell pepper, cored, seeded, and minced (about 1/2 cup)

1/2 cup extra-virgin olive oil

1/3 cup white-wine vinegar
Instructions
In a small bowl, mix about two-thirds of the garlic paste with 1 tbsp of the thyme, 2 tsp of the black pepper, the chili powder, brown sugar, and 1 1/2 tbsp of the salt. Arrange the steaks on a rimmed baking sheet and pat the spice rub all over them. Cover and let sit for at least 4 hours and up to 1 day in the refrigerator.
In a 1-qt. sealable container, combine the tomato, onion, red pepper, oil, and vinegar with 1/4 cup water, and the remaining garlic paste, 1 tbsp thyme, 2 tsp salt, and 1 tsp black pepper. Shake well. Refrigerate for up to 1 day before serving.
Heat a gas grill to medium high or prepare a hot charcoal fire (see Chef' Note). Grill the steak (covered on a gas grill) until it has good grill marks on the first side, 4 to 5 minutes. Flip the steak; if using a gas grill, reduce the heat to medium  and cover the grill. Continue to cook until done to your liking (make a slit in the steak to take a peek), 4 to 5 minutes more for medium rare; 6 to 7 minutes more for medium.
Let the steak rest on a cutting board for 5 minutes and then slice thinly across the grain. Stir or shake the salsa criolla and serve with the steak.
Chef's Note: 
If you prefer, you can broil the steak.  Turn broiler on, preheat and then place sheet pan in the oven for 5 minutes.  Once it's hot, place the flank steak on it.  Try to not disturb it for 4 minutes in order to get a good char on the steak.  Flip over and cook for another 5 minutes.  Let rest as described above.
Recipe by Fine Cooking
Argentine Flank Steak with Salsa Criolla