Baked Glazed Donuts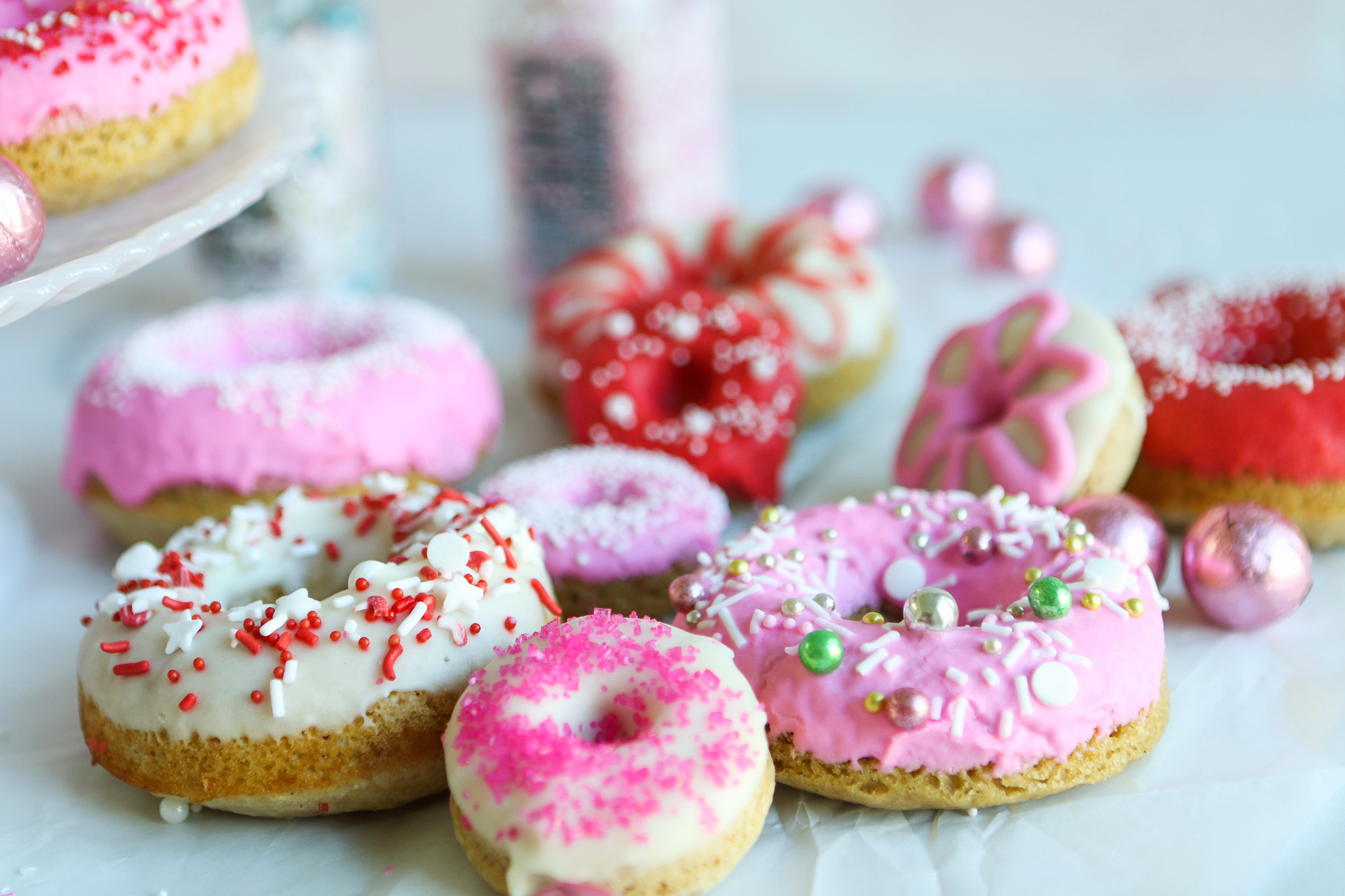 Donuts are something that I rarely splurge on.  They are delish, but when I think of how many extra sit-ups I need to do, or how much longer I have to go on the treadmill, I'm thinking it's not worth it. ​ But (there's always a "but"), I discovered BAKED glazed donuts, and now I'm a happy girl!  I'm not saying I don't have to do a few extra sit-ups, but it's worth it!! ​ These ones came to me by combining two recipes (thank you, Tutti-Dolci and Sally's Baking Addiction) and putting my own decorating spin on them.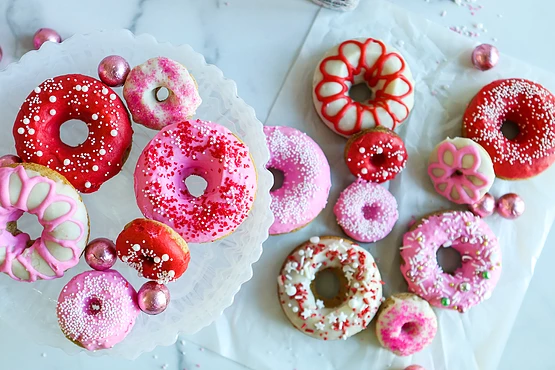 We're right before Valentine's Day, so I figured this is the time to pull out all the pink, red and white sprinkles and non-pareils.  I am very fond of Sprinkle Pop fancy sprinkles.  I've included some links here that will provide you with great options for sprinkles and the pans that I used.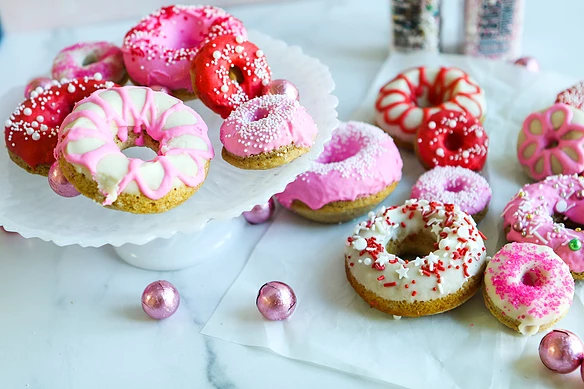 Lastly, if you make Baked Glazed Donuts, be sure to leave a comment and/or give this recipe a rating! Above all, I love to hear from you and always do my best to respond to each and every comment. And of course, if you do make this recipe, don't forget to tag me on 
Instagram
! Looking through the photos of recipes you all have made is one of my favorite things to do!
Makes: 12 regular or 24 mini donuts
Prep Time: 5 minutes
Bake Time: 8 minutes
Total Time: 13 minutes plus cool time 20 minutes
Ingredients
Donuts:
2 cups cake flour (see Chef's Note below)

3/4 cup sugar

1 tsp cinnamon

1/2 tsp nutmeg

1 & 1/2 tsp baking powder

1/4 tsp baking soda

1/2 tsp salt

3/4 cup low-fat buttermilk, at room temperature

2 eggs, lightly beaten

2 tbsp unsalted butter, melted

2 tsp vanilla extract
Vanilla Glaze:
2 cups  confectioners' sugar

3 tbsp unsalted butter, melted and slightly cooled

3–4 tbsp heavy cream

1 tsp pure vanilla extract

pinch salt

1–2 drops red food coloring

for garnish: rainbow sprinkles*
Instructions
Donuts:
Preheat oven to 425°F and spray a standard doughnut pan with nonstick spray.
Whisk together cake flour, sugar, cinnamon, nutmeg, baking powder, baking soda, and salt in a large bowl. Combine buttermilk, eggs, melted butter, and vanilla in a medium bowl; add to flour mixture and fold in just until incorporated.
Spoon batter into a pastry bag fitted with a large round tip and fill each doughnut cup 3/4 full. Bake about 8 minutes, until the tops spring back when touched. Turn doughnuts out on a wire rack to cool completely. Repeat with remaining batter, allowing pan to cool completely and spraying with nonstick spray in between batches.  If making mini donuts, cut the baking time back to 6 minutes.
Make the Glaze:
Make the glaze: In a medium bowl, whisk the glaze ingredients together until completely smooth. Add more cream to thin or more confectioners' sugar to thicken, if desired. I always add a little salt to offset the sweetness.  
Set rack with cooled doughnuts over a piece of waxed paper or inside a sheet pan.   Dip each donut into the glaze, then place back on the rack. Top with sprinkles.  To make multiple colors, I dipped 1/3 of the donuts in the white glaze.  Then, I added a few drops of pink food coloring to get the desired color.  I dipped another third of the donuts in the pink glaze.  Finally, I added some red and more pink food coloring to get a deeper tone (if you want red, don't add any more pink) and dipped the last third in this glaze.
Donuts taste best the first day – store leftover donuts at room temperature or wrap well and freeze up to 2 months.
Chef's Notes:
To make your own cake flour, place 2 tablespoons cornstarch in an empty 1-cup measure, then top up with flour. Sift the mixture several times to evenly distribute the cornstarch (for each cup of flour called for, you will need 2 tbsp cornstarch).
Freezing Instructions: You can freeze the glazed or plain donuts for up to 2 months. Thaw overnight in the refrigerator and warm up to your liking in the microwave. I usually just zap 'em for a couple seconds– even with the glaze on. Very tasty.
Double Batch: Instead of doubling the recipe, make two batches. I find it's easy to over-mix when working with a double batch in 1 bowl. Over-mixing may lead to too-dense donuts.
Recipe from Tutti-Dolci and Sally's Baking Addiction