Banana Peanut Butter Braid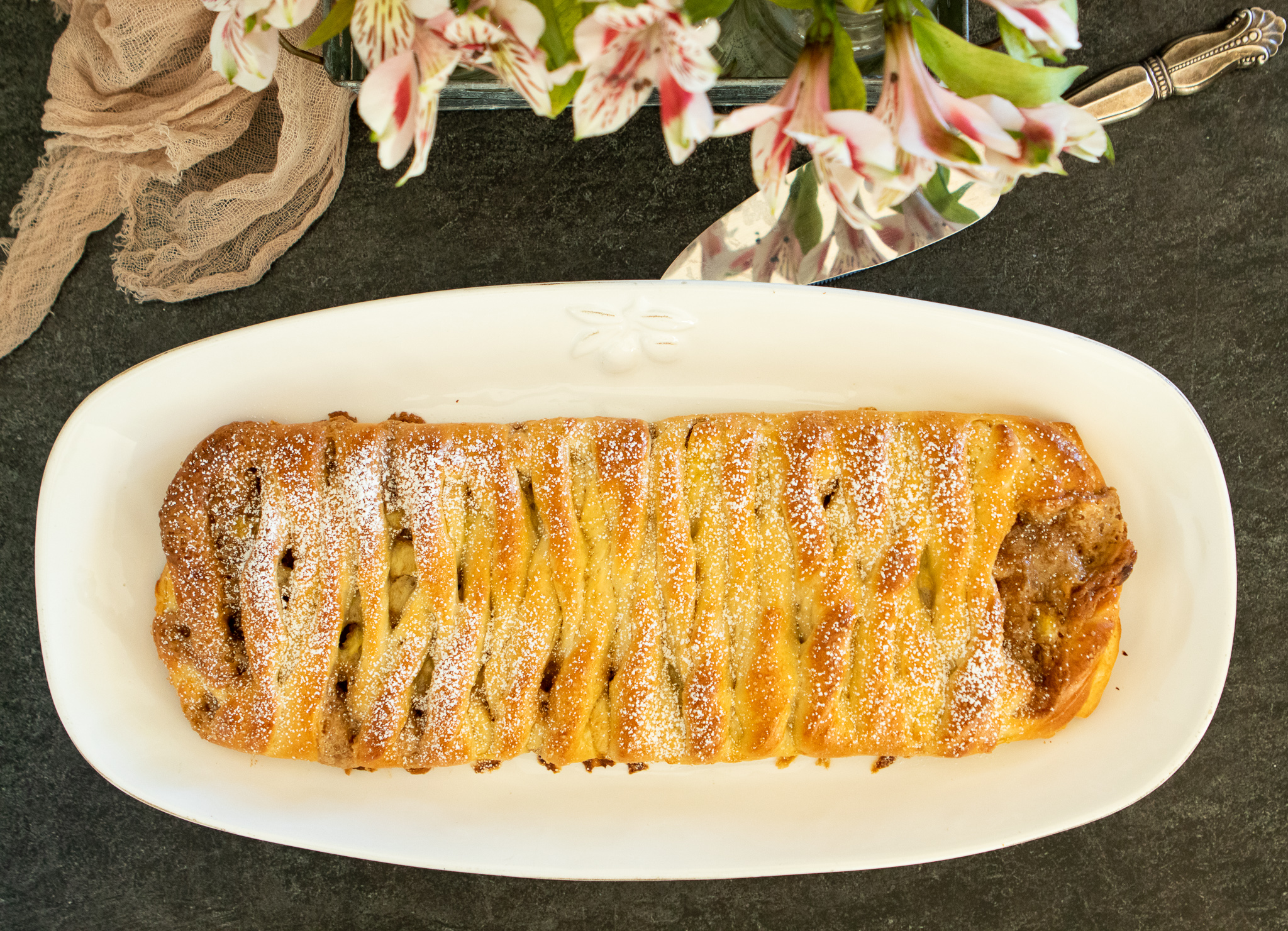 Remember peanut butter and banana sandwiches? Did you ever grill the sandwich? Did you ever say OMG??? Okay, I know we didn't say OMG, but we might have said Oh My Goodness! Or, who created something this delicious? Or there's a party going on in my mouth!
Any way you said it, you know that the taste of peanut butter and bananas is something you probably loved as a child. The good news is that the exact taste has been replicated in this amazing braid. Not only is the taste heavenly, but it's found a slightly more elegant enclosure than white bread.
This is a simple yeast bread that gets rolled out into a rectangle. A peanut-butter filling gets spread on the dough. Bananas get sprinkled and then we go to work prettying it up!
We make some cool cuts along the edges and then do a twist and tuck kind of process. It looks trickier than it actually is.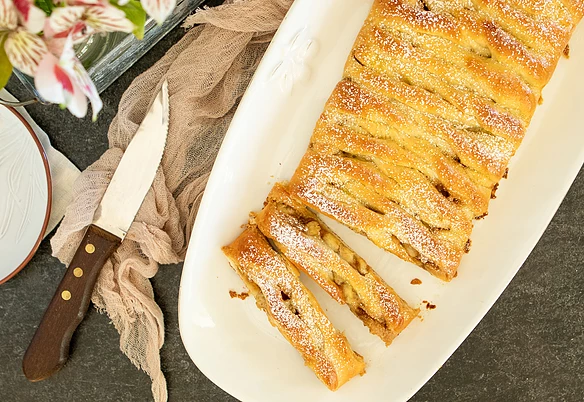 Once baked, it gets a sprinkle of powdered sugar. It can be served warm or at room temperature…it is delicious any way you serve it.
Try it for brunch or breakfast after Thanksgiving. Late afternoon snack, maybe or eat it at dusk! Haha that's a Cheech and Chong reference that some of you may get. The point is, it's the perfect snack any time of the day or night!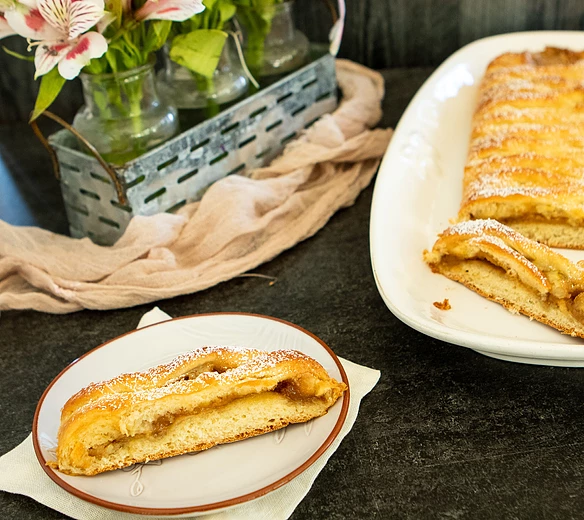 Lastly, if you make Banana Peanut Butter Braid, be sure to leave a review down below at the bottom of this page (stars are also appreciated)! Above all, I love to hear from you and always do my best to respond to each and every review. And of course, if you do make this recipe, don't forget to tag me on 
Instagram
! Looking through the photos of recipes you all have made is one of my favorite things to do!
Banana Peanut Butter Braid
Makes: 8-10 servings
Prep Time: 40 minutes
Bake Time: 20-25 minutes
Total Time: 1 hour plus rise time 2 hours
Ingredients
3 cups bread flour, divided

3 tbsp granulated sugar

2 & 1/2 tsp Kosher salt

2 & 1/4 tsp active dry yeast

1/2 cup whole milk

1/4 cup plus 1 tablespoon water, divided

1/4 cup unsalted butter

2 tsp vanilla extract

2 large eggs, room temperature and divided
Peanut Butter Filling:
1/4 cup unsalted butter, softened

1/3 cup firmly packed light brown sugar

1/3 cup creamy peanut butter

1/2 cup chopped banana

Garnish: confectioners' sugar
Instructions
In the bowl of a stand mixer fitted with the paddle attachment, combine 1 & 1/2 cups flour, granulated sugar, salt, and yeast. In a medium saucepan, heat milk, 1/4 cup water, butter, and vanilla over medium heat until an instant-read thermometer registers 120°F to 130°F. Add warm milk mixture to flour mixture, and beat at medium speed until combined. Beat in 1 egg. With mixer on low speed, gradually add remaining 1 & 1/2 cups flour, beating just until combined and stopping to scrape sides of bowl. Switch to the dough hook attachment. Beat at low speed until a soft, somewhat sticky dough forms, 6 to 7 minutes, stopping to scrape sides of bowl and dough hook. (Dough will be elastic and pull away from sides of bowl but stick to bottom of bowl.) Turn out dough onto a lightly floured surface, and shape into a smooth round.
Lightly oil a large bowl. Place dough in bowl, turning to grease top. Cover and let rise in a warm, draft-free place (75°F) until almost doubled in size, 45 minutes to 1 hour.
Meanwhile, make peanut butter filling. In a medium bowl, beat butter and brown sugar with a mixer at medium speed until fluffy, 1 to 2 minutes. Add peanut butter, and beat just until combined.
Punch down dough, and let stand for 5 minutes. Turn out onto a lightly floured sheet of parchment paper.
Roll into a 16×10-inch oval. Using a small knife or bench scraper, score (or mark) a 13×4-inch rectangle in center of dough, leaving a 1½-inch border on short sides and a 3-inch border on long sides. Spread Peanut Butter Filling in rectangle; sprinkle banana onto filling. Cut 1-inch-wide strips along each side of filling.
At top and bottom, trim ends to width of filling, and fold over filling. Starting on left side, stretch, twist, and fold top strip over filling, ending just below opposite top strip. Repeat with top strip on right side. Continue pattern, alternating left and right, until you reach end of strips. Tuck and pinch last strip. (If dough is not sticking to itself, dab with a little water to help it seal.)
Transfer dough, on parchment, to a baking sheet. Cover and let rise in a warm, draft-free place (75°F) until puffed, 30 to 45 minutes.
Preheat oven to 350°F. In a small bowl, whisk together remaining 1 egg and remaining 1 tablespoon water. Brush top and sides of dough with egg wash. Bake until golden brown and an instant-read thermometer inserted in bread registers 190°F (88°C), 20 to 25 minutes. Garnish with confectioners' sugar, if desired. Serve warm or at room temperature.
Recipe from Bake From Scratch
Download PDF
Banana Peanut Butter Braid