Blackberry Spiced Whiskey Sour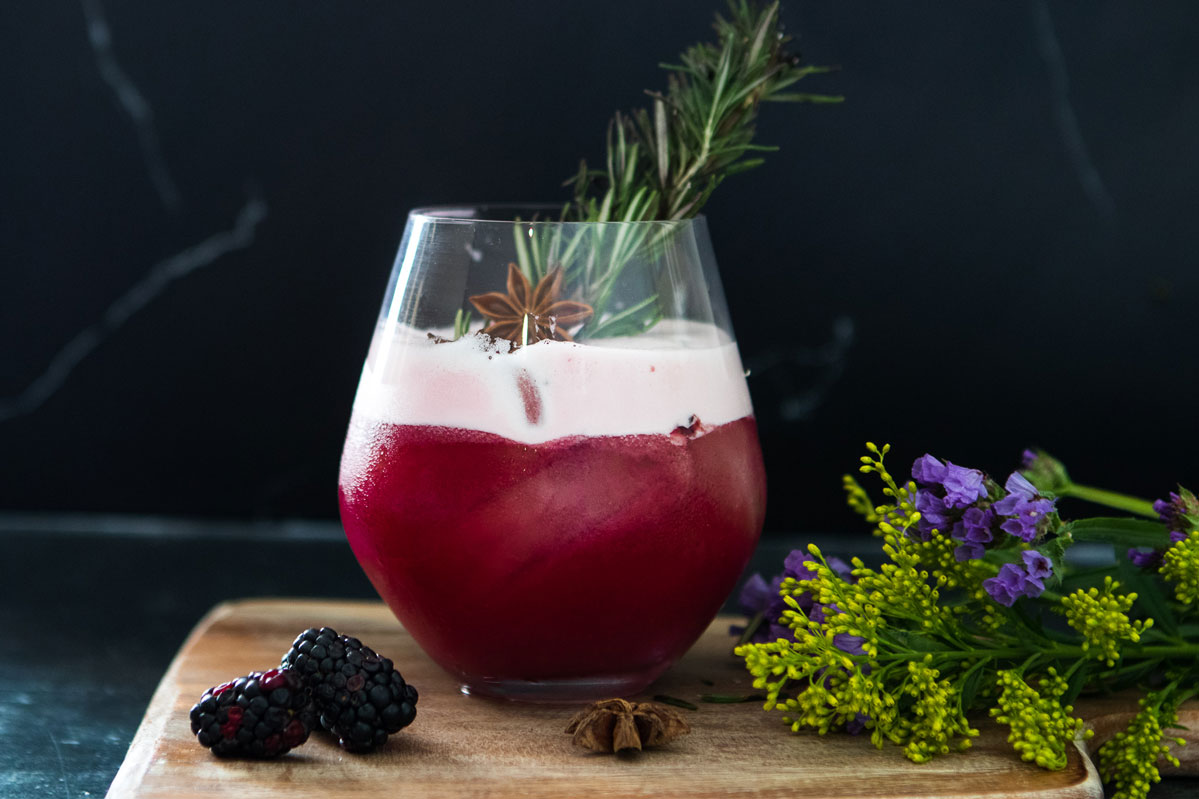 Can a Blackberry Spiced Whiskey Sour make Dad the happiest man on Father's Day?  You betcha!
Show that you really love dad by going the extra mile to make a sensational cocktail.  This beauty incorporates a tastefully spiced simple syrup with muddled blackberries, lemon and whiskey.  By the way, mom will probably love this too!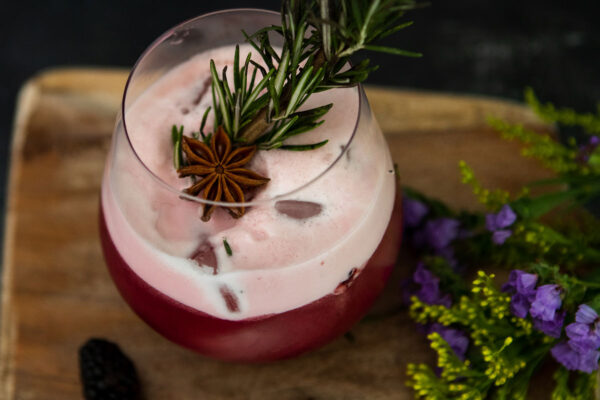 The simple syrup is the key to this awesome cocktail.  Rather than using sugar as the base, this recipe calls for maple syrup.  Add the exotic flavor of star anise, cinnamon and orange peel, and you end up with a deliciously herbal syrup.
Muddle blackberries and lemon juice.  Add the whiskey, syrup, bitters, and egg white.
Let's talk about the egg white.  Some people have an aversion to using a raw egg in a recipe that doesn't require cooking.  If you are that person, it's okay…no judgment!  Just eliminate it.  But, if you're okay with it, add it to the shaker and shake it up!  It will cause the egg white to froth up and create this lovely foam on the top of the drink.
Strain it through a strainer and serve over ice.  Top the cocktail with a rosemary sprig and star anise.  If you like, burn the rosemary leaves for a smoky feel to the drink!
Cheers!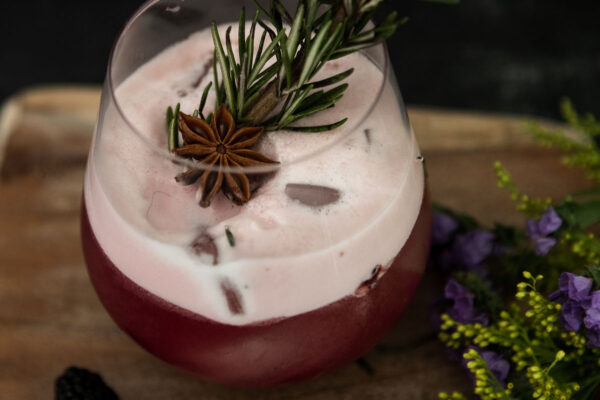 Lastly, if you make Blackberry Spiced Whiskey Sour, be sure to leave a comment and/or give this recipe a rating! Above all, I love to hear from you and always do my best to respond to each and every comment. And of course, if you do make this recipe, don't forget to tag me on 
Instagram
! Looking through the photos of recipes you all have made is one of my favorite things to do!
Blackberry Spiced Whiskey Sour
Makes: 1 cocktail
Prep Time: 5 minutes
Cook Time: 3 minutes
Total Time: 8 minutes plus syrup cooling time
Ingredients
Spiced Syrup:
1/3 cup pure maple syrup

2 star anise

1/2 cinnamon stick

1 (2 1/2-inch) strip orange zest
Cocktail:
1/4 cup fresh blackberries, plus more for garnish

1 ounce (2 tbsp) fresh lemon juice

2 ounces (1/4 cup) whiskey

1-2 ounces (2-4 tbsp) Spiced Syrup

Dash of orange bitters

1 egg white (optional)

Rosemary sprigs, for garnish

Star anise, for garnish
Instructions
Spiced Syrup:
In a medium saucepan, combine 1/2 cup of water, the maple syrup, star anise, cinnamon stick, and orange zest. Bring to a boil over high heat.
Cook until reduced slightly and very fragrant, about 3 minutes. remove the pan from the heat and strain the syrup into a lidded container. Discard the solids and let the syrup cool completely before using. Store refrigerated in an airtight container for up to 2 weeks.
Cocktail:
In a cocktail shaker or glass jar with a lid, muddle together the blackberries and lemon juice. Add the whiskey, spiced syrup, bitters, and egg white (if using). Shake for 30 seconds. Add ice and shake well, 15 to 30 seconds more.
Strain into a rocks glass filled with ice. If desired, lightly burn the rosemary by briefly lighting it on fire for a smoky effect. Garnish the drink with the burnt rosemary, fresh blackberries, and star anise.
Blackberry Spiced Whiskey Sour