Beef Tenderloin in Herbed Salt Crust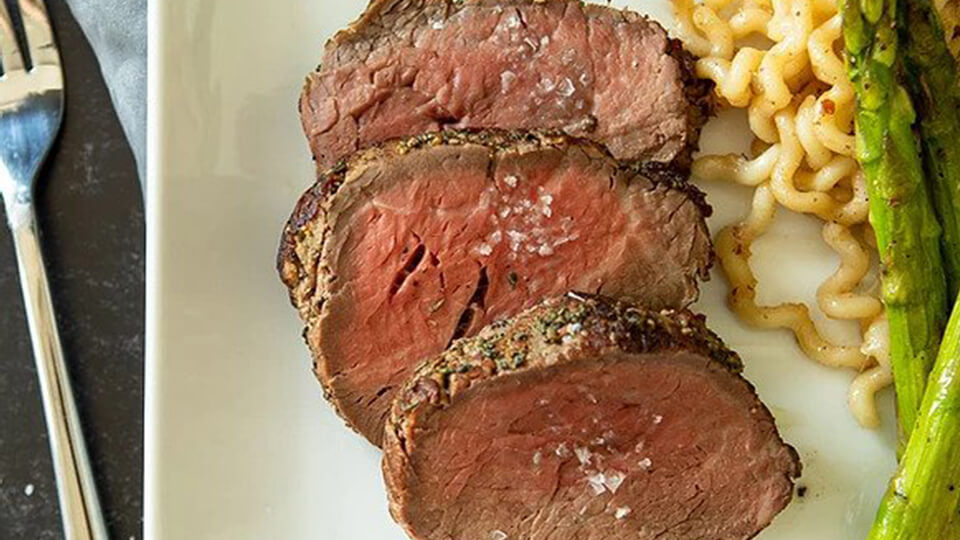 It's almost Valentine's Day and this Beef Tenderloin in Herbed Salt Crust is the absolute right dish to make. 
When I think about preparing a dinner for me and my honey, I know it needs to be simple, but it also needs to be impressive. I am one of those cooks that prefers to dine at home on "Hallmark" holidays. I just feel that the restaurants are never at their best on these kinds of holidays, so why not enjoy a romantic dinner at home?
Doesn't candle light, sexy playlist, and gorgeous Champagne sound so good in the comfort of your home?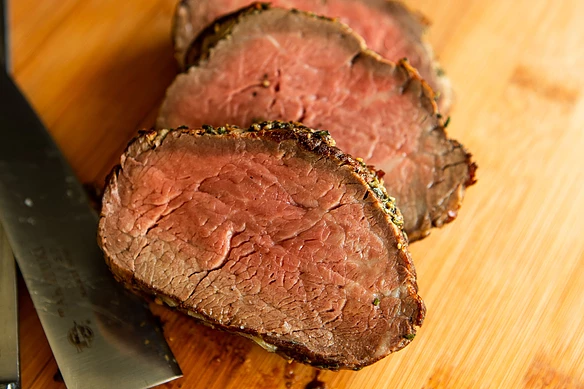 Having said that, I don't want to be in the kitchen all day and I want the final preparations to be a breeze.
For this year, my menu centers on this lovely tenderloin that is beautifully seared and then roasted with an herb and salt crust. While it's roasting, you have time to finish the side dishes. I particularly love French Potato Gratin with Leeks & Gruyère or Pink Cacio e Pepe, and always something green, like Roasted Asparagus.
If you want more help planning your special dinner, check out my Valentine's Day Dinner Menu from last year.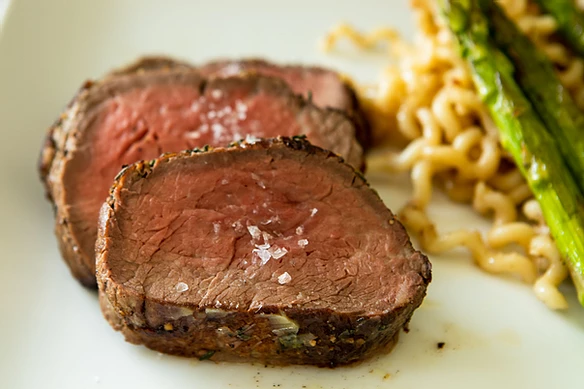 Lastly, if you make Beef Tenderloin in Herbed Salt Crust, be sure to leave a comment and/or give this recipe a rating! Above all, I love to hear from you and always do my best to respond to each and every comment. And of course, if you do make this recipe, don't forget to tag me on 
Instagram
! Looking through the photos of recipes you all have made is one of my favorite things to do!
Beef Tenderloin in Herbed Salt Crust
Makes: 2 servings
Prep Time: 10 minutes
Cook Time: 20 minutes
Total Time: 30 minutes
Ingredients
1 pound beef tenderloin

1 tbsp extra-virgin olive oil

2 tbsp unsalted butter, melted

1 tbsp fresh rosemary, finely chopped

1 tsp Kosher salt

1 tsp freshly ground black pepper
Instructions
Preheat oven to 425°F.
Pat beef dry with paper towels. If desired, tie off beef every inch or so to hold it in a round position while roasting.
Heat olive oil in heavy skillet over moderately high heat. Add beef to pan and cook for 6 minutes to sear it, occasionally turning. Transfer beef to a shallow roasting pan or baking sheet.
Meanwhile, stir together melted butter, rosemary, Kosher salt and pepper. Pat butter mixture on top and sides of meat to coat evenly. Place tenderloin beef in oven and roast until instant-read thermometer reads 130°F, approximately 20-25 minutes.
Cover meat with foil and let stand in roasting pan for 10 minutes. Transfer meat to a cutting board. Cut into 1/2-inch slices and spoon juices from pan over slices.
Beef Tenderloin in Herbed Salt Crust